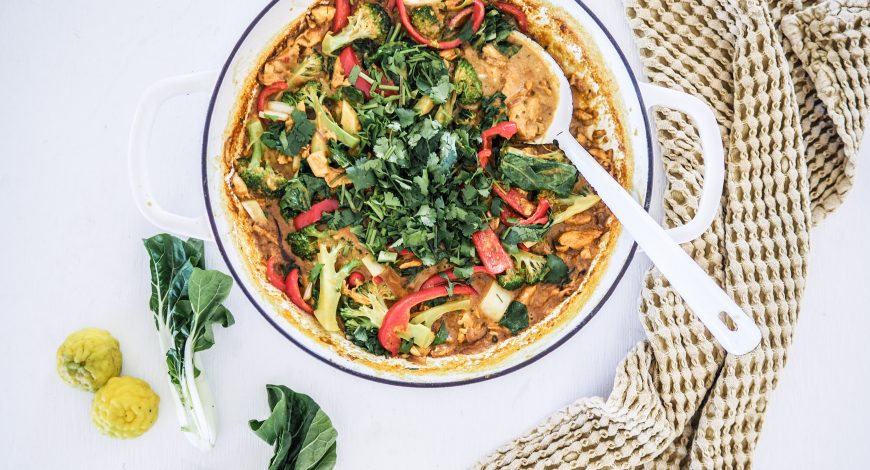 Leftover Roast Chicken and Asian Veggie Curry
This recipe is another great example of how you can use leftover roast chicken to create another nourishing meal. Incorporating certified organic meat into your diet doesn't have to be expensive. Simply make the most out of more affordable cuts of meat and make quality nutritious meat go further, its all about quality over quantity. By simply doing a classic roast chook on the weekend, you can create a number of meals throughout the week which helps with saving time and money.
Alternatively, you can create this meal using cooked organic chicken breast, chicken thigh or your favourite chicken cut.
Takes 15 minutes (using leftover roast chook)
Serves 2
Ingredients
1 red onion, halved and finely sliced
1 red capsicum, de-seeded and roughly chopped
2 garlic cloves, minced
2 kaffir lime leaves, de-stalked and finely chopped
1 tbsp curry powder
1 tsp ginger powder or 1 knob fresh grated ginger
400ml tin of coconut milk
200g broccoli florets
200g leftover roast chicken, shredded
2 tsp soy
1 tsp brown sugar
1 bunch bok choy, roughly chopped
handful of fresh coriander, finely chopped
1 fresh lime, quartered
Method
1. Prep all ingredients. Heat a large frying pan over a medium-high heat, add a good drizzle of olive oil, once hot add onion and capsicum and fry for 2-4 minutes until soft and fragrant. Turn heat down to medium heat.
2. Add garlic, kaffir lime leaves, curry powder and ginger and heat through 1-2 minutes until fragrant.
3. Add coconut milk, broccoli, chicken, soy and sugar, stir well and bring to a simmering boil for 4 minutes until broccoli is al dente and chicken is heated through. Season to taste with more soy or sugar if needed. Stir through bok choy until wilted.
4. Serve with fresh coriander and fresh lime