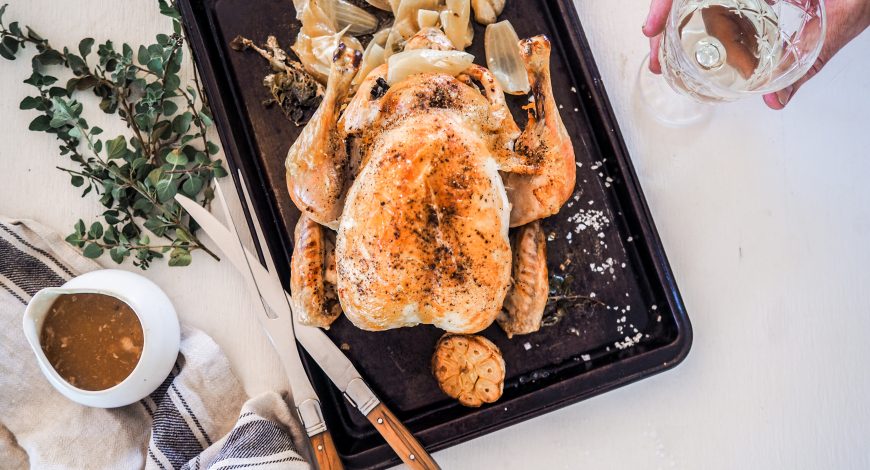 Classic Roast Chicken with Gravy By Rosie
Takes 2 hours
Serves 2
Ingredients
1.7kg Organic Chicken
1 head of garlic, sliced in half
1 onion, peeled and quartered
Handful of fresh oregano
50g butter
salt and pepper
1 tbsp cornflour
150ml white wine or 150ml of stock water
Preheat oven to 170c. Place chicken in large roasting tin. Put garlic, onion and fresh oregano into the cavity. Rub the all over the chicken with the butter and cover with foil. Ensure that it is sealed off.
Place chicken in oven and cook for 1h20. Remove from oven and take foil off. Crank up oven for 220c. Gentle spoon over the fat that is in the bottom of the roasting tin over the chicken skin. Sprinkle with a good pinch of salt and pepper.
Return chicken to hotter oven for 15-25 minutes until juices run clear and chicken skin is browned and crispy. Remove chicken from roasting tin, tipping it to allow juice to run free from the middle of your bird and place chicken on plate to rest, loosely covered by the foil.
Add cornflour and white wine to the roasting tin. Use a whisk or fork to get all of the bits off the bottom of roasting tin. Place tray over a low heat on the hob. Gently heating, keep stirring and allow the gravy to thicken slowly. If a little too thick add some water or if too thin add some more cornflour. Serve up alongside roast chicken.
Tip* To make the chicken go into 3 further meals use 150g-200g per person for the roast dinner then strip the chicken of all its meat and skin (easier to do so which chook is still warm). Tip*save all bones for homemade chicken broth.