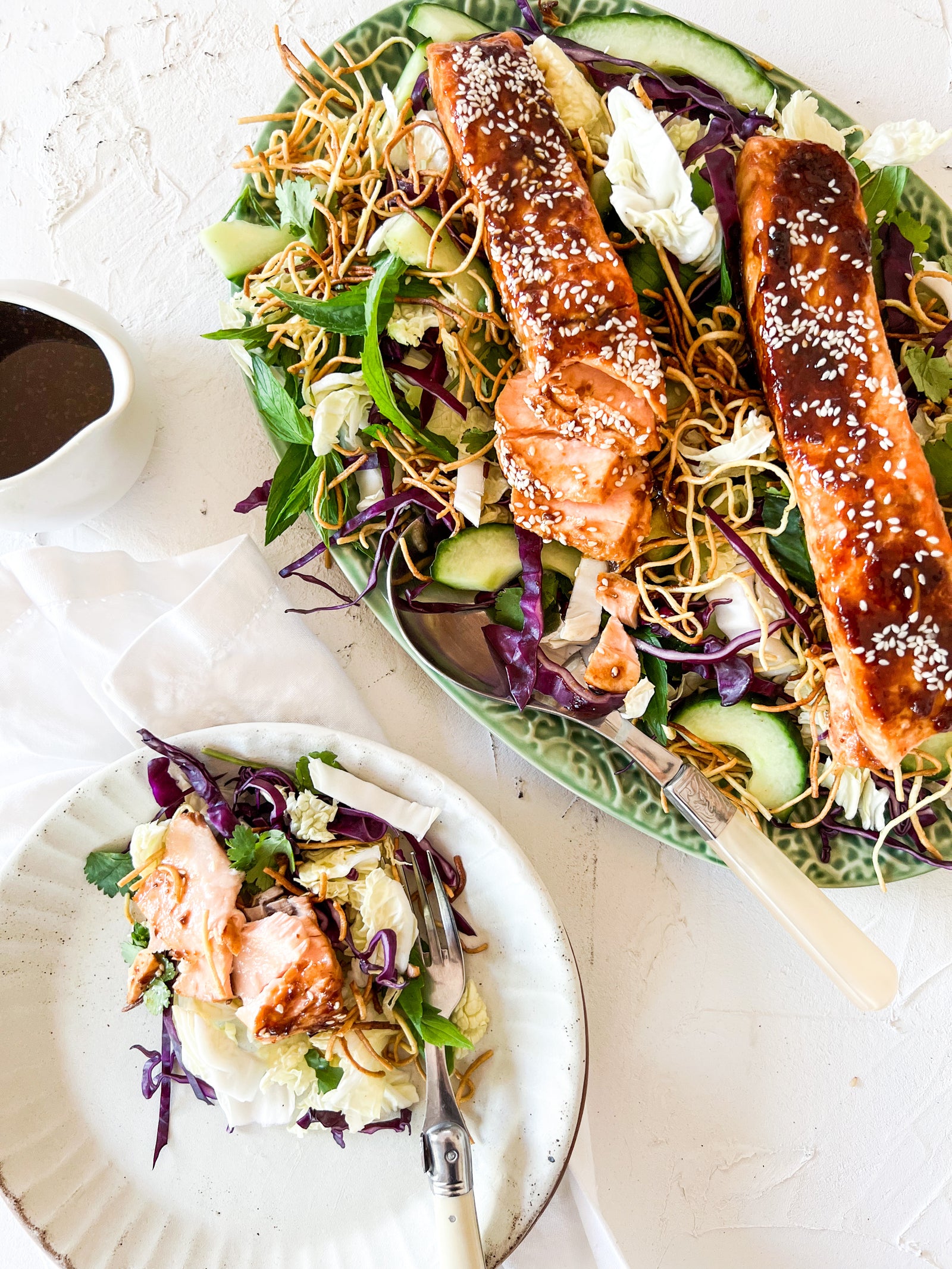 Crunchy noodle salad with flaked miso maple salmon fillets
This is a perfect salad for one of those hot summer days or nights. Takes under 35 minutes to make with only a handful of nourishing ingredients. Rich in fibre and probiotics to support digestion, quality protein and good fats which will nourish your nervous system and help with inflammation.
Recipe written by nutritionist Rosie Eyre of By Rosie
Serves 2 people
Takes 35 minutes
Ingredients:
200g cooked egg noodles
½ tsp garlic powder
2 cups wombok cabbage, finely sliced
1 cup red cabbage, finely sliced
2 Lebanese cucumbers, de-seeded and sliced into half moons
20g mint leaves, torn
10g coriander leaves
For the salmon marinade:
2 tbsp maple syrup
2 tbsp organic miso paste
1 tbsp tamari sauce or soy sauce
1 tbsp apple cider vinegar
For the dressing:
2 tbsp maple syrup
2 tbsp apple cider vinegar
1 tbsp tamari sauce or soy sauce
1 tbsp organic miso paste
2 tbsp olive oil
Precook the egg noodles and allow to drain and cool. Tip* can cook the day before to save time.
Prepare the veggies.
Heat a large frying pan (that houses a lid) and coat in a couple of mm of olive oil over med/high heat, once hot add noodles in a 2-3 batches at a time with pinch of salt and pinch of garlic powder, once golden brown and crunchy remove from pan and place on paper towel to drain excess oil. Repeat until all noodles are cooked. Add more olive oil if needed for batches.
In a medium bowl add all ingredients for salmon marinade and mix together until a smooth paste.
Wipe out large frying pan with excess oil and place back on med heat with a good drizzle of olive oil. Once hot, add salmon fillets and cook for 3-4 minutes with a lid on. When time is up, flip salmon, poor over marinade covering salmon fillets, turn heat down to low and cook for a further 1-2 minutes, until sauce has slightly thickened. Tip*be careful not to burn sauce. Salmon is cooked through when flakes easily, cooking time with vary on size of salmon fillet.
In a small bowl mix together dressing ingredients and season to taste with salt and pepper, if needed.
On a large serving plate or salad bowl add wombok, red cabbage, cucumber, mint, coriander and crunchy noodles, toss to coat, add salmon fillets (tip* can also flake fillets before serving) with extra marinade. Serve with dressing on the side.