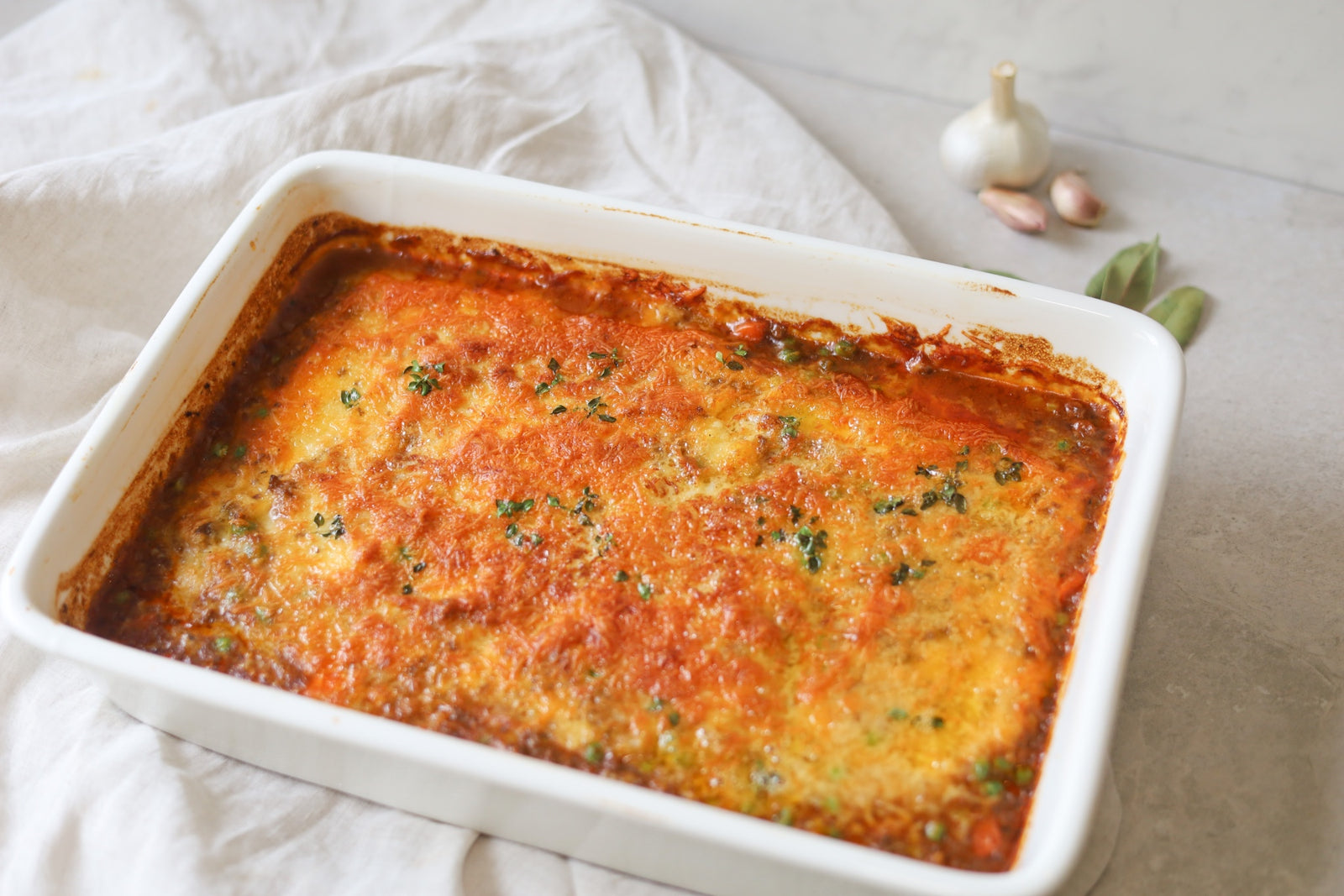 Cottage Pie 
Serves 8 people
Prep 20 mins + 2 hours cooling
Cook 1hr 45 mins
Ingredients:
Filling: 
 Olive oil
2 garlic cloves, finely minced 
1 brown onion, finely chopped
1 carrot, peeled and chopped
1 celery stalk, peeled and chopped
3/4 tsp each of dried thyme and rosemary 
750g certified organic beef mince
1/4 cup plain flour
1/4 cup tomato paste
2 cups beef bone broth
1 beef bouillion, crumbled 
1 tbsp worcestershire sauce
2 bay leaves
1 cup frozen peas
salt and pepper
Mashed Potato Topping:
1.2kg sebago potatoes, peeled and cut into 2.5cm cubes  
2/3 cup milk 
salt & pepper
Topping:
3 Tbs finely shredded organic parmesan
Chopped parsley to serve (optional)  
Method:
Heat the oil in a large frying pan over medium - high heat. Cook the garlic and onion for 1 minute. Add the carrot, celery, thyme and rosemary and cook for 3 minutes. 
Turn the heat to high. Add the beef mince and cook, breaking it up as you go, until browned. 
Mix in the flour and cook for 1 minute. Stir in the beef broth, tomato paste, bouillon cube, worcestershire sauce and bay leaves. 
When the mixture starts bubbling, reduce the heat to medium-low so its simmering gently. Cook for 30 minutes, stirring occasionally so the base doesn't catch, until it reduces down to a thick gravy consistency. 
Add in peas, salt and pepper and transfer to a casserole dish. Cool to room temperature (for at least 2 hours). 
Pre-heat oven to 180C (fan forced). 
Mashed Potato Topping - Place the potato in a large pot of cold water, then bring to the boil. Cook for 10 minutes or until soft. Drain well, then return potatoes to pot. Add the butter and mash, then add in milk, salt and pepper. Mash until the potato is smooth and spreadable, adjusting with more milk if required. 
Spread the hot mashed potato on top of the filling. Sprinkle with parmesan and drizzle with butter. Bake for 30 - 40 minutes or until the surface is golden brown. 
Stand for 5 minutes before serving, garnish with fresh herbs if desired. 
Recipe written by Nagi Maehashi - Recipetin Eats