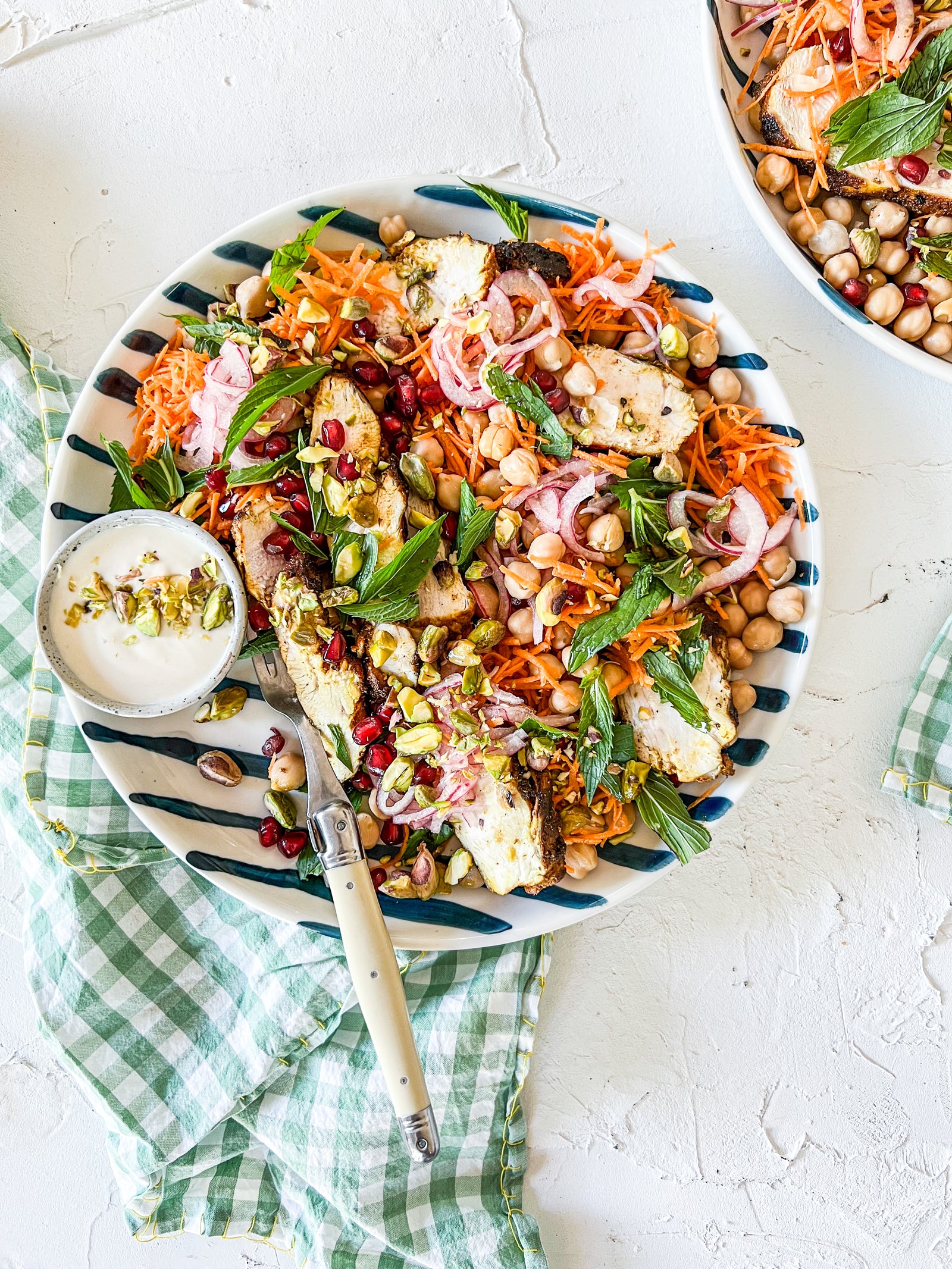 This is such an easy dish to put together. It is well balanced and full of flavour. Rich in protein, calcium from the tahini dressing and fibre from the chickpeas. The pickled onion is rich in quercetain which is great to support immunity, but also may help with symptoms of hayfever. You can easily marinate the chicken overnight, pickle the onion and make the dressing. Then the next day cook the chicken and through everything else in. A really fancy lunch box too.
Serves 2
Takes 45 mins
-
Shawarma spice blend:
1 tbsp cumin
1 tbsp smoked paprika
1/2 tbsp ground coriander
1/2 tbsp garlic powder
1/2 tbsp turmeric
1/2 tsp oregano
1/2 tsp ground cardamom
1/2 tsp cinnamon
1 tsp salt
1 tsp pepper
-
2 chicken breasts (500g)
1 medium onion, peeled and finely sliced
60ml apple cider vinegar
1 tbsp brown sugar
Pinch salt
Water
 -
Tahini dressing
40g tahini
50g Greek yoghurt
1 tsp honey/maple maple syrup
1 tsp apple cider vinegar
squeeze fresh lemon
s+p to season to taste
extra splash of water to thin out
-
2 tins chickpeas, drained and rinsed
1 carrot, finely grated
1 pomegranate, arils removed
Bunch mint, leaves chopped
50g shelled pistachios, roughly chopped
-
Method:
Add 2 tbsp shawarma spice blend (or can use store bought Moroccan spice blend) and 3 tbsp olive oil to a large bowl with chicken breasts (tip* if using store bought Moroccan spice blend add salt and pepper). Toss breasts in spice and olive oil and let breast marinate for at least 30 mins covered in fridge, (tip*can marinate overnight to save time too, save shawarma spice blend in a jar for another meal).
Whilst chicken is marinating, prep all the other ingredients.
Add sliced onion to small bowl or jar with 60ml apple cider vinegar, 1 tbsp brown sugar, pinch of salt and top up with water to cover onion. Set aside.
Make the tahini yoghurt dressing by grabbing a small bowl add tahini, yoghurt, sweetener of choice, apple cider vinegar, squeeze fresh lemon, water to thin out and season to taste with salt and pepper (tip* keep adding water (1/2 tbsp at a time) to thin until desired consistency, use a little whisk or fork to blend together), set aside.
When you are ready to eat, on a large plate add chickpeas, pomegranate arils, carrot, mint, pistachio and toss together.
Heat BBQ to high heat (tip* can also use griddle pan on stove top), once hot add chicken breasts and cook for 5-6 mins either side. Set aside to rest on a plate for 5 mins. Thickly slice chicken and add to plate of chickpeas, (tip* chicken breast is cooked through when no longer pink in the middle).
Serve up with pickled onion and dollops of tahini yoghurt dressing.
Recipe written by nutritionist Rosie Eyre of By Rosie