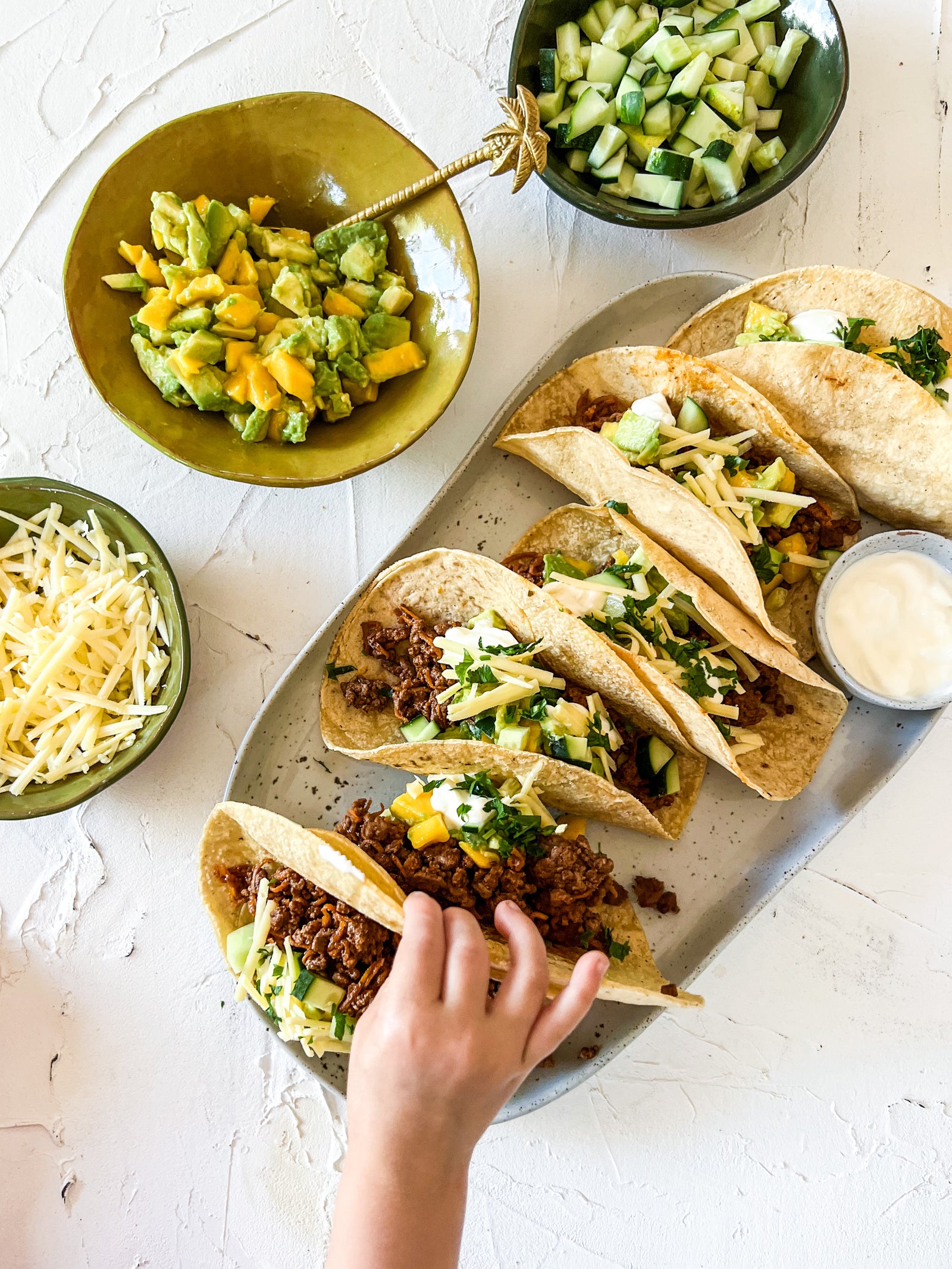 This is such a quick and simple and well-balanced kids dinner. By laying out all taco ingredients in front of kids and allowing them to make up their own is really empowering and really encourages them to eat more. Takes under 25 mins and great dish for the whole family to enjoy.
Recipe written by nutritionist Rosie Eyre of By Rosie
Serves 3-4 kids or 2 adults and 1 kid
Takes 25 mins
Ingredients:
500g organic beef mince or 500g organic beef and liver mince 
1 carrot, finely grated
1 tsp oregano
1 tsp smoked paprika
1 tsp garlic powder
50g tomato paste
4 tbsp water
1 tsp organic stock paste or good quality stock cube
1 avocado, chopped into small cubes
1 mango, chopped into small cubes
1 lime, quartered
50g cheddar (or cheese of choice), grated
50g Greek yoghurt (can also use sour cream)
1 lebanese cucumber, finely chopped into small cubes
8 soft tacos
Prep all ingredients
Heat a large frying pan, med/high heat add a good drizzle of olive oil and add beef mince, cook for 2-3 mins breaking up with a spoon. Once almost cooked add grated carrot, oregano, smoked paprika and garlic powder, cook for a further minute until fragrant. Finally add tomato paste, water and stock, stir through until all the mince and carrot is coated, turn heat down to low for 2-3 mins before taking off heat. Tip*add more water if mince is looking a little dry. Season to taste with salt and pepper.
In medium bowl add avocado, mango cubes and squeeze of lime juice, gentle toss to coat and season with pinch of salt and pepper. Set aside. Tip* if preferred can also add chopped cucumber into this salsa.
Heat taco wraps.
Load up tortillas with yoghurt, mince, salsa and cucumber, top with cheese. Or lay all ingredients out for kids so they can make up their own tacos.