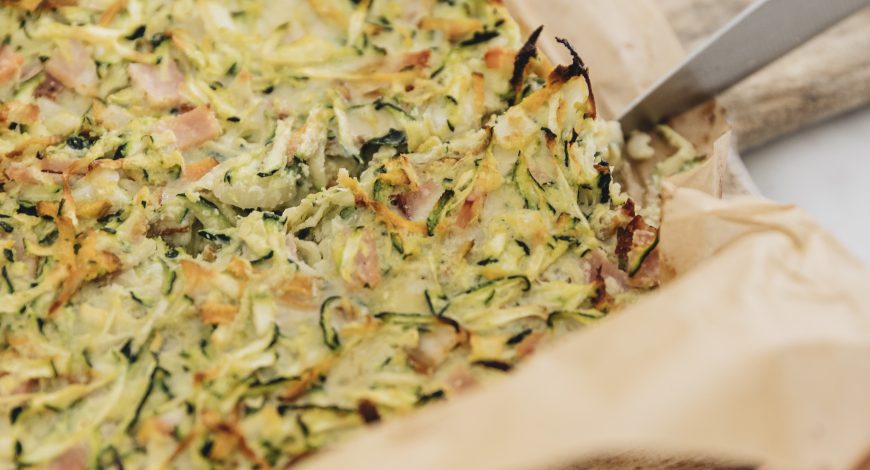 Zucchini & Bacon Slice
Zucchini slice is a nice and easy recipe which tastes delicious. This is such a versatile recipe. You can add in any herbs if you have fresh herbs in the garden, you can add in some baby spinach or any other veggies you have in the fridge that need to be used up, and you can even top with some pumpkin seeds for a nice crunchy topping, or top with cheese if you making this for the kids.
Try recipe is gluten free and paleo friendly.
Ingredients:
6 x organic eggs
1/4 cup of coconut flour (or your choice of flour)
2 x large grated zucchini
1 x large grated carrot
1 x brown onion, finely diced
6 x chemical free bacon rashers
1/4 cup of organic melted butter or coconut oil
3 Tbs x organic almond milk
1/4 tsp x Himalayan salt
1/4 tsp x Organic Black Pepper
Method:
– Preheat oven to 180 degrees
– Grease and line a 30cm x 20cm slice tin or baking tin
– In a large bowl, whisk eggs. Add in your choice of flour and mix through evenly.
– Add in the rest of the ingredients and stir through until everything is evenly mixed.
– Pour mixture into the prepared baking tray.
– Bake for 40 – 45 minutes until golden. Test with a skewer to ensure it is cooked through.
– Store in the fridge in an airtight container for up to 4 days.