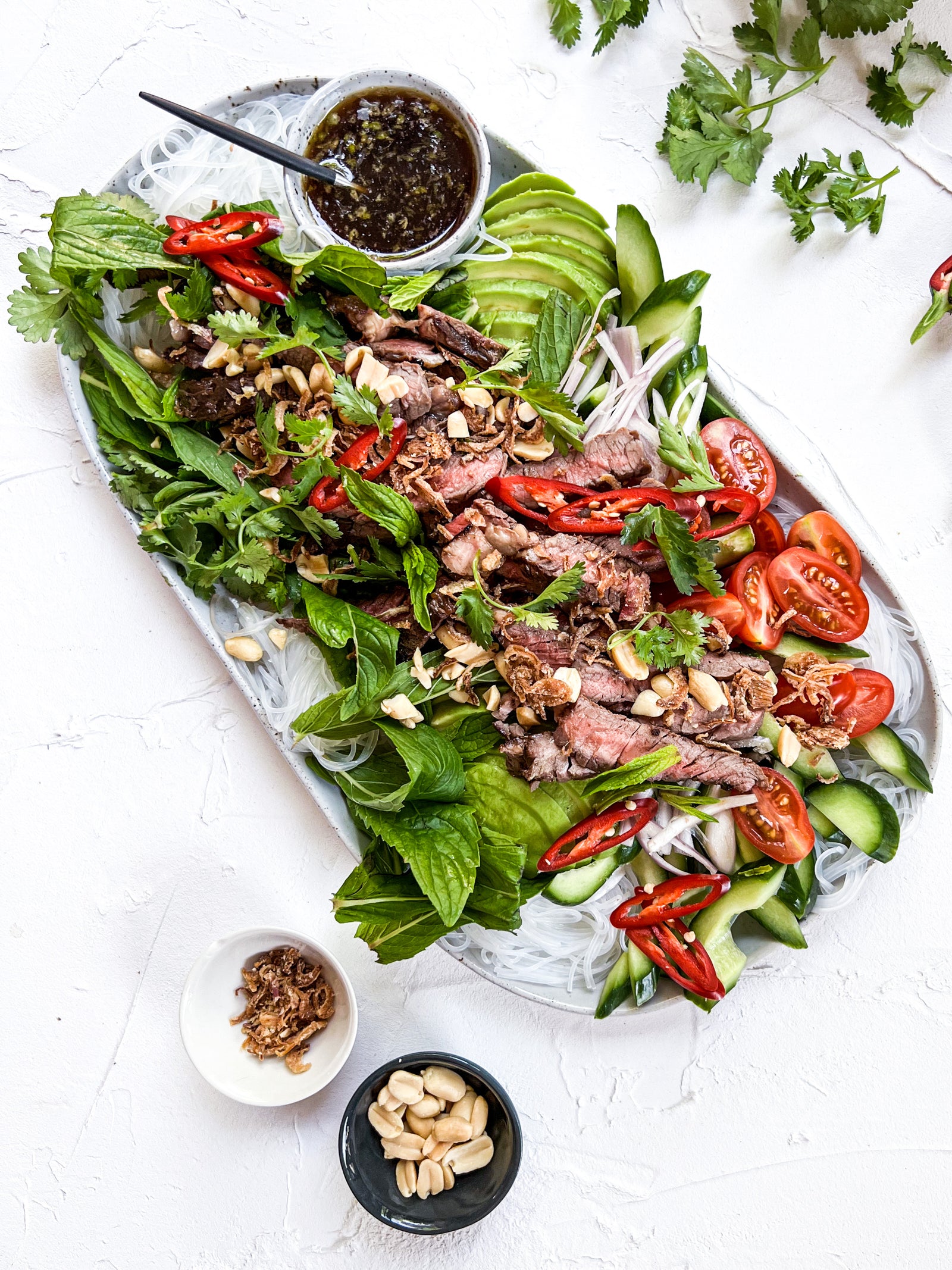 This is such a great salad for summer. Throwing together lots of fresh, nourishing and seasonal ingredients with an Asian twist. Well balanced with the use of rice noodles, omega 3 rich organic grass fed sirloin steak and a selection of vitamin C rich veggies and herbs that are perfect for hot summer nights.
Recipe written and photographed by Rosie Eyre of By Rosie for Australian Organic Meat Co
Serves 2 people
Takes 30 mins
For the salad:
100g vermicelli noodles
400g organic sirloin steak (2 x 200g steaks)
20g mint, leaves picked
20g coriander, leaves picked
1 small shallot, finely sliced (optional)
1 cucumber, deseeded and cut into half moons
1 punnet of grape or cherry tomatoes, halved
1 avocado, deseeded and finely sliced
1 chilli, finely sliced (optional)
30g peanuts, roughly chopped
10g dried shallots
Beef marinade:
2 tbsp fish sauce
2 tsp brown sugar or honey
20g ginger, peeled with tsp and finely grated
Dressing:
1 lime, zested and squeezed
2 tbsp fish sauce
2 tbsp brown sugar or honey
N.b. For this recipe, 1 tbsp measure is 15ml (or 3 level tsp's)
Method:
Bring a full kettle of water to boil.
In a medium bowl add marinade ingredients; fish sauce, brown sugar and ginger, mix together and add sirloin steaks and coat. Cover and set aside for 10-15 minutes.
In a medium saucepan with lid add vermicelli noodles and cover with boiling water, place lid on and leave sitting for 10-15 mins until noodles are cooked. Drain using strainer and rinse in cold water just before serving to freshen up.
Meanwhile, make the dressing, in a small bowl or jug mix lime juice, pinch of zest, fish sauce and brown sugar, season to taste if needed, add more sugar if prefer a sweeter dressing, set aside in fridge.
Prep all the salad ingredients. Tip* Leave out seeds of chilli, if would prefer less spice.
Place large frying pan over med/high heat with good splash of olive or coconut oil, once hot place sirloins for 3-4 minutes (this is for medium-rare), take off heat and leave to rest on plate for 8-10 minutes. Tip* may also use BBQ to cook the steak.
When steak is resting, grab a large platter and add vermicelli noodles, scatter half the mint, half the coriander, sliced shallots, cucumber, tomatoes, avocado and sliced chilli.
Thinly slice sirloin steaks and scatter over platter with salad, top with chopped peanuts, crispy shallots, the other half of mint and coriander leaves and serve with dressing on the side.