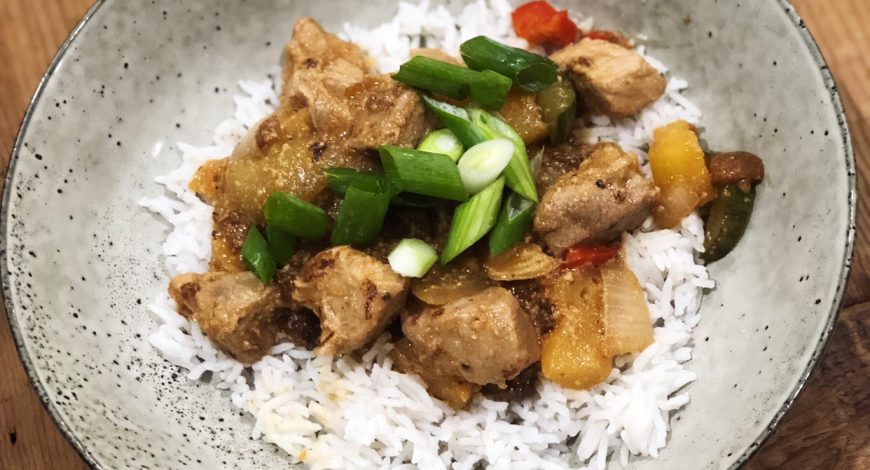 Sweet & Sour Pork
Ingredients:
Serves - 4-6 people For the Pork:
1 kg x Certified Organic Diced Pork
Sesame Oil
1 x Red Onion - halved then chopped
1 x Red Capsicum - chopped
1 cup x Pineapple chunks
For the Sauce:
1/3 cup rice vinegar
1/3 cup Organic tomato sauce
2/3 cup pineapple juice
1/2 cup coconut aminos
1 tbs minced garlic
1 tsp Chinese 5 spice
2 tbs arrowroot flour mixed with 1/3 cup cold water (to thicken)
Himalayan salt & pepper
Sliced Shallots
Method:
In a large frying pan or pot, add sesame oil. Once hot, add the diced pork and himilayan salt and sear for one minute on either side to seal.

Then, add in the capsicum, onion and pineapple chunks on-top of the pork and stir to combine. Cook for roughly 3 minutes.

To make the sauce - mix all ingredients together except for the arrowroot flour, in a small bowl. Then poor the mixture into the pan. Stir to combine.

Bring to a simmer and then reduce heat to medium to leave cook for roughly 10 - 15 minutes.

Once the pork is cooked through, remove the pork and vegetables with a slotted spoon, leaving the sauce in the pan. Mix the arrowroot flour and water in a small dish until the flour has dissolved. Add the arrowroot and water mixture to the sauce, bringing the liquid to a simmer, stirring often.

The sauce will begin to thicken, and once the simmer slows to a rolling bubble, add the pork and veggies back into the sauce and stir to coat.

Serve with sliced shallots, and serve over rice or cauliflower rice.