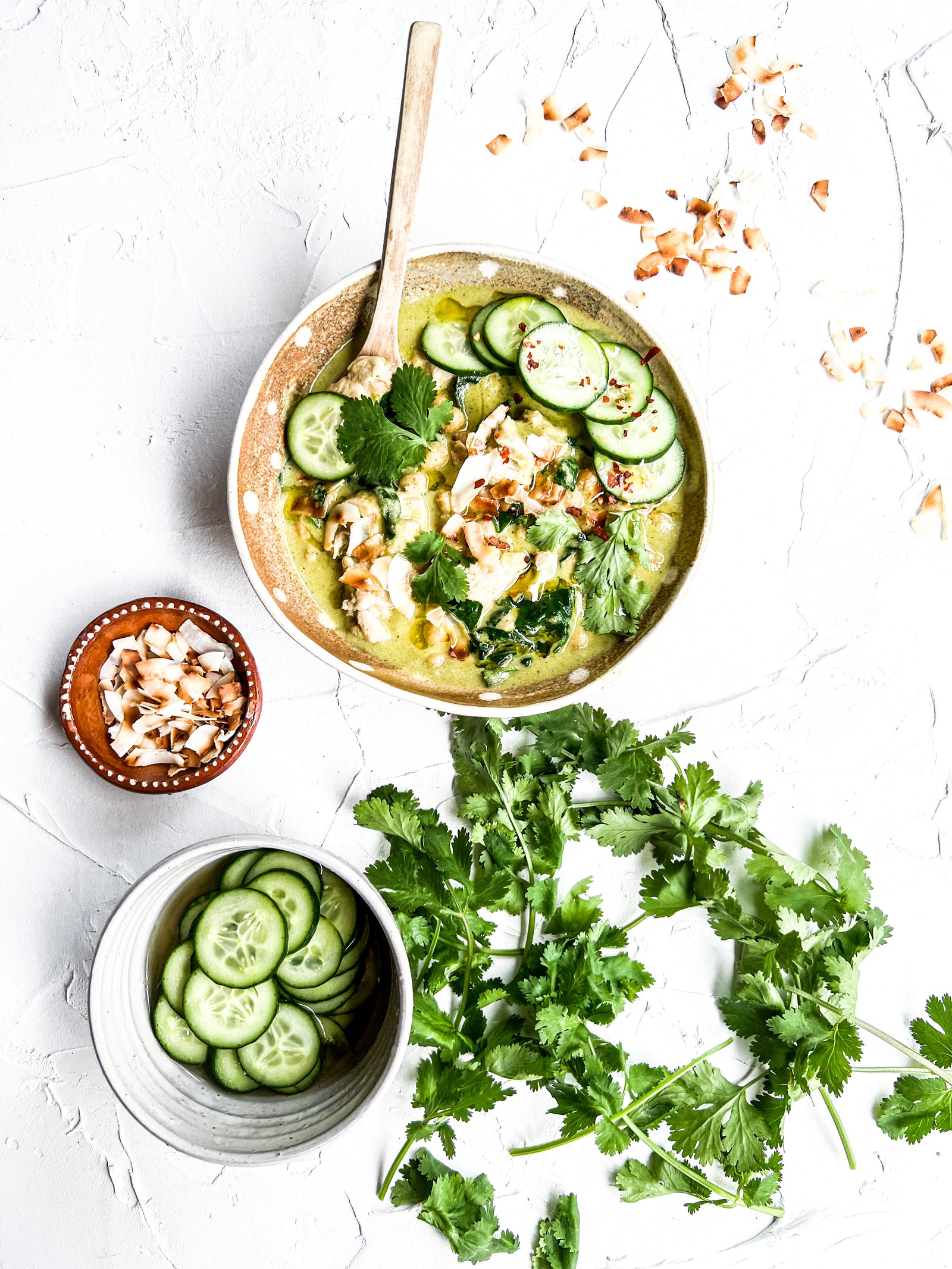 A really simple nourishing curry that takes under 30 minutes to get it on to the table. Full of veggies, chickpeas and tender chicken thigh which works perfectly with curries. You will learn to make your own curry paste from scratch, this is a lot easier than it sounds. Top with homemade pickled cucumber for sweet tang and toasted coconut flakes for a little bit of crunch. Make in bulk for easy weeknight dinners. Serve with quinoa or brown rice to make the dish go a little further.
Recipe designed and photographed by Rosie Eyre of By Rosie
Takes 25 mins
Serves 3-4 people
Ingredients:
For the curry:
500g organic chicken thigh, cut into 2cm pieces
300g zucchini, roughly chopped
400ml organic coconut cream
60g spinach, roughly chopped
2 tins chickpeas (800g), drained and rinsed
1 tbsp honey/sweetener of choice
1 tbsp tamari or soy sauce
For the curry paste:
1 small red onion, peeled, roughly chopped
3 garlic cloves, peeled
4 thumbs ginger, peeled
4 kaffir lime leaves, stalked removed
1 bunch coriander stalks, keep leaves for garnish
1 fresh lime, zested and juiced
2 tbsp olive oil
1 tsp tamari or soy sauce
1 green chilli, roughly chopped (optional)
15g coconut flakes
For the cucumber pickle:
1 Lebanese cucumber, finely sliced
4tsbp apple cider vinegar
1 tsp honey or sweetener of choice
salt
water
Method:
Prep all the ingredients
Add cucumber to medium bowl and top with apple cider vinegar, honey, a good pinch of salt and cover cucumber with water to ensure all is submerged. Mix together and set aside.
Add all curry paste ingredients (leave out chilli if do not like spice) into a blender and blitz until really smooth, pour out into a bowl and set aside.
Place coconut cream and zucchini into blender and blitz until smooth, set aside.
Heat a large frying pan or wok over high heat, add coconut flakes and toast for 1-2 mins until browned and toasted. Remove from pan and set aside in a small bowl.
Place wok or frying pan back on medium/high heat with good drizzle of olive oil. Once hot add chicken and cook for 3-4mins until browned.
Add curry paste and chickpeas and fry for 2-3 mins until fragrant.
Add coconut/zucchini blend and heat through for 3-4mins. Season to taste with 1tbsp tamari/soy and 1tbsp honey. Take off heat and stir through spinach until wilted.
Serve up in bowls top with toasted coconut, a side of pickled cucumber and sprinkle over coriander leaves.