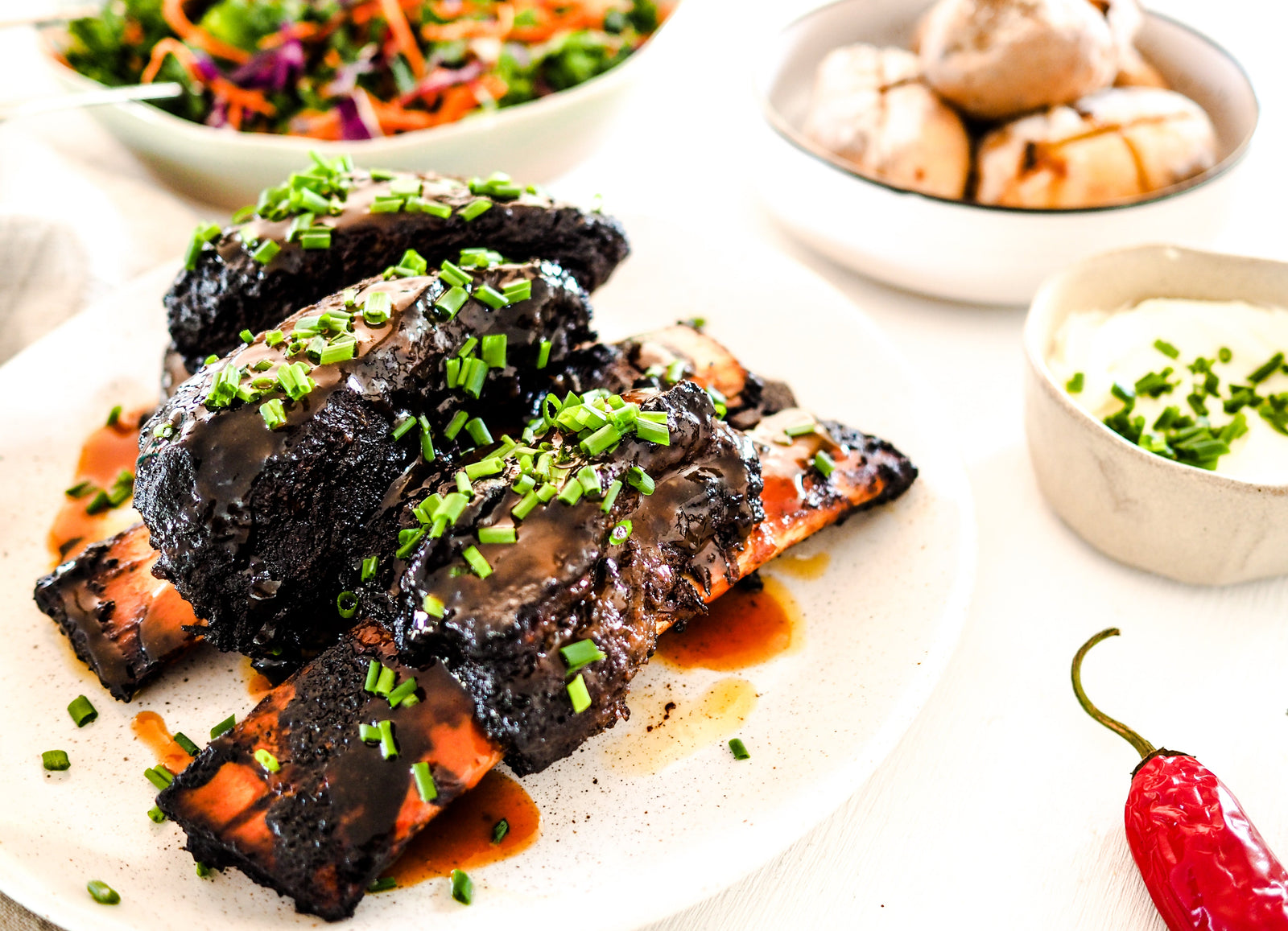 Spiced Sticky Beef Ribs with Baked Potatoes, Sour Cream, Chives and Slaw
Short beef ribs are such a brilliant cut as they offer so much meat and also take to flavour really well, making them perfect for a dish like this. These ribs were marinated in spices for 18h and then placed in an oven for 3 hours with continuous basting of a homemade sticky sweet sour marinade. Something to serve on the weekend as they can take some time, the end result is certainly worth it. Served with baked potatoes, a great source of resistant starch which can assist in supporting good gut health, slaw which is great form of fibre to support a healthy digestive tract, chives which are members of the onion family which can support the liver due to their sulphur content and sour cream, a source of calcium, vitamin A to support vision as well as immunity.
Recipe created and written  by Clinical Nutritionist Rosie Eyre of By Rosie
Serves 3 People
Marinated Spice for ribs takes 12-18h
Cooking time take 3h
Ingredients:
For the spiced marinade:
1.3kg short beef ribs, around 3 ribs, individually sliced
½ tsp cayenne pepper
1 tsp smoked paprika
1 tsp ground cumin
1 tsp garlic powder
1 tsp salt
1 tsp ground pepper
For the sticky glaze:
50g butter
30g brown sugar
4 tbsp white wine vinegar
2 tbsp Worcestershire sauce
1 lemon, juiced
3 tbsp tomato sauce (opt for additive/colour free)
2 tsp mustard
2 tbsp raw honey
Serve with:
3 medium sized potatoes
100g sour cream
bunch chives, finely chopped
400g slaw mix mixed with 1 tbsp mayo, 1 tbsp greek yoghurt, ½ tsp vinegar, ½ tsp smoked paprika and 1 tsp Dijon mustard.
Method:
In a large bag or container add all the spices, salt and pepper for the spiced marinade and add the individual beef ribs and toss or shake to coat the ribs, ensure they are fulling coated. Seal then place in fridge overnight for 12-18h.
When you are ready to cook the ribs, preheat oven to 160c.
In a small sauce pan, low heat, melt butter and sugar for the sticky glaze, add remaining glaze ingredients and stir until smooth and heated through.
Lightly oil a large roasting tin or dish that houses a lid. Add ribs to pan, coat in oil then baste in some of the glaze with a brush until ribs are coated. Pop lid on or wrap roasting tin in foil, place in oven for 1 hour.
After an hour remove lid from oven dish and baste ribs again, place back in oven with lid off, continue this process every 20-30 minutes for 2 hours. Leave ½ cup of glaze to serve.
Whilst the ribs are cooking in the last 2 hours, add the potatoes too by slicing a cross in them, salting lightly and placing on middle shelf until crispy on the outside and cooked through the middle.
In the last 30 minutes of ribs and potatoes in the oven, in medium bowl add slaw mix and sauces and mix well together, season with a pinch of salt and pepper, set aside.
Serve up ribs, on plates with baked potatoes, dolloped in sour cream and sprinkled in spring onion, serve with a side of slaw and drizzle over remaining glaze on ribs.