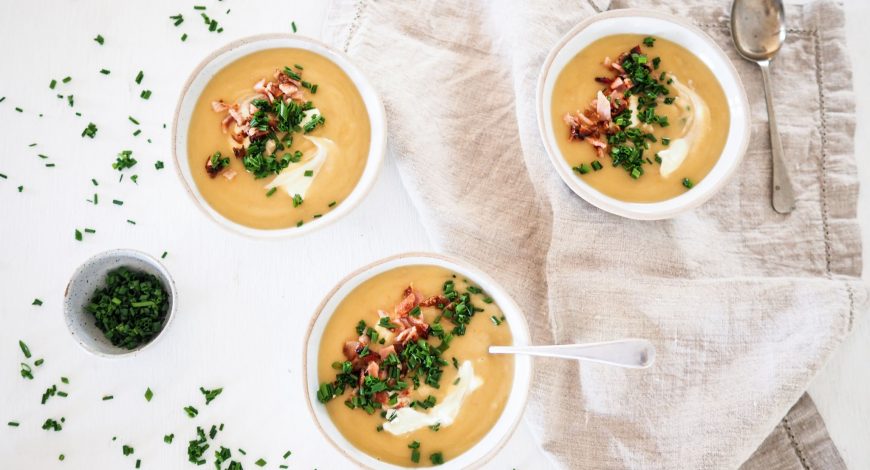 Smokey Bacon Broth and Potato Soup 
Ingredients for the smokey bacon broth
Makes 2 litres of broth
Takes 2 hours
 
Ingredients
1.5kg smoked organic bacon bones
1 tbsp apple cider vinegar
water
Method for smokey bacon broth
In a slow cooker add ham bones, cover with water until bones are submerged, add apple cider vinegar and put on high for 2 hours.
Remove bones and you are left with a delicious base to make the soup.
For the soup
Serves 4 people
Takes 30 minutes

Ingredients: 
1 onion, diced
2 carrots, roughly chopped
2 celery sticks, roughly chopped
2 cloves garlic, minced
600g potatoes, skins on, chopped into 1cm cubes
1L smoked pre-made smokey ham broth
20g butter
2-4
2 tbsp sour cream or Greek yoghurt
bunch chives, finely chopped
Method for smokey ham broth and potato soup
Prep all ingredients. In a large saucepan that houses a lid, low heat, add a good splash of olive oil, once hot add onion, carrots and celery. Place lid on and gently let the vegetables sweat for 6-7 minutes until fragrant. Stir occasionally to ensure it is not burning.
Add garlic and potatoes, stir well with other ingredients for 1-2 minutes until garlic is fragrant.
Add pre-made ham broth, bring to the boil then simmer for 20-25 minutes until potatoes break when touched with a fork. Take off heat, add butter, allow to melt then blend with a whizz stick until smooth. Season to taste with salt and pepper.
Serve up with dollops of sour cream or Greek yoghurt and good sprinkling of chives.