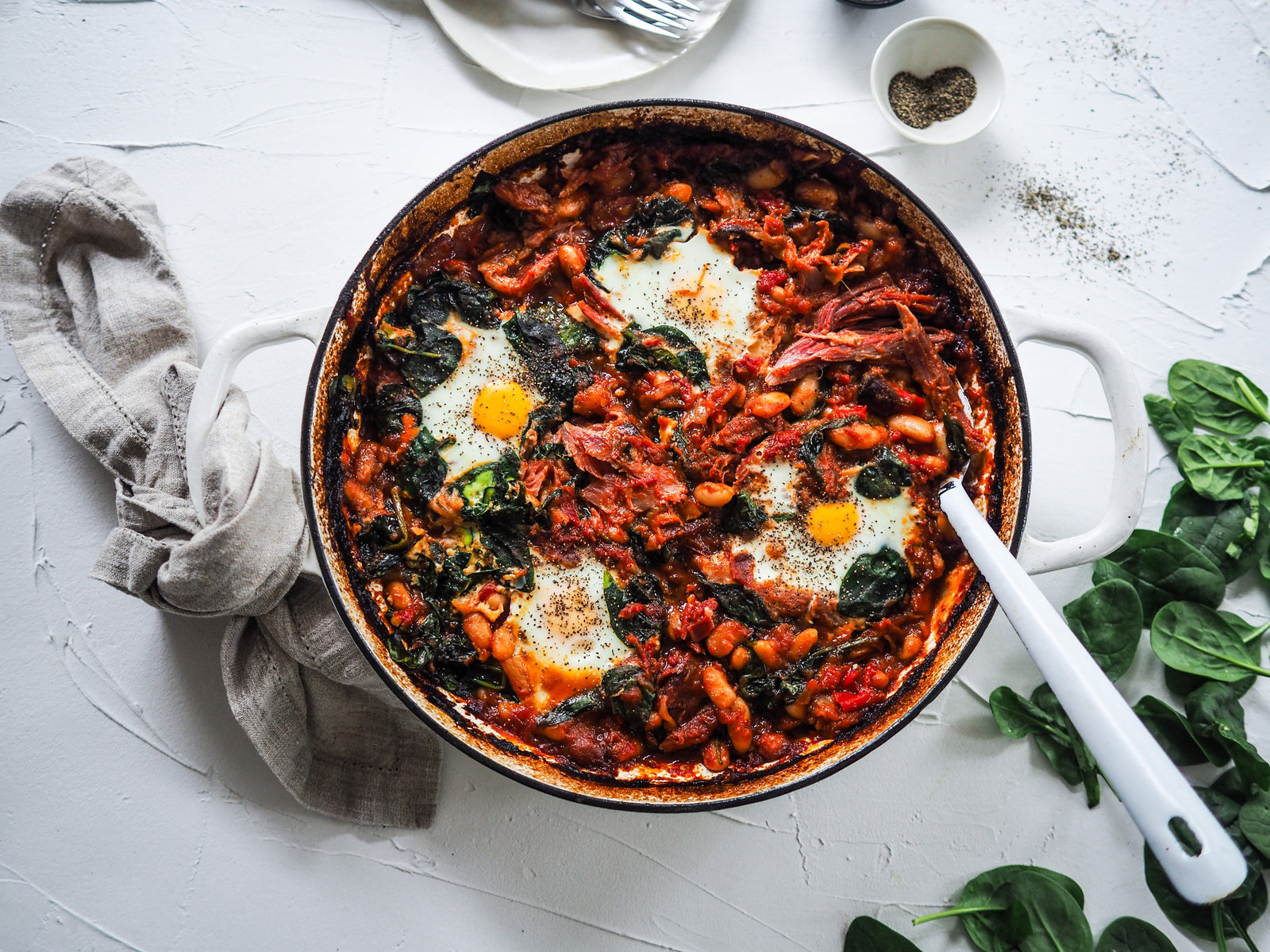 This is the perfect weekend breakfast that will tantalise your taste buds, slow cooking the ham hock extracts all those delicious smokey flavours which tie in so well with all the other ingredients used. Loaded with easily digestible protein from the slow cooked ham hock, eggs and cannellini beans. Full of fibre and the tomatoes give a rich source of the antioxidant lycopene. A great dish you could make this the day before and then just finish off part 5 in the method when you would like to enjoy.
Takes 5 hours
Serves 3-4
Ingredients:
1 red onion, finely sliced
1 capsicum, de-seeded and sliced lengthways
2 tsp smoked paprika
2 tsp oregano
2 tin diced tomatoes
1 tbsp apple cider vinegar
1 smoked organic or free range ham hock
400ml x filtered water
2 tin cannellini beans, drained and rinsed well
4 organic eggs
2 cups baby spinach, washed
Method:
Turn oven onto 170c. Prep all ingredients. In a large heavy based pan that houses a lid. Medium heat, add a good splash of olive oil. Once hot, add the onion and cook for 2-3 minutes until soft.

Then add capsicum, smoked paprika and oregano and stir for 1-2 minutes until fragrant. Add in tinned tomatoes, apple cider vinegar, stir well then add in ham hock. Cover with foil, followed by heavy lid.

Place in oven for 3 hours. Check to see ham is falling off the bone. If it is, then take out the ham hock, stir through the beans, add back in ham hock, cover with lid and back in the oven for 1 hour.

Remove from oven, remove ham hock bone and stir tender meat through.

Add spinach leaves. Make 4 wells and crack eggs into the wells, sprinkle of pepper. Place back in oven with lid on until eggs are cooked to desired consistency. Season at the end with salt and pepper.
Recipe and Photograph by Nutritionist Rosie Eyre of By Rosie