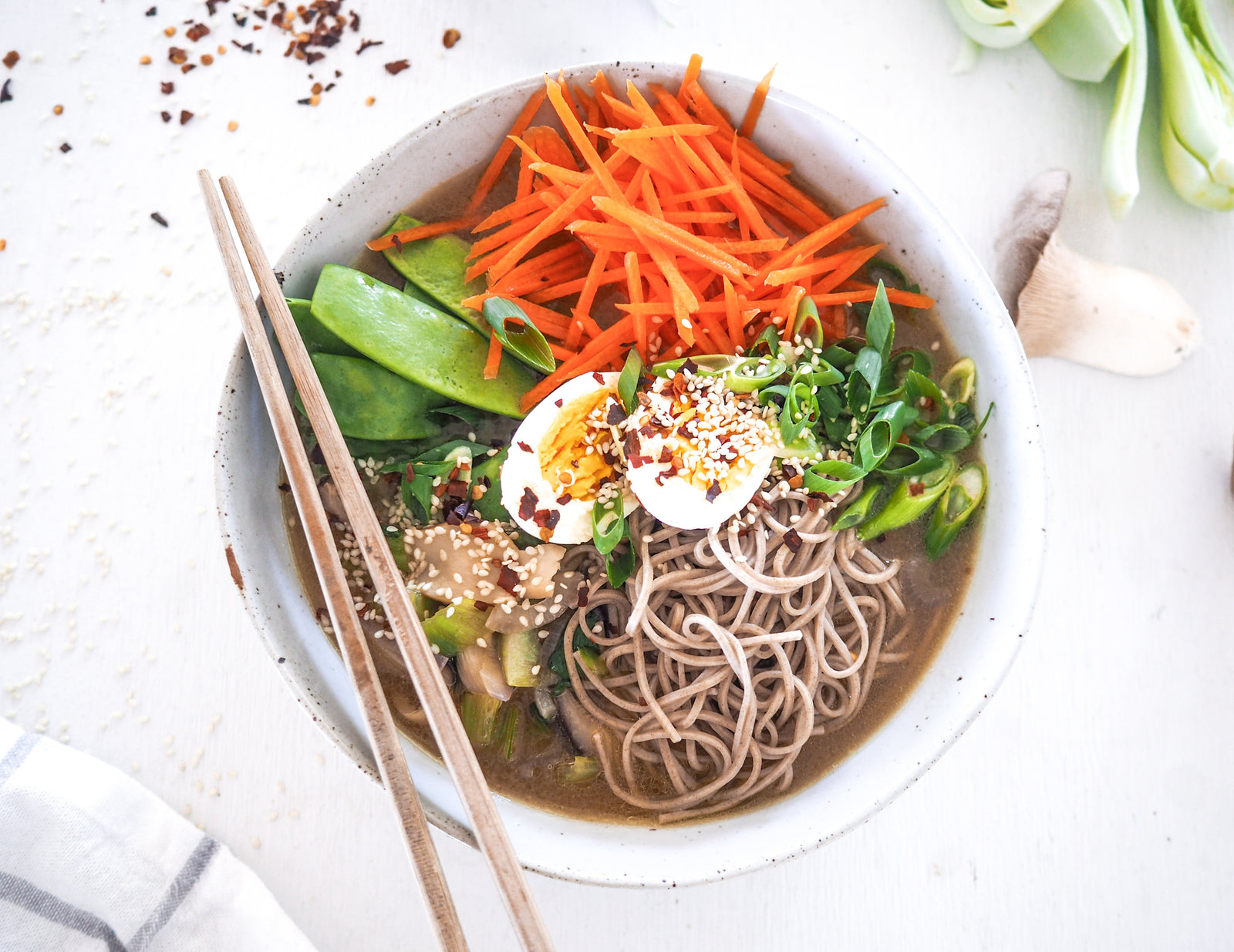 Slow Cooked Pork Bone Vegetable Ramen
A nourishing Japanese inspired ramen, with the broth base made from pork bones which have been slow cooked for 4 hours prior to making the ramen to bring more flavour and add the brilliant benefits of slow cooking your bones. These bones when slow cooked are full of collagen, which is the most abundant protein in the body, it acts as the glue to hold together connective tissue. This can help with healing our gut, skin, bones, joints, tissues and cartilage. The collagen in the marrow gets broken down into gelatin through the slow cooking process, that why it turns to jelly when cooled. Gelatin holds the same benefits as collagen.
This veggie loaded ramen combined a good variety of fresh veggies; from beta carotene rich carrots, the precursor to vitamin A, which is the vitamin that benefits our eyesight. Bok choy is a member to the brassica family and is great at supporting our liver and digestion. Snow peas which are rich in minerals such as potassium, calcium and magnesium to support a healthy heart beat, bones and muscles. Topped with a boiled egg for an extra dose of protein and some organic udon noodles add in that dose of grains to help provide a well balanced bowl.
A perfect dish for any day or night of the week. Make the pork broth in bulk and freeze for later.
Recipe created and written by Clinical Nutritionist Rosie Eyre of By Rosie
Takes 15 minutes to make ramen
Takes 4 hours to slow cook pork bones
Ingredients for the slow cook pork bone broth:
Makes 1.5L bone broth
800g pork bones
2 tbsp apple cider vinegar
water
Method for slow cooked pork bone broth:
In a slow cooked add you pork bones, apple cider vinegar and cover completely in water. Place on high and slow cook for 4 hours.
How to make the ramen:
Serves 2 People
Takes 15 minutes
Ingredients for ramen:
2 organic eggs, boiled to preference
1 red onion, finely sliced
150g mixed mushrooms
2 tbsp organic miso paste
800ml pork bone broth
2 tbsp rice wine vinegar
1 tbsp tamari or soy sauce
½ tsp honey
1 bunch bok choy, roughly chopped
120g snow peas, trimmed
2 carrot, grated
2 spring onion, finely chopped
90g udon noodles, cooked following directions
chilli flakes to season (optional)
Method for ramen:
Prepare all ingredients, in a large sauce pan, medium heat, add a splash of olive oil, once hot add onion and sautéed for 2-3 minutes until soft and fragrant, add mushrooms and sautéed for a further 2-3 minutes.
Add miso and pork broth and bring to a simmering boil for 2-3 minutes, before adding in tamari, rice wine vinegar and honey to season to taste, add more of each if would like to make more sweet or sour, stir through bok choy until wilted, take off heat.
Load up bowls with cooked noodles, raw carrot and snow peas, pour in miso pork bone broth and veggies and top each bowl with boiled eggs, spring onion and sprinkling of chilli flakes.