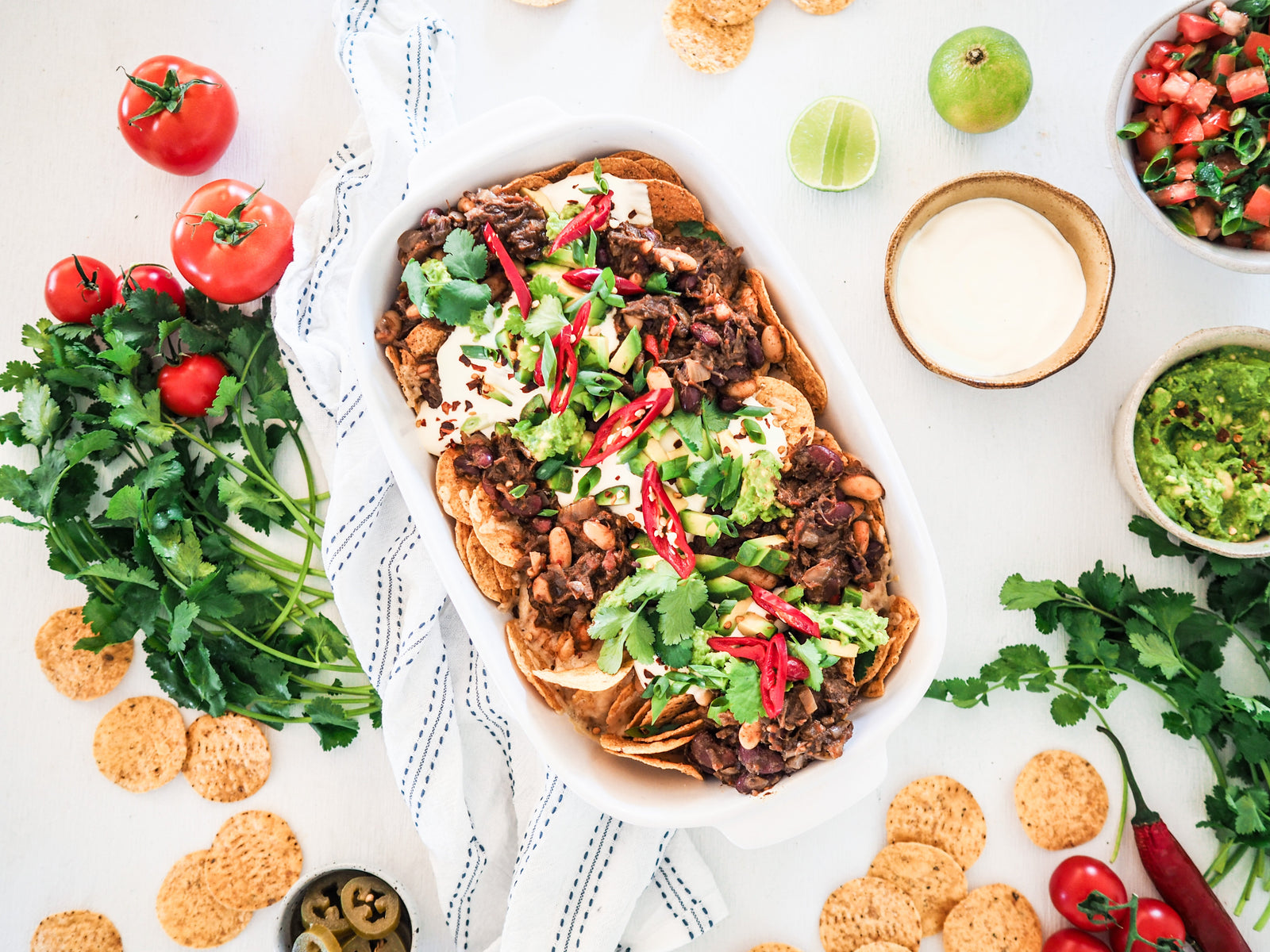 Slow Cooked Mexican Chilli Beef Cheek Nachos
This delicious spread of cheesy nachos, topped with slow cooked beef cheeks, lime and avocado guacamole, fresh salsa and topped with sour cream, chilli and spring onion.
Beef cheeks tenderise beautifully when slow cooked for 6 hours, these cuts are very regularly used, so slow cooking brings out all their flavours and makes the meat so sweet and succulent. This Mexican inspired dish is fantastic to bring together such great flavours and spice from slow cooking the beef with cinnamon, cumin, paprika and chillies. Bulked up with a kidney and cannellini beans for extra protein and fibre to support good digestion. Top with homemade guacamole rich in vitamin E which is great for skin health and elasticity as well as a great antioxidant. Tomato, lime and spring onion salsa rich in the antioxidant lycopene which is great to help the body protect from damaged cells in the body, also brilliant for skin due to the vitamin C content and spring onions are rich in sulphur which can help support our liver processing toxins. Perfect dose of calcium from the sour cream and strong cheddar and can top with extra chilli for that extra kick.
Make the beef in bulk and freeze for later dates. Would also go really well with a bowl of cooked rice and all the tasty additions.
Recipe created and written by Clinical Nutritionist Rosie Eyre of By Rosie
Serves 4 People
Takes 6 hours to slow cook the beef cheeks and 30 minutes to put together.
Ingredients:
For the slow cooked beef cheeks:
2 medium brown onion, diced
2 tsp cumin
2 tsp cinnamon
2 tsp smoked paprika
2 long red chillies, roughly chopped (optional if don't like heat)
1 tbsp red wine vinegar
1 tin diced tomatoes
800g organic beef cheek
1 bunch of coriander, stalks finely chopped, leaves left to serve
For when the beef is cooked:
1 x 400g tin kidney beans, drained and rinsed thoroughly
1 x 400g tin cannellini beans, drained and rinsed thoroughly
1-2 tsp salt
1-2 tsp sugar or honey
For the guacamole:
2 large ripe avocados
1-2 limes, juiced (dependent on size of avos)
1 tsp garlic powder
For the tomato salsa:
4 vine ripe tomatoes, finely chopped
1 spring onion, finely sliced
1 lime, squeezed
For the nachos and to serve:
400g plain nachos
200g strong cheddar cheese, grated
200g sour cream
1 spring onion, finely sliced
1 red chilli, finely sliced (optional)
Leaves from bunch of coriander.
Method:
Prep the ingredients for the slow cooked beef. In a slow cooker, add all the beef ingredients, ensuring everything is mixed well together. Place lid on slow cooker and set to high and cook for 6 hours. Once cooked the beef should fall apart.
When you are ready to make your nachos, pre-heat oven to 180c. Place slow cooked beef in stove top sauce pan, add kidney and cannellini beans with salt and sugar for seasoning. Tip* start with 1 tsp of salt and sugar and then up amount if not seasoned to your palette. Simmer off any excess liquid for 10-15 minutes.
Whilst beef is simmering, add nachos to oven proof tray or dish. Scatter cheese over and place in hot oven for 6-8 minutes until melted and gooey.
Whilst nachos and cheese are melting, make the guacamole by adding the avocados, lime juice, garlic powder, smash up to desired guacamole consistency and season to taste with salt and pepper. Add more lime juice if you like it zingy, set aside.
Make the salsa by adding the tomatoes, spring onion and lime juice, stir together and season with pinch of salt and pepper and drizzle of olive oil, set aside.
Once nachos are cooked, bring the whole dish together. Load up nachos with slow cooked beef and beans, dollop on guac, salsa, sour cream and top with additional spring onion, chilli (optional) and leaves from the coriander.