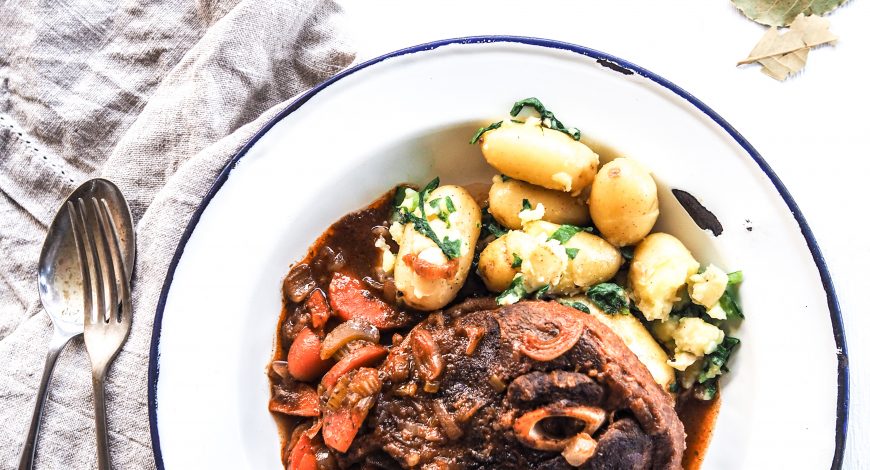 Slow Cooked Lamb Forequarters with Garlic, Spinach and Potato Smash
It is slow cooking season this winter and great to have hands-off time in the kitchen, where you can just chuck in all the ingredients and let those flavours amalgamate into something wonderful and delicious. As mentioned in previous posts slow cooking meats are gentle on our digestion, easier to absorb nutrients and perfect for anyone really, but beneficial for people who suffer from any digestive issues or disorders.
Lamb forequarters are fabulous for slow cooking, not only because of their fat that gives the dish a lot more flavour than leaner meats when slow cooked. But the bone that is usually in the forequarter offers a little golden nugget. It is full of collagen which is the most abundant protein in the body, it acts as the glue to hold together connective tissue. This can help with healing our gut, skin, bones, joints, tissues and cartilage. The collagen in the marrow gets broken down into gelatin through the slow cooking process, that why it turns to jelly when cooled. Gelatin holds the same benefits as collagen.
Lamb was seasoned with cumin and garlic which really bring out the flavour of the dish, loaded with every season veg which makes it cheap to buy and easily accessible for all. The potatoes are a traditional method used in Croatia; boiled until slightly soft they are tossed in garlic and olive oil, add in chopped spinach and stir together with salt and pepper. Did you know that the potato is a fabulous vegetable for gut health, it is jam packed full of resistant starch, especially when cooled. This resistant starch passes undigested through to our colon where it helps feed our good gut bugs, which promote diverse microbiota, with a more happy and healthy colon, we are more likely to thrive. Perfect accompaniment to any slow cooked meat dish.
Recipe created and written by Clinical Nutritionist Rosie Eyre of By Rosie
Serves 4
Takes 30 minutes prep and 4hours slow cooking
Ingredients:
For the slow cooked lamb:
1 kg lamb forequarter chops
1.5tsp cumin powder
2 tsp dried oregano
4 garlic cloves, minced
½ cup tomato paste
2 carrots, diced
2 celery sticks, diced
2 shallots, finely sliced
½ cup bone broth (can be chicken or beef)
½ cup red wine (or can be ½ cup water with 1 tbsp red wine vinegar)
2 bay leaves
1 tbsp apple cider vinegar
To season the slow cooked lamb (once cooked):
2 tsp raw honey
2 tsp sea salt
pepper
To make garlic and spinach potato:
800g baby potatoes, halved if too big
olive oil
2 garlic cloves minced
200g English or baby spinach, roughly chopped
salt and pepper
Method: 
Prep the vegetables and meat for slow cooking; in the slow cooker add the forequarter lamb chops, cumin, oregano, garlic and tomato paste, rub the chops in these ingredients until all covered. Add onion, celery and carrots, bay leaves, red wine, broth, apple cider vinegar and mix to ensure all is combined. Turn heat to high on slow cooker, cook for 4 hours until meat is falling off the bone when touched.
Prep the potatoes; 30 minutes before the lamb is cooked, take lid off slow cooker for the last 30 minutes to evaporate some of the liquid or can transfer to a large frying pan and simmer over medium heat. Remove bay leaves. Place a large pan of water on high heat and bring to the boil, add potatoes and cook until medium soft to touch with fork. Drain potatoes and set aside, place the sauce pan back on medium heat, add a good drizzle of olive oil, add garlic and cook the for 1-2 minutes until fragrant. Turn off heat then add potatoes and spinach back into large saucepan with garlic and toss to coat, season with a good pinch of salt and pepper and some more olive oil, smash slightly with back of spoon of potato masher. Set aside with lid on.
Season the lamb; once desired amount of liquid has evaporated off lamb (preferred choice), add raw honey, salt and good grind of pepper, stir into sauce and season to taste with more if salt or honey is needed.
Serve up; load up plates with garlic and spinach potato smash topped with slow cooked cumin lamb.