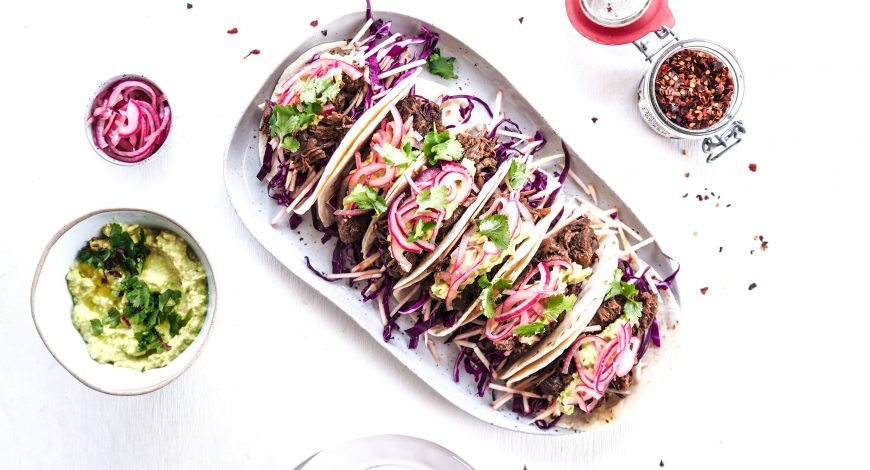 Slow Cooked Chipotle Beef Tacos with Apple and Cabbage Slaw, Guacamole and Pickled Onion
Slow cooking is a great cooking process to get into over the winter months, not only is it fuss-free and you can leave it to do its thing and come back with such good flavour. But also, the process of slow cooking gently breaks down the protein even more in the meat which makes it more easily digested when eaten, so for people with digestive issues, this is a great way to easily absorb protein. Gravy beef is a relatively cheap cut and fantastic for slow cooking, make in bulk and freeze for later.
These Mexican inspired tacos are full of nourishing ingredients. The gravy beef was rubbed in chipotle, this is a smokey not so spicy chilli and works well with beef. The tacos were made up of nourishing red cabbage that contain liver supporting nutrients when broken down through chewing, apples which are high in fibre to aid fluid digestion, but also vitamin C for immunity, skin health and connective tissue. They are rich in quercetain; a powerful antioxidant which will aid in protecting. Served with homemade pickled onion. The onion family possess so many wonderful traits due to their sulphur content. From being anti-bacterial, anti-fungal and anti-viral, it may help improve immunity and beneficial for blood and circulatory system. The avocado in the guacamole is full of good fats which are great for all hormones (not just the female hormones!), they can help slow down the digestion to ease blood glucose imbalances, they help protein absorb and nutrients from your vegetables. They contain vitamin E, great for skin hair and nails and magnesium for sleep. Served in wraps. Perfectly well balanced meal with all your necessary macronutrients to keep you going and offer great nourishment.
Recipe created and written by Clinical Nutritionist Rosie Eyre of By Rosie
Serves 2 People
Takes 4h to slow cook beef and 10 minutes to put together
Ingredients:
For the beef:
500g gravy beef
½ red onion, finely sliced
2 garlic cloves, minced
2 tbsp chipotle sauce 
1 tsp cumin
1 tsp brown sugar or raw honey
salt and pepper
For the pickle:
½ red onion, finely sliced
2 tsp brown sugar or raw honey
1 tsp salt
1/3 cup apple cider vinegar
water
For the guacamole:
1 large ripe avocado
1 garlic clove, minced (leave out if don't like raw garlic)
½ lemon, squeezed
salt and pepper
For the slaw:
2 cups shredded red cabbage
1 pink lady apple, finely sliced into matchsticks
6 wraps (can be any wraps of choice or even lettuce leaves if would like a lighter meal)
Method: 
Make the chipotle beef; place onion on base of slow cooker, add gravy beef, ½ onion, minced garlic, 2 tbsp chipotle sauce, 1 tsp cumin, brown sugar and good pinch of salt and pepper, rub into gravy beef to ensure all is covered. Place lid on and set to high for 4 hours.
Make the onion pickle; whilst beef is cooking make the onion pickle, place onion, brown sugar, salt, vinegar then top up with filtered water to cover the onion, once onion is covered scrunch well and set aside until beef is cooked.
Make the guacamole; in a medium bowl add avocado, garlic, lemon and smash well with the back or a fork, season with a pinch of salt and pepper, stir in and set aside covered in fridge until beef is ready.
Serve up;

 

when the beef is cooked through and falls apart when touched, gently shred it, season with a pinch more salt and pepper if needs be. Load up wraps with cabbage and apple, followed by beef, a dollop of guacamole, drain pickled onion and sprinkle on top of each wrap.