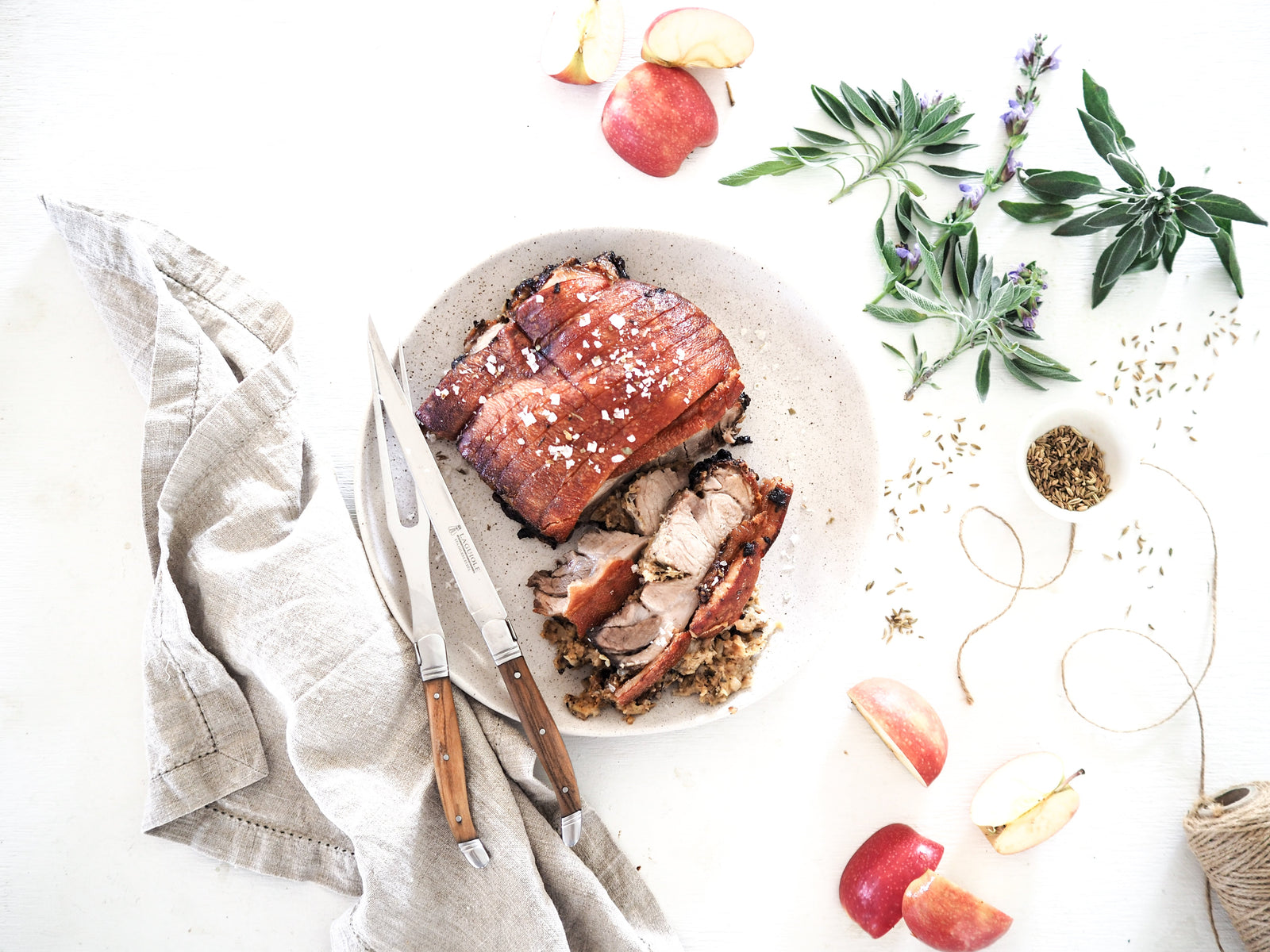 Roast Apple and Fennel Stuffed Loin of Pork
This is a brilliant way to cook pork on the weekend in summer or winter. It makes perfect cold lunches when finely sliced too. The apple and fennel stuffing are a match made in heaven that really compliment the flavours or the pork, the crackling is crunchy and salty and everything crackling should be. Organic pork is rich in b-vitamins. This group of vitamins are essential for so many functions in the body, they contribute to our mood and our energy levels. Serve alongside a crispy roast potatoes and peas for a more Autumnal inspired dish or have for Spring with finely sliced fennel, apple and celery salad drizzle in balsamic and sprinkled with goats cheese or you could even load up into buns with homemade apple sauce and sauerkraut and take on a weekend picnic. 
Recipe created and written by Clinical Nutritionist Rosie Eyre of By Rosie
Serves 3 People
You will need butchers string
Ingredients:
1-1.2kg organic boned and rolled loin of pork
1 large brown onion, finely diced
2 apples, peeled and grated
5g fresh oregano, finely chopped
2 tsp fresh sage, finely chopped
2 tbsp fennel seeds
120g of bread crumbs
4 tbsp water
2 tsp sea salt
1 tsp ground pepper
Method:
Prep all ingredients. Preheat oven to 150c. Remove the butcher string from the pork and roll out flat on a large roasting tin.
In a large frying pan, medium heat, add a good drizzle of olive oil, once hot add onion and sauté for 2-3 minutes until fragrant and translucent. Tip* be careful not to burn the onion, add grated apple, sage, oregano, fennel seeds and half of the water and fry for a further 2 minutes. Add in the breadcrumbs, salt and pepper and remaining water stir well to combine. Take off heat and keep stirring until it all binds together to resemble stuffing.
Spread stuffing over the loin, then carefully roll it up and as tightly as you can (might need four hands) without losing all the stuffing out of the sides, tie at regular intervals using butchers string.
Place loin on large roasting tin, skin facing up, rub skin in some salt.
Place in oven, middle shelf for 3 hours. Once the 3 hours is up turn up oven to 200c and pop back in oven, top shelf for 20 minutes until skin is crackling and crispy.
Remove pork from roasting tin and leave to rest for 5-10 minutes on a plate.
Drain the excess fat in roasting tin into a jar and save for later for extra crispy spuds.
Serve up by slicing up the pork, serve with crackling, a dollop of stuffing and drizzle over resting juices.