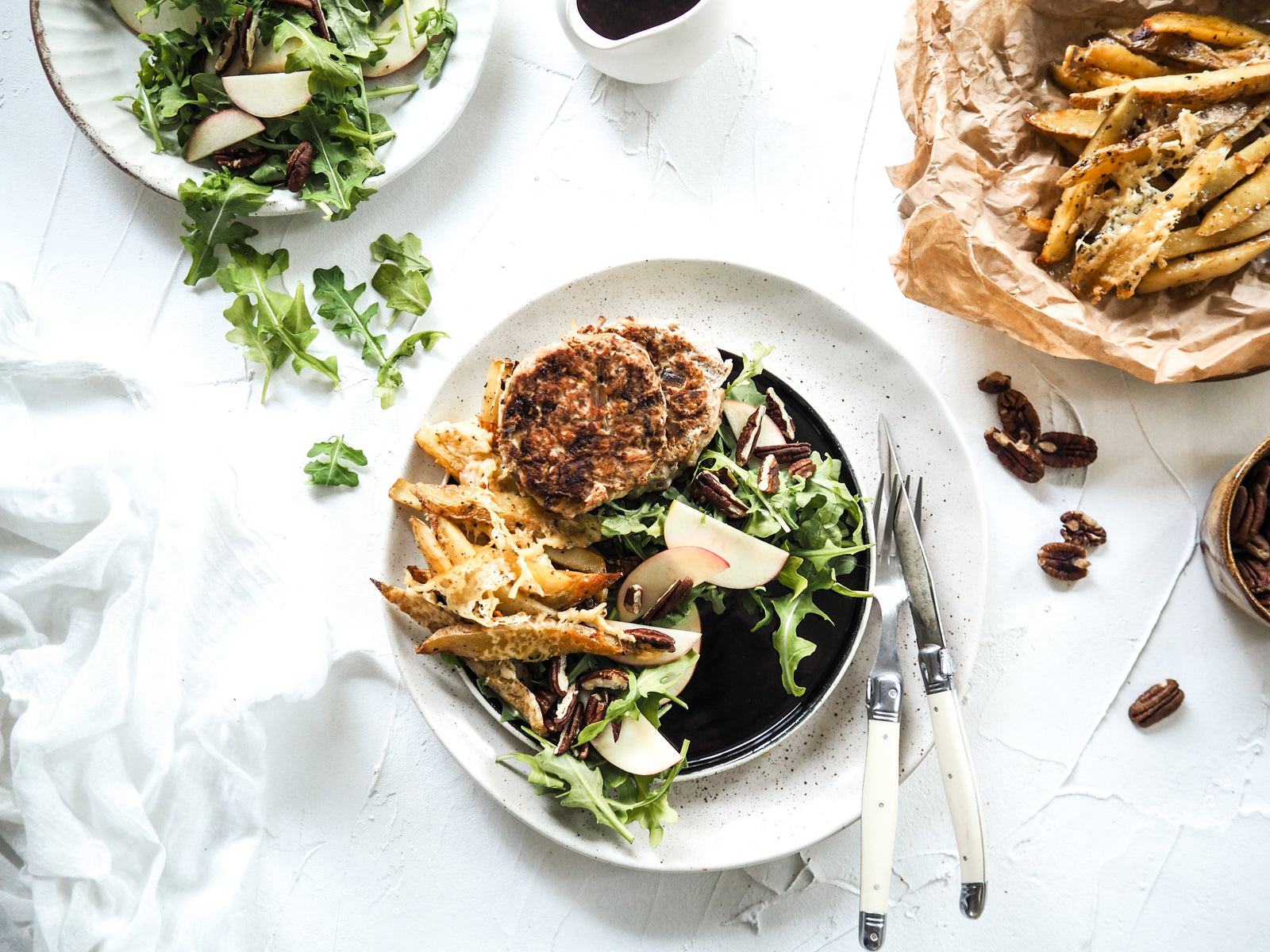 Pork & Sage Rissoles with Parmesan Fries and Apple Pecan Salad
 A super filling, fun and flavoursome meal to have any night of the week. Pork and sage are a match made in heaven, tied in with decadent parmesan fries and refreshing and zingy salad to wash it all down. The kids and adults will love this family friendly dish.
Takes 35 minutes, serves 2
Ingredients:
400g potatoes, sliced into chip size (1cm length ways)
50g parmesan, finely grated
300g pork mince
1 tsp fennel seeds
1 egg
2 sage leaves, finely chopped
½ onion, diced
½ tsp salt
½ tsp ground pepper
1 apple, half grated, half sliced finely
2 cups rocket salad, washed
30g pecans, sliced in half
1 tbsp balsamic
2 tbsp olive oil
1 tsp sugar or honey
1 garlic clove, minced
Method:
Preheat oven to 200c. Prep all the ingredients.

Grab a large roasting tray, add the potato fries, drizzle over olive oil and pinch of pepper, toss to coat. Place in oven for 25-30 minutes until crispy. Sprinkle over the parmesan once crispy and place back in oven for a further 5 minutes.

Whilst fries are roasting, make the rissoles by adding pork, fennel, sage, egg, ½ onion, grated apple and salt/pepper into a large mixing bowl, with slightly damp hands mix together all ingredients and shape into rissoles, makes 2 per person. Set aside.

Heat a small large pan over medium heat, once hot, add the pecans and toast for 2-3 minutes until slightly browned, take off heat and set aside in a bowl.

In a small bowl add balsamic, olive oil, honey and garlic, mix well and season to taste with pinch of pepper.

When fries have 10 minutes remaining. Place large frying pan back on medium/high heat, add a good splash of olive oil, once hot add the rissoles and cook for 5-6 minutes each side (tip*cooked through when mince is no longer pink in the middle). Set aside.

Load up plates with rissoles and cheesy fries, lastly add rocket, apple and toasted pecans, drizzle over homemade balsamic dressing.
Recipe and Photograph by Nutritionist Rosie Eyre of By Rosie