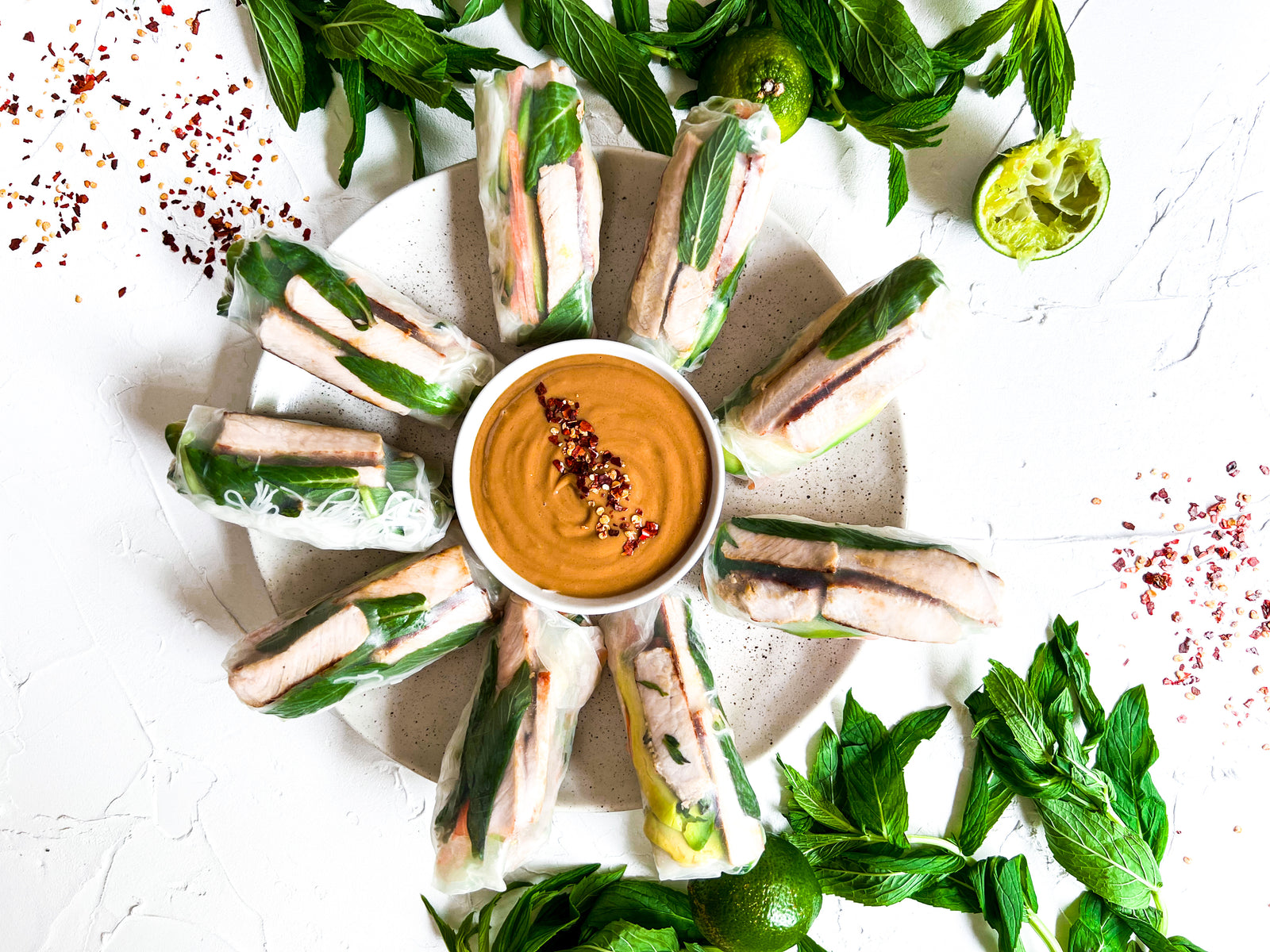 Pork rice paper rolls with homemade bang bang peanut sauce
Rice paper rolls homemade are such a simple feast to make and a great one for a quick light dinner or to make the day before and have for nourishing pack lunches. Pork is rich in b-vitamins which really helps with energy production, mood and hormones. Take out the chilli and kids will love this recipe too.
Recipe designed and photographed by Rosie Eyre of By Rosie
Serves 2 people
Makes 8-10 rice paper rolls
Ingredients:
For the pork rice paper rolls:
300g organic pork schnitzel cut 
10 sheets of rice paper
150g vermicelli noodles
1 medium carrot, julienned or cut into fine matchsticks
2 Lebanese cucumbers, cut into fine matchsticks
1 bunch of mint leaves
For the bang bang sauce:
90g smooth peanut butter
30g freshly squeezed lime juice (this is about 1 lime)
1.5tbsp tamari sauce or soy sauce
1.5tbsp honey or sweetener of choice
1.5tsp sesame oil
3tbsp warm water
chilli flakes
(Please note; 1tbsp measure = 15ml)
Method:
Make your sauce by adding all ingredients to a medium bowl and mixing together until smooth. TIP* If you prefer your sauce a little sweeter, add some more honey. Add as much or little chilli as you would like. Leave out chilli for fussy eaters or kids.
Prepare your veggies by cutting carrot and cucumber into matchsticks.
Bring a full kettle to the boil and cover vermicelli noodles for 8-10mins until soft, drain and rinse in cold water to avoid sticking, set aside.
Season pork with salt and pepper and splash of olive oil. Heat a large frying pan over medium high heat, drizzle with olive oil, once hot add pork loins and fry either side for 1-2 mins until cooked through. Leave to rest on a plate and cool. Thinly slice once cooled.
Make your rice paper rolls by wetting your rice paper and placing onto a damp teatowel. First add your cooked noodles, followed by veg, mint and thin slices of cooked pork. Follow instructions of how to fold rice paper roll by either online or on the back of packet. Load rice paper rolls onto a plate.
Serve up with bang bang dipping sauce.