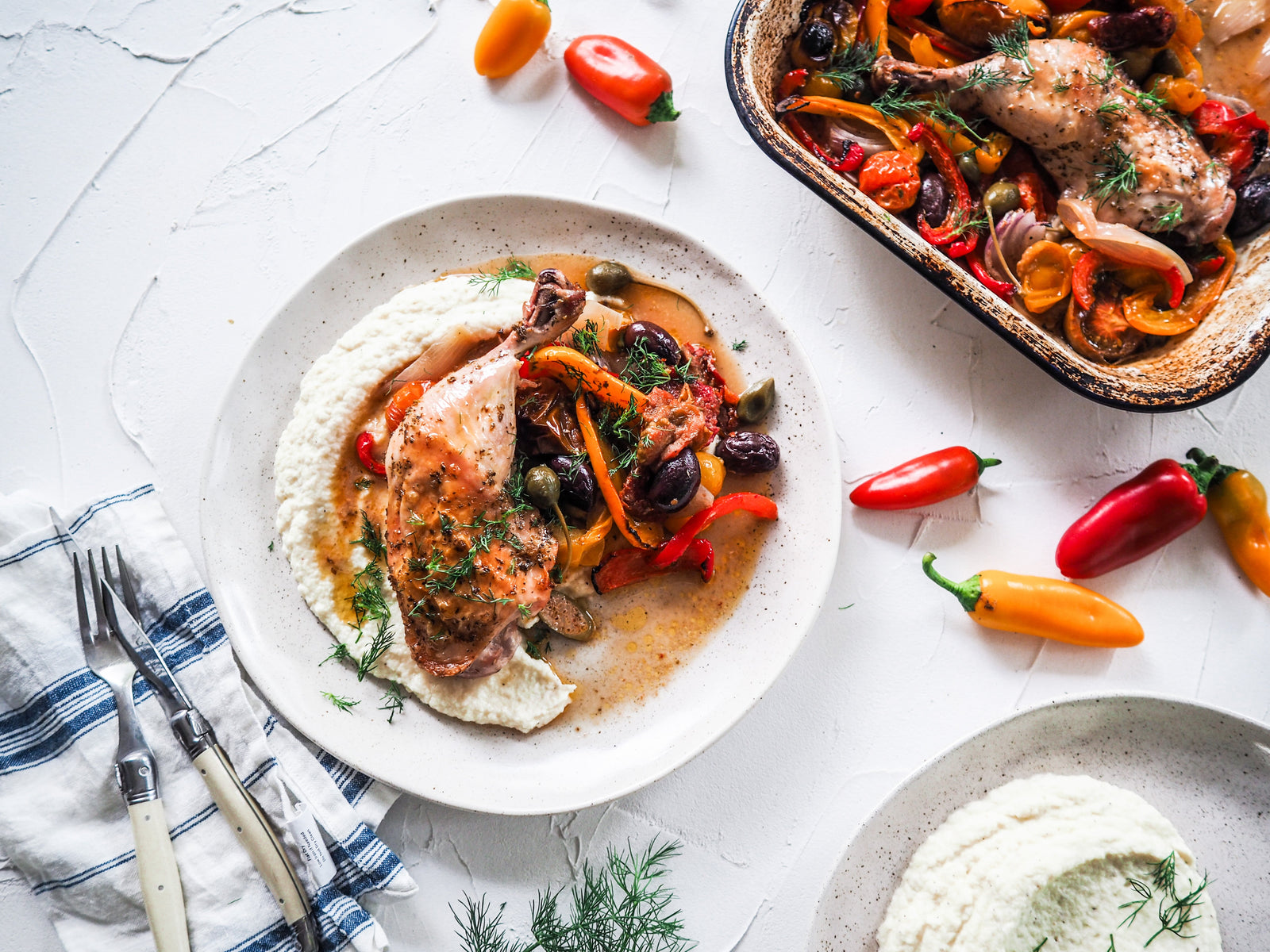 Oven-bake Mediterranean chicken Maryland's with creamy cauliflower mash
A dish packed full of Mediterranean flavour, rich in antioxidants, fibre and protein. Great to create any night of the week. Designed to be easy when you want to spend as little time in the kitchen as possible, throw all in one tray and roast in the oven. Served on a simple creamy smooth cauli mash which is rich in sulphur compounds that work as anti-inflammatories in the body, boosting our immunity and supporting our liver.
Recipe and Photograph by Nutritionist Rosie Eyre of By Rosie
Serves 2, takes 45 minutes
2 x chicken maryland's
1 red onion, peeled and quartered
30g capers, roughly chopped
50g Kalamata olives
50g sundried tomatoes, roughly chopped
1 red capsicum, de-seeded and finely sliced
1 yellow capsicum, de-seeded and finely sliced
200g cherry tomatoes, sliced
1 tsp oregano
1 tsp balsamic vinegar
500g cauliflower, roughly chopped
50g butter
½ bunch of dill, leaves picked and roughly chopped
salt and pepper
Preheat oven to 190c. Prep all the ingredients. Get a large saucepan of salted water on the boil for the cauliflower.

In a large baking tray or roasting tin roughly scatter red onion, capers, Kalamata olives, sundried tomatoes, red and yellow capsicum, cherry tomatoes, add the balsamic and good drizzle of olive oil, salt and pepper, toss to coat. Place the Maryland's on top, rub chicken in oregano and pinch of salt and pepper.

Place in hot oven for 35-40 minutes until chicken is cooked through and vegetables are slightly caramelised.

Whilst chicken is roasting, add chopped cauliflower to the large pan of salted boiling water. It will take about 8-10 minutes to boil until soft to prod with a fork. Drain and allow to steam dry. Add the butter, a good pinch of salt and pepper and blend with a whizz stick or in a food processor until really smooth.

Load up plate with cauli mash, roasted Mediterranean veggies and chicken, drizzle over juices and sprinkle over dill leaves to serve.