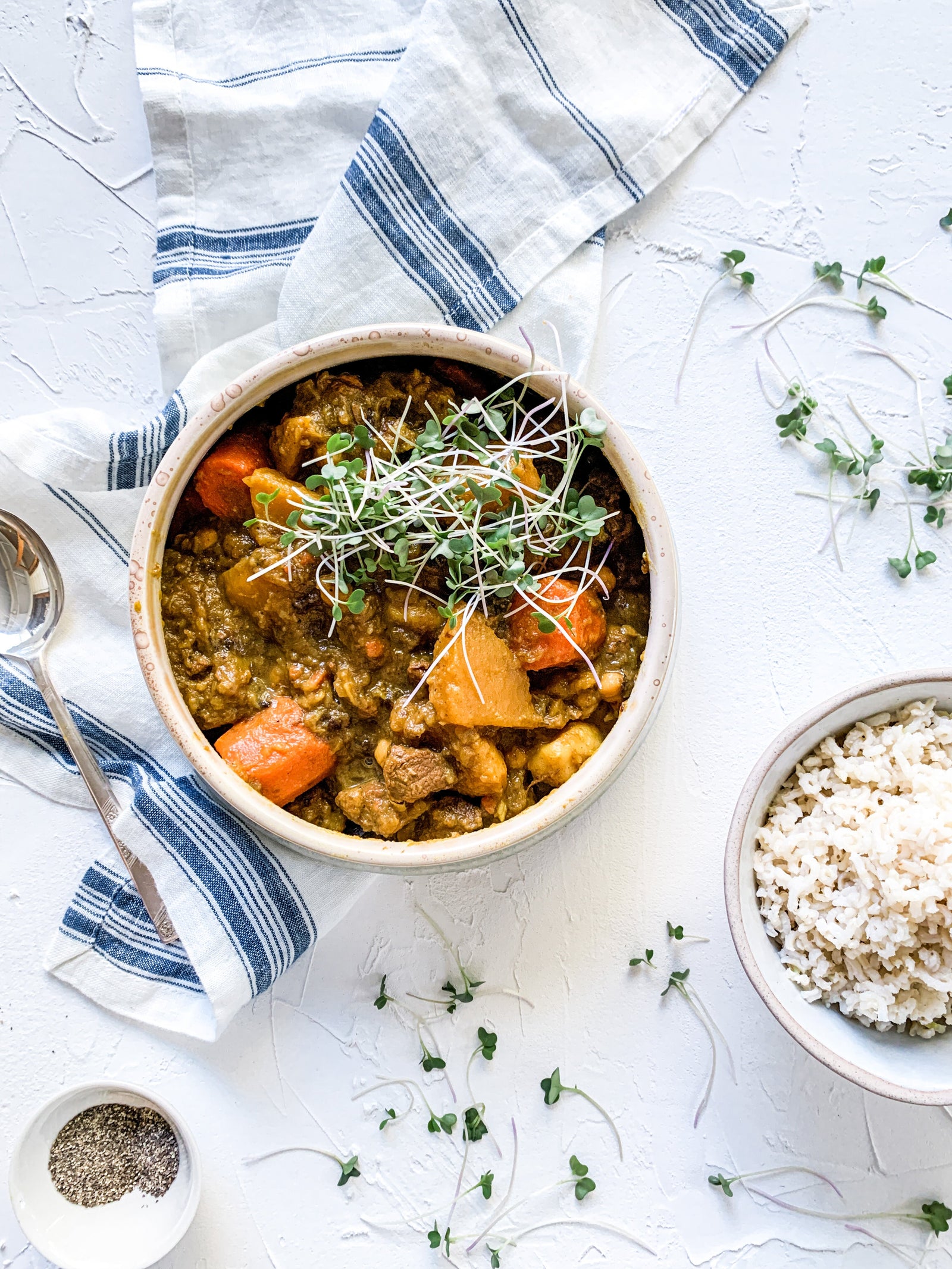 Moroccan Lamb Tagine
A delicious spiced lamb tagine, great to make in bulk on the weekends and freeze in batches. Warming and hearty, goes really well with a bowl of cooked rice.
Serves 6-8, Takes 3 hrs 
Ingredients:
2 onions, sliced
4tsp ginger powder or finely grated
3 tsp cumin powder
1tsp nutmeg powder
4tsp turmeric
1tsp pepper
1kg diced lamb
3 lg Swedes, peeled & sliced into 1/8ths
3 carrots, peeled & chopped into 2cm rounds
3 parsnips, peeled chopped into 2cm rounds
2 small sweet potatoes, peeled & roughly chopped
2 handfuls of dried prunes
4 litres of stock
2 tins chickpeas, drained & rinsed well
3 lg zucchini, sliced into 3cm rounds
Method: 
Prep all ingredients
Heat a large saucepan, medium heat, good glug olive oil, once hot add onions, cook for 2-3 minutes until fragrant
Add all the spices, cook for 1-2 minutes
Add lamb and brown for 5 minutes
Add all veg (apart from chickpeas & zucchini) & prunes
Add stock until everything is completely covered
Bring to the boil then let it simmer for 2h30, occasionally stirring.
Add chickpeas & zucchini, simmer for a further 30 minutes or more until lamb is tender.
Season with s+p, serve with rice.
Recipe and Photograph by Nutritionist Rosie Eyre of  By Rosie