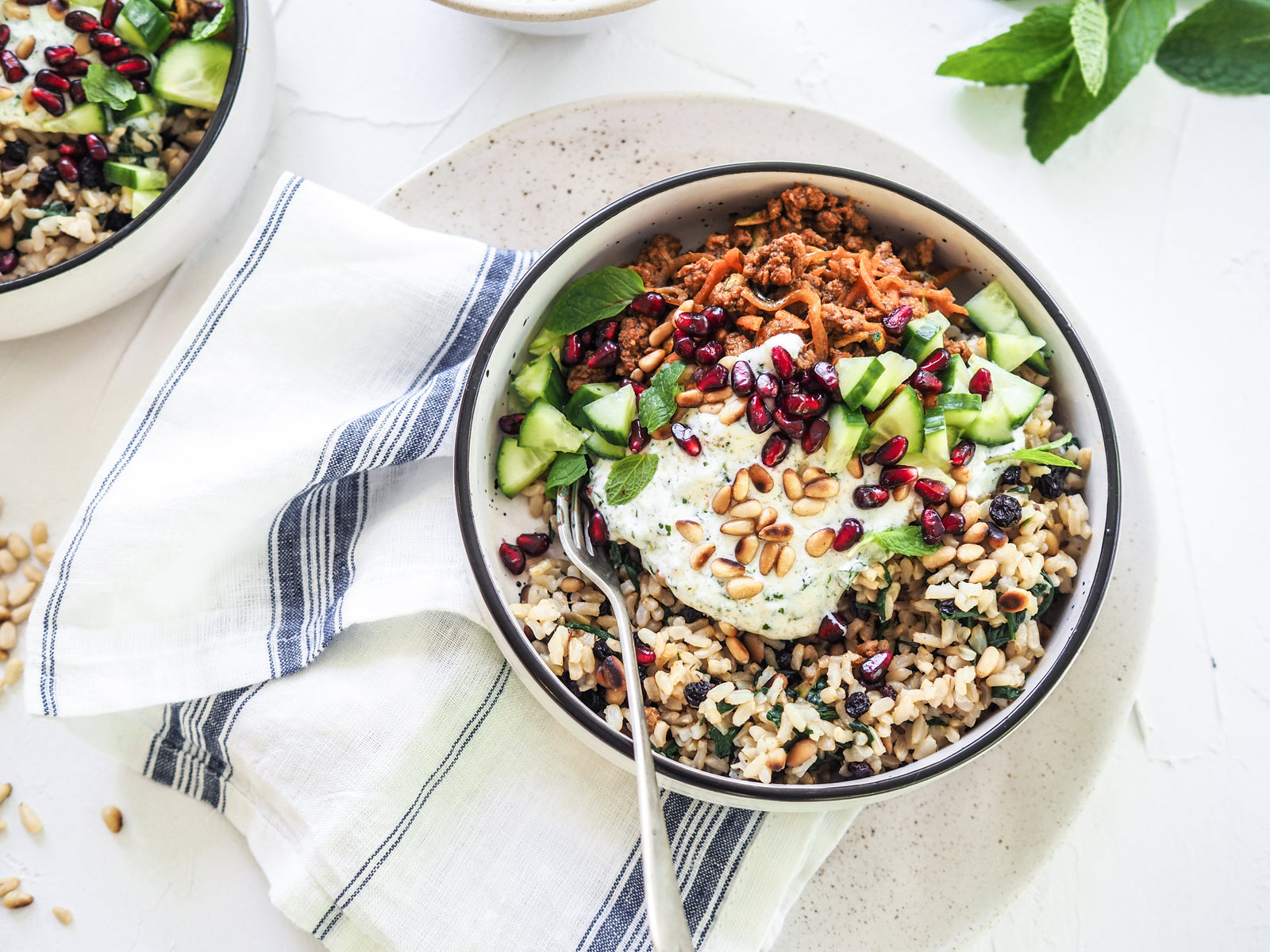 Moroccan Lamb Mince Bowl with Nourishing Jewelled Rice
Create a dish that is jam-packed full of delicious Moroccan inspired fresh flavours. The ras el hanout really compliments the lamb mince also extra hidden veggies to get some of your 5 a day. Extra nourishing jewelled brown rice for a low GI, b-vitamins for energy and high fibre to aid with digestion. The broth to promote gut healing. Topped with cooling mint yoghurt and cucumber.
Recipe and Photograph by Nutritionist Rosie Eyre of By Rosie
Takes 40 minutes, Serves 2
Ingredients:
1 cup brown rice, rinsed well
3 cups of stock or bone broth
2 garlic cloves, minced
150g plain Greek yoghurt
15g mint leaves, finely chopped
35g pinenuts
½ red onion, sliced
1 carrot, grated
1 zucchini, grated
300g organic lamb mince
2 tsp Ras el Hanout (Moroccan spice blend – you can make your own following this recipe)
70g (or 1/3 cup) tomato paste
1 Lebanese cucumber finely chopped
50g currants
2 cups baby spinach, finely chopped
Method:
Add rice to a large saucepan with broth, bring to a rollicking boil for 35 minutes until brown rice is all cooked through. Tip* if running out of liquid, top up with some water.

Prep all the other ingredients.

Heat a large frying pan with 1 tbsp of olive oil, medium heat. Once hot add half of the garlic and fry for 1-2 minutes until fragrant (be careful not to burn). Take off heat and pour oil and garlic into the yoghurt, mix well. Then add the mint, mix well and season to taste with pinch of salt and pepper, set aside.

Wipe out frying pan with paper towel and place back on medium heat, add pinenuts and toast for 3-4 minutes until golden, remove from pan and set aside.

Place frying pan back on medium heat, add onion and fry for 2-3 minutes until soft and fragrant. Then add carrot, zucchini and lamb mince, keep stirring to ensure mince is broken down. Fry for 3-4 minutes until browned and the vegetables have softened. Add remaining garlic, ras el hanout spice blend, tomato paste and fry for 3-4 minutes until fragrant and to ensure all mince mixture is coated, add a splash of water if a little dry. Season to taste with pinch of salt and pepper.

Once rice is cooked and the water is absorbed, add in currants and chopped spinach to the rice and stir through. Once spinach is wilted, time to serve up.

Load up bowls with rice, mince, dollop on some mint garlic yoghurt, scatter chopped cucumber, followed by pinenuts.