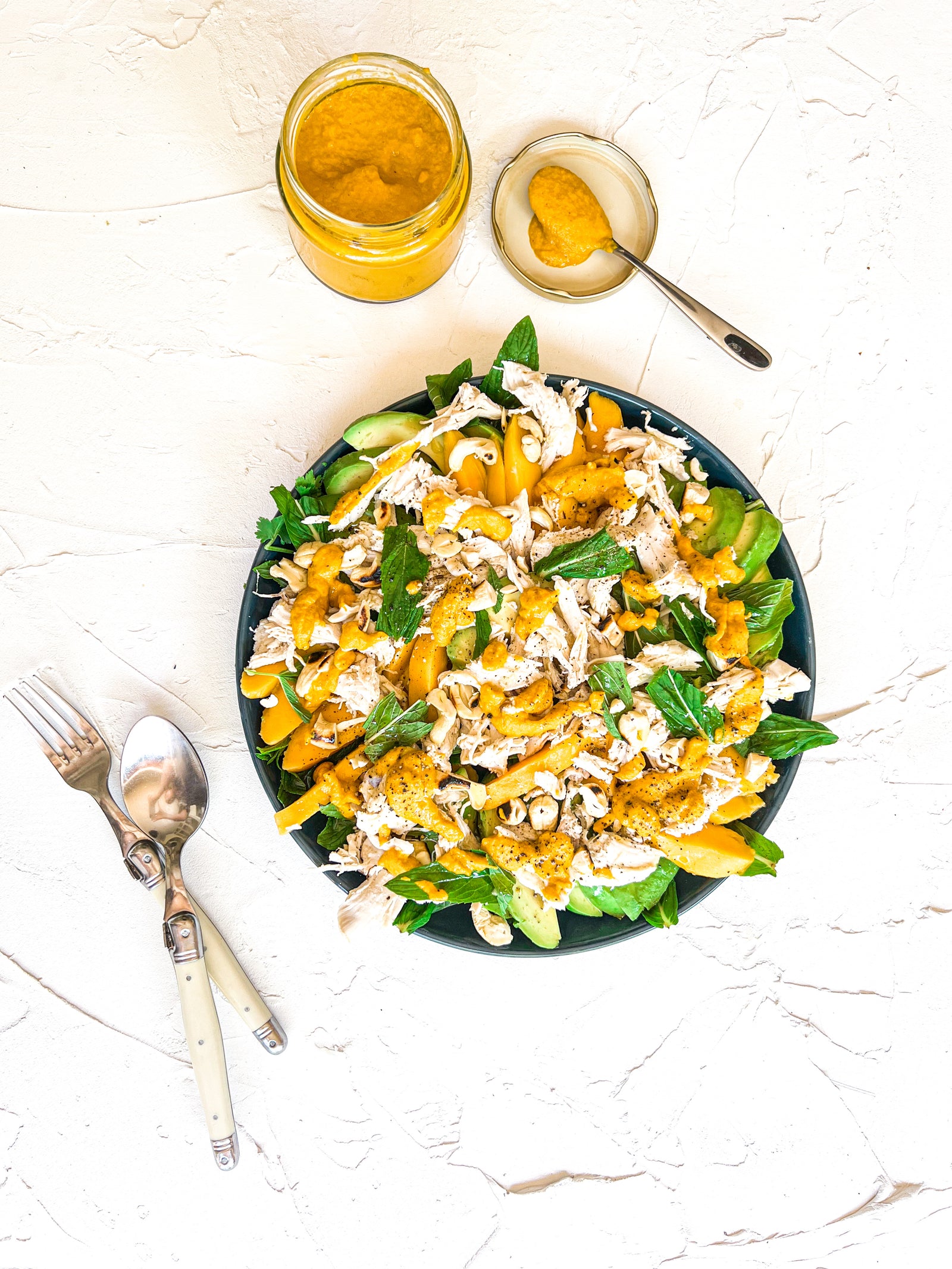 Mango, avocado and poached chicken salad with fragrant herbs and carrot ginger dressing
Mango and avocado are the taste of summer and a perfect pair to match with some simple poached chicken and toasted cashew nuts. Paired with a nutrient dense immune boosting carrot and ginger dressing that will take any salad to the next level.
Recipe designed and photographed by Rosie Eyre of By Rosie
Takes 35 minutes
Serves 2-3 people
For the poached chicken:
500g organic chicken breast (2 x 250g chicken breasts)
2 kafir lime leaves
2 tsp organic chicken stock paste
4 cups pure water
pepper
For the salad:
2 avocado, stone removed and finely sliced
2 mango, stone removed and flesh sliced
bunch of mint leaves, leave stalks
bunch of coriander leaves, leave stalks
¼ cup raw cashews
For the ginger carrot dressing:
1 carrot, peel and roughly chopped
25g of shallot (¼ to ½ shallot – depending on how much you like raw shallot!)
3 thumbs ginger, peeled with teaspoon
1 tbsp miso paste
2 tbsp apple cider vinegar
1 tbsp honey or brown sugar
¼ cup olive oil
2 tbsp water
salt and pepper
Poach the chicken by adding breast, stock paste, kaffir lime leaves and 4 cups water to medium saucepan, bring to the boil then simmer for 12-14mins. Leave to sit for 5 mins then place on plate to cool. Shred with two forks. Tip* ensure that breast is covered with water before poaching commences.
Prep all salad ingredients.
Place a small frying pan on med/high heat, once hot add cashews and toast for 2-3 mins until lightly browned, remove from pan and roughly chop once cooled.
Add all in ingredients for ginger carrot dressing, take it easy or leave out shallot if you are averse to onion family. Blend until really smooth, season to taste with salt and pepper. Tip* add more brown sugar if preferred.
When chicken is cooked and you have shredded it with two forks. Grab a large serving plate, scatter half the fresh herbs and top with sliced of mango and avocado, top with shredded poached chicken and finish off with remaining herbs and toasted cashews.
Drizzle over ginger carrot dressing or leave on the side for people to help themselves.