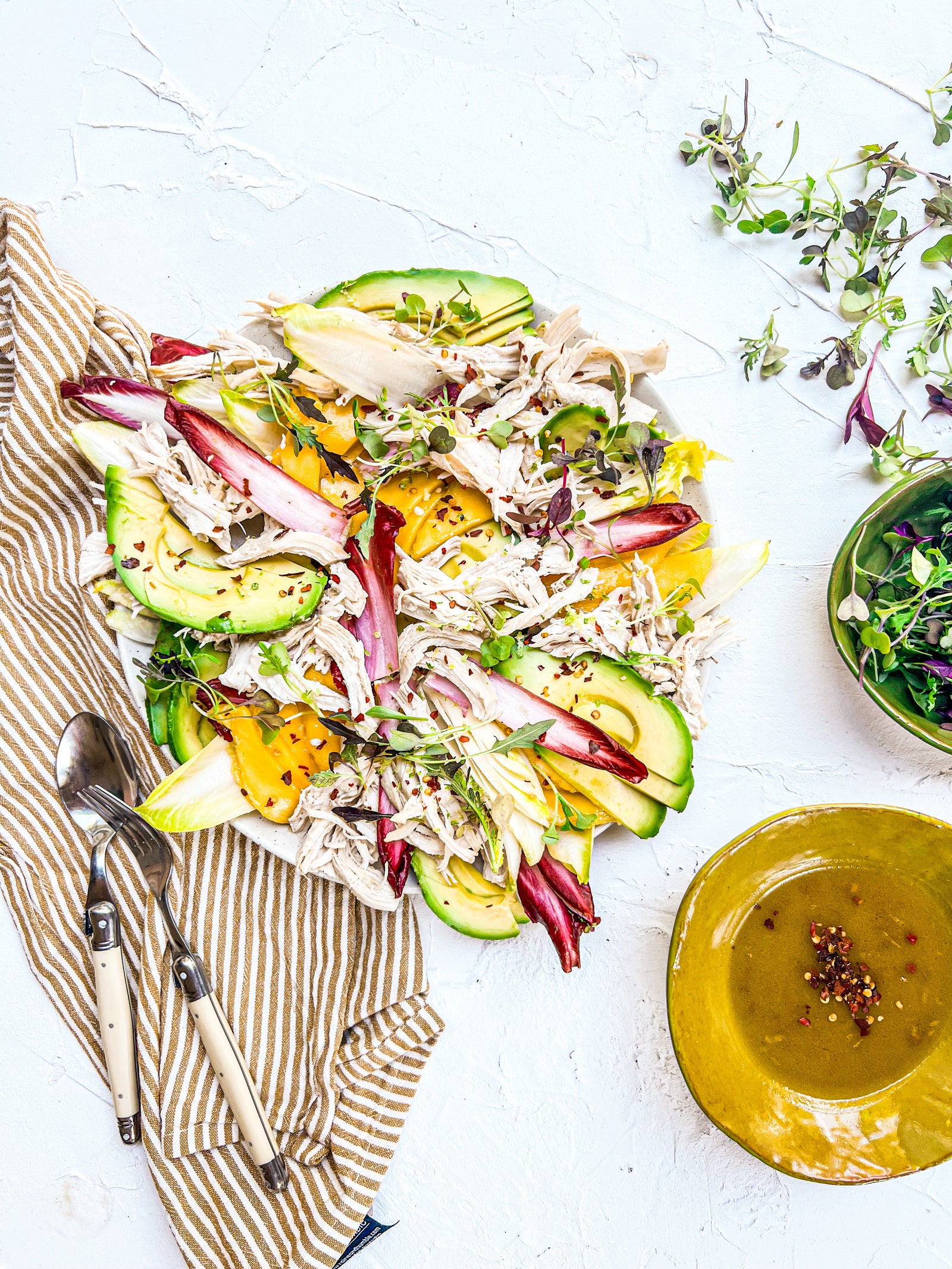 This is a perfect salad to put together with all that leftover turkey you might have. Turkey, mango, avocado on a bed of bitter leaves then tied together with zingy and refreshing chilli lime dressing, it is perfect for a Boxing day platter out in the sunshine, with no cooking required.
Recipe written and photographed by Rosie Eyre of By Rosie for Australian Organic Meat Company
Serves 2-3 people, takes 10 minutes
Ingredients:
For the salad:
500-600g left over roast turkey, shredded
200g witlof/chicory/radiccio or rocket, roughly chopped
1 large ripe avocado, de-stoned and sliced
2 large ripe mangos, destoned and flesh finely sliced
20g microgreen sprouts (or can use coriander leaves)
For the dressing:
3 tbsp brown sugar
1 chilli, deseeded and finely chopped
2 tbsp apple cider vinegar
¼ cup olive oil
½ cup lime juice, zest (2 large limes, juiced)
2 tsp tamari or soy sauce
Method:
Prep all ingredients
On a large platter scatter out bitter salad of choice, top with avocado and mango slices then finish off with shredded turkey. Scatter over microgreens and pinch of lime zest.
Add ¼ cup lime juice to jar with the rest of the ingredients. Place lid on and shake until combined. Taste and if you would like more lime add the rest in (I love it really limey, but appreciate this is not everyone's preference).
Season to taste if needed.
Serve up platter with dressing on side.