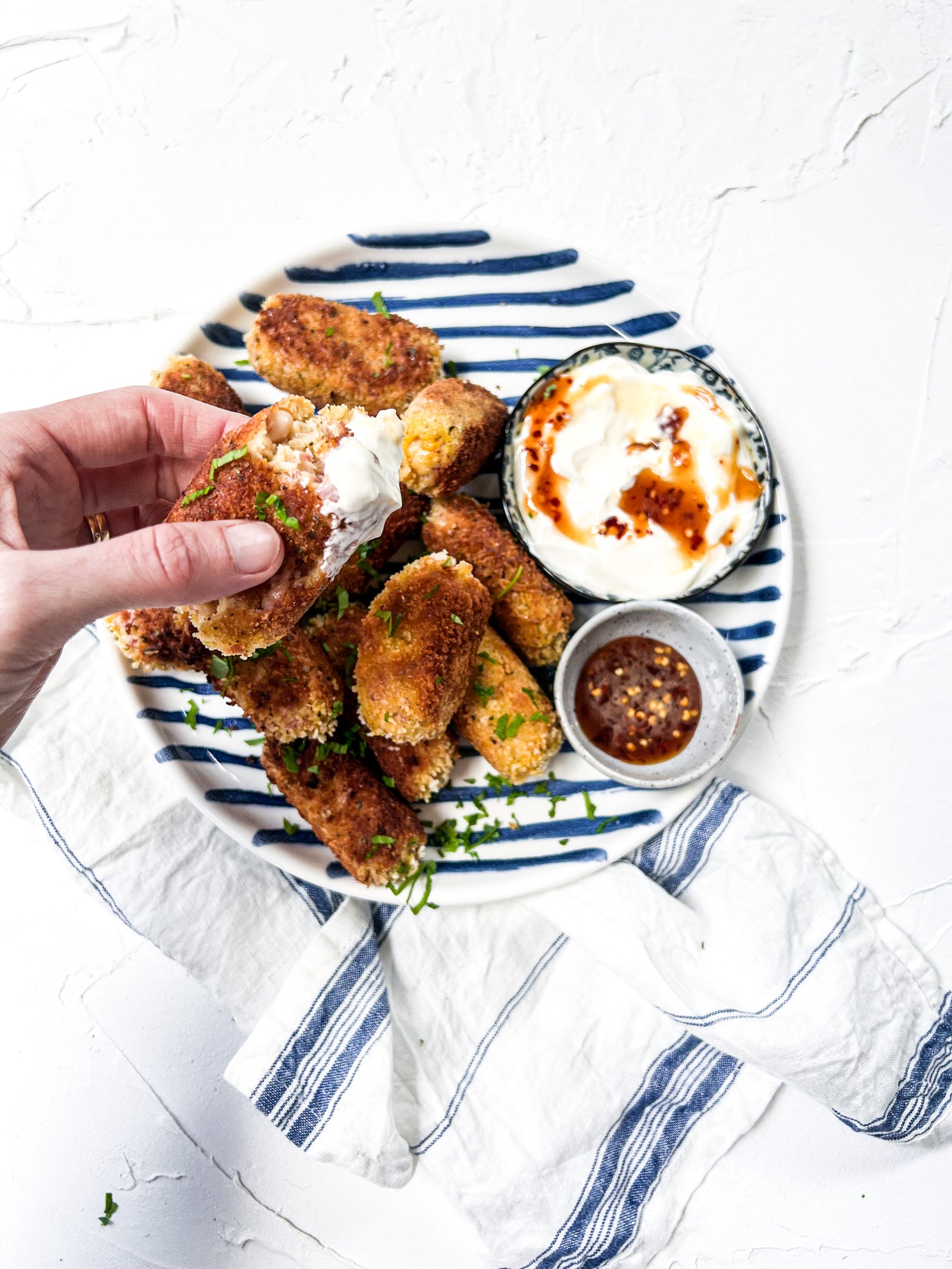 Regardless of where you are. There always seems to be leftover ham after the festivities of Christmas. This combination of making ham into croquettes is a great way to use up leftover ham and making the croquettes from cannellini beans make it super easy to put together. Serve up with a simple sour cream topped with homemade sweet chilli for dipping.
Recipe by Rosie Eyre of By Rosie
Serves 2-3
Takes 40-45 mins
Ingredients:
For the croquettes:
2 cloves garlic, minced
150g leftover Christmas ham, finely chopped
1 tin cannellini beans, drain and rinsed
75g mature cheddar, grated
2 tsp oregano
2 eggs
½ tbsp apple cider vinegar
125g breadcrumbs
salt and pepper
olive oil
150g sour cream
For the homemade sweet chilli sauce:
3 tbsp apple cider vinegar
2 tbsp honey
½ tsp chilli flakes (less if you choose)
N.b. 1 tbsp measure = 15ml
Method:
Prep all the ingredients.
Heat a large frying pan over med/high heat add a good splash of olive oil and add minced garlic. Fry for 30sec-1min until fragrant. Remove from heat and place in food processor with cannellini beans, cheddar, 1 tsp oregano, 1 egg, ½ tbsp apple cider vinegar, 100g breadcrumbs, ½ tsp salt and pepper and blend to combine until almost smooth, stir through ham. Transfer to large bowl or container and leave in fridge for 10 mins to set. *Tip: Do not blend too much. You can also use a potato masher to blend all ingredients together, if food processor not available. The longer you leave in the fridge, the firmer the ingredients will get and easier it will be to roll. Can prep a few hours before frying to save time.
Whilst the croquette mixture is setting in the fridge. Make the sweet chilli sauce by adding 3 tbsp apple cider vinegar, 2 tbsp honey and ½ tsp chilli flakes into small saucepan. Place over med/high heat until rollicking, then bring down to a simmer for 5 mins until slightly thickened. Set aside to cool. Tip* add less chilli if preferred
Split croquette mixture into 10-12 pieces, roughly 3-4cm long. Using wet hands shape croquettes.
In two small bowls crack second egg and whisk, add a little water if egg is small. In another bowl add 75g breadcrumbs, 1 tsp oregano and good pinch of salt and pepper.
Dip croquettes into egg mixture then coat in bread crumbs, repeat until all coated.
Place large frying pan back on med/high heat, drizzle with enough olive oil to coat bottom of pan. Once hot add half the croquettes and fry for 3-4 mins on either side until browned crispy coating, repeat until all cooked. Remove from pan and place on paper towel to drain of excess oil.
Add sour cream to another small bowl, drizzle over homemade sweet chilli sauce on top (or leave separate). Add to plate with croquettes and serve up. Tip* can add a sprinkling of fresh parsley to serve.