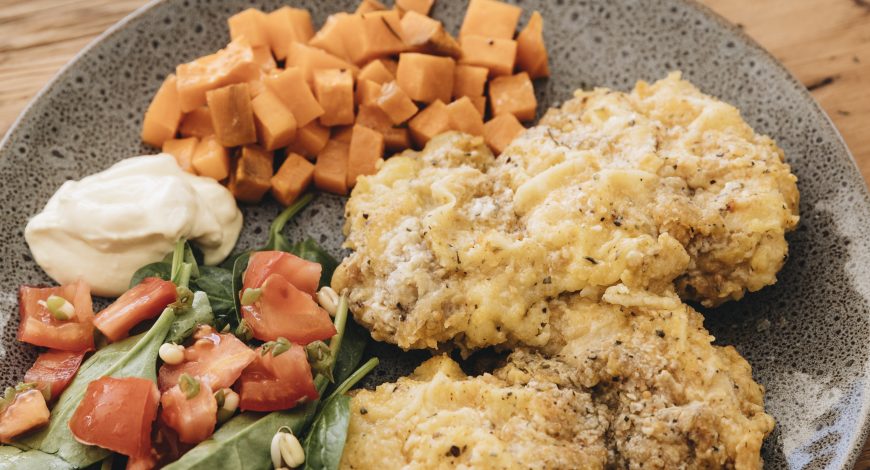 Krispy Fried Chicken
I'm sure many of you have your hands full with having your kids at home right now. If you're like me and working, I know just how crazy it can be juggling kids and work. It can get stressful and your day can become a blur when you're just trying to get everything on your to-do list done.
One thing I have taken from being a working mum, is that your work will always be there (and housework), but your child changes and grows every single day. You can't get that time back, so you have to make the most of each day. With being at home, why not get your kids cooking in the kitchen and creating some nourishing meals.
Try this simple recipe below for the best crumbed chicken thats easy enough for the little ones to help, its also gluten free and keto friendly.
It's also an easy recipe that you can do a big batch of at once, and put into a large container. On the nights when you're pushed for time, it's so easy to grab out, coat some chicken, pop it into the oven and do a salad, coleslaw and roast sweet potato on the side.
Ingredients
(I try to use organic spices where I can)
2 Tbs of Himalayan salt
1.5 Tbs of Black Peppercorns
1.5 Tbs of Dried Onion Flakes
1 Tbs of Dried Garlic
1 Tbs of Dried Rosemary
1/2 Tbs of Dried Basil
1/2 Tbs of Paprika
1/2 Tbs of Dried Oregano
1/2 Tbs of yellow mustard seeds
1 tsp of Dried Thyme
1 tsp of Dried Tarragon
350g of Tapioca flour (or whatever flour you like)
1kg of any certified organic chicken cut (my favourite to use is thighs)
2 x organic eggs
Method
Preheat oven at 180
Put all spices and flour into blender and blend until well combined.
Pour the flour and spice mixture into a bowl.
Whisk 2 eggs in a bowl.
Coat chicken pieces in egg and then coat well in the flour mixture.
Place the chicken onto a baking tray. Drizzle with olive oil and place into the oven.
Leave to bake for roughly 30 minutes or until cooked.
Serve with coleslaw or salad, aioli & sweet potato chips!