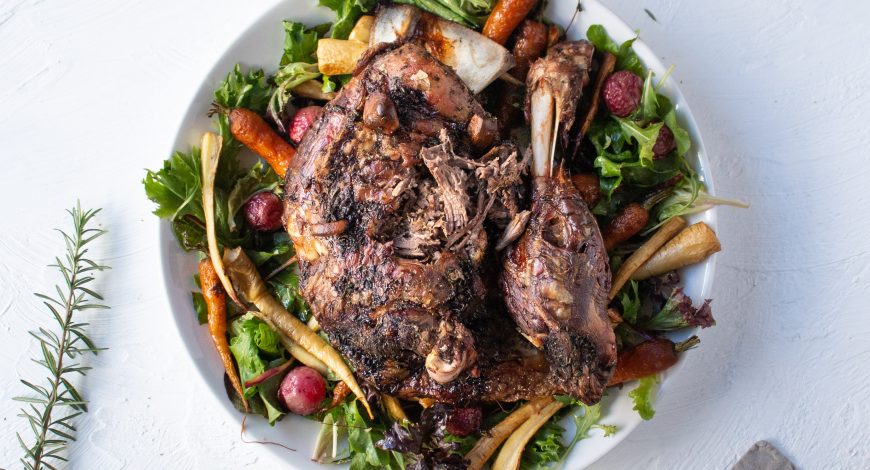 Herb and Garlic Pulled Lamb Shoulder with Winter Salad
Prep time: 15 minutes 
Cooking time: 6 hours 
A delicious lamb shoulder roast, the meat will fall off the bone. A simple yet healthy and delicious winters night dinner or the perfect Sunday roast. Complimented with a warm winters salad, this recipe is definitely recommended to try.
Ingredients 
Lamb
1 lamb shoulder 
6 garlic cloves 
2 tbsp thyme, finely chopped 
2 tbsp parsley, finely chopped 
Salt & pepper to season 
2 tbsp extra virgin olive oil 
Salad 
Approximately 250g fancy lettuce 
5-6 small parsnips, cut into quarters lengthways 
1 bunch radishes 
1 bunch baby carrots 
Dressing: 
2 tsp dijon mustard 
Juice of 1/2 lemon 
50 mL Extra Virgin Olive Oil 
1 tsp honey 

Method
Preheat the oven to 140 degrees Celsius.

Place lamb shoulder in a roasting pan and cut 6 slits across the top of the lamb.

Peel garlic cloves and insert into slits on lamb so that they are completely covered.

Drizzle extra virgin olive oil over the top of the lamb and rub over to cover entire top and sides of lamb.

Season with salt and pepper before adding finely chopped herbs and spreading over the lamb using hands.

Place lamb into the oven for 6 hours.

Place carrots, parsnip and radish into a roasting pan, drizzle with olive oil and toss to coat all of the vegetables evenly. Sprinkle with salt and then place in the oven when lamb has been cooking for 4 1/2 hours.

While the vegetables are roasting, prepare the dressing by adding all dressing ingredients into a glass jar with a lid. Shake vigorously to combine.

Once the lamb has reached 6 hours in the oven, remove lamb and vegetables.

To serve, place fancy lettuce across the base of a serving platter. Top with roast vegetables and dressing as desired. Top the salad with the lamb. Use forks to pull apart lamb.
Notes: Marinade lamb overnight before cooking to infuse more flavour into the meat. Save leftover dressing by keeping in sealed jar in the fridge.