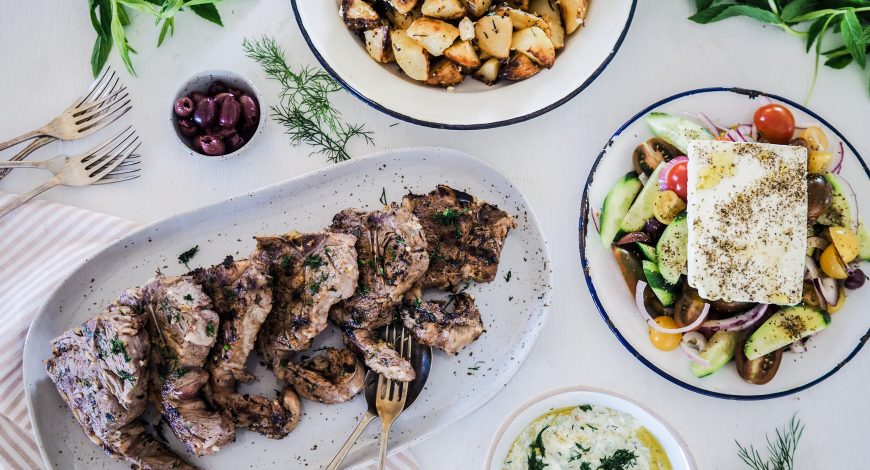 Greek Marinated Lamb Loin Chops with Spuds, Tzatziki and Greek Salad
We talk time and time again that the Mediterranean diet is one of the best anti-inflammatory diets to be on. It has been researched so heavily over the years. By looking at the quality of life as well as lifespan of the people who naturally follow this diet in the Med is an ode to its wonderful benefits. Scientifically speaking it has shown that it can help with chronic diseases such as cardiovascular, obesity, diabetes, cancer and Alzheimer's. 
The Med "lifestyle"! includes a high intake of cold pressed olive oil (by using good quality olive oil over fresh vegetables helps the vitamins within those veggies absorb so much better!). An abundance and variety of vegetables, leafy greens, fruits, cereals, nuts, pulses, legumes. A moderate intake of fish, meat, dairy products and red wine (just a small glass to help stimulate with digestion), a low intake of sweets. 
This dish is the perfect example of balance. Delicious and succulent organic lamb loin chops that have been marinated in lemon and oregano then flashed on the BBQ (or griddle), serves with crispy roast potatoes tossed in feta and oregano to finish, served with a good dollop of a traditional homemade tzatziki and served with a nutrient dense simple and cleansing Greek salad.
Recipe created and written  by Clinical Nutritionist Rosie Eyre of By Rosie
Serves 3 People
Takes 1hr
Ingredients
For the lamb
1 kg organic lamb loin chops
1 lemon zested and quartered
2 garlic cloves, minced
5g oregano leaves picked, roughly chopped
olive oil
pinch of salt
For the potatoes
1kg potatoes, chopped into 2-3cm pieces, skins left on
10g oregano leaves picked, roughly chopped
1 tbsp fresh or dry rosemary leaves
3 garlic cloves, minced
1 lemon, zested, quartered
salt and pepper
50g Greek feta
For the Tzatziki
200g Greek yoghurt
1 tablespoon white wine vinegar
2 garlic cloves, minced
1 Lebanese cucumber, grated
3tbsp olive oil
10g dill, finely chopped
Salt and Pepper
For the Greek salad
100g Greek feta
2 large vine ripe tomatoes (or 320g tomato medley), roughly chopped
1 Lebanese cucumber, peeled and chopped
½ red onion, finely sliced
10 Kalamata olives, stoned removed
½ to 1 tbsp dried oregano
salt and pepper  
Method
Turn oven on to 200c.

Marinate the lamb; in a large bowl add the lamb loins, lemon zest, half of the lemon juice, minced garlic, oregano, good splash of olive oil and good pinch of salt, toss lamb in all the flavour and set aside with cover.

Roast the potatoes; add potatoes to large roasting tray, oregano, add rosemary, minced garlic, zest of lemon, good splash of olive oil and good pinch of salt and pepper, toss to coat and place in hot oven for 40-50 minutes until crispy and golden.

Make the tzatziki; whilst potatoes are roasting, place grated cucumber in a sieve with pinch of salt over to get out excess water, wait a few minutes before squeezing out excess water. Tip* get out as much water as possible to making tzatziki runny. Place yoghurt into medium bowl, add vinegar, garlic, olive oil, dill and drained grated cucumber, mix well. Season to taste with salt and pepper, leave to sit in fridge before serving. Drizzle over olive oil and fresh dill to serve.

Make the Greek salad; wash all veg thoroughly. Place tomatoes in medium bowl, add cucumber, then onion. Just before serving. Dress salad with sprinkling of olive oil and pinch of salt and pepper. Place feta as slab on top (traditional Greek way) or can be cut into cubes. Serve with dried oregano sprinkled over and touch more olive oil.

Cook the lamb loin chop; when the potatoes have roughly 10 minutes to roast. Preheat BBQ to high or griddle pan to medium high on stove top. Once hot add loins and fry either side for 3 minutes (for medium), cook for longer if would like more well done. Set aside to rest.

Serve up; once potatoes are golden and crispy. Remove from oven and crumble over feta, squeeze of fresh lemon and toss to coat. Serve up alongside loins, Greek salad and a dollop of tzatziki.