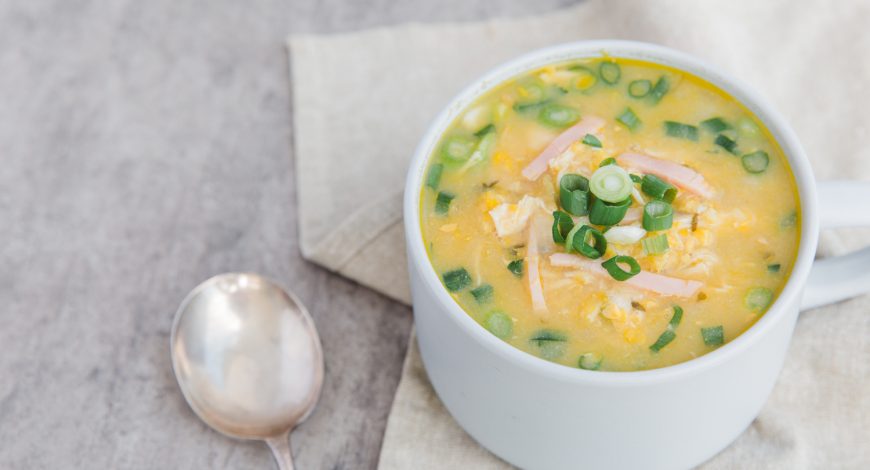 Chicken, Sweet Corn & Ham Soup
Ingredients
6 cups of Organic chicken broth (made using organic chicken frames)
2 cobs fresh corn – remove corn off the cob (blend half to a creamed consistency)
2cm piece ginger finely grated
3 organic chicken thigh or 2 organic chicken breast ( or if you use a whole chicken for your broth – remove the majority of the flesh from the carcass after about 2hours simmering
A couple of shallots finely sliced
1 tablespoon arrowroot or cornflour
About 1 tablespoon soy sauce, tamari or coconut aminos
200g of thinly sliced chemical free leg ham
Dash of sesame oil
2 eggs whisked
Method
Heat the chicken broth and add the chicken to cook until you can remove it and shred it. Return to the broth with both the 'creamed' corn and corn off the cob. Add the ginger and shallots ( save a sprinkle for the finished garnish ) soy or whatever you are using (taste and adjust if you want more saltiness ).
Simmer for about 10 minutes so the flavours develop then add the arrowroot or cornflour ( blended to a paste with a little bit of water) and stir constantly as you add it in. This will thicken the soup so if you like your soup thick, just add a little more.
To finish off add in the ham, a dash of sesame oil and slowly add the whisked eggs as you stir the liquid so the egg becomes like little strings. Garnish with a sprinkle of shallots.
Enjoy!