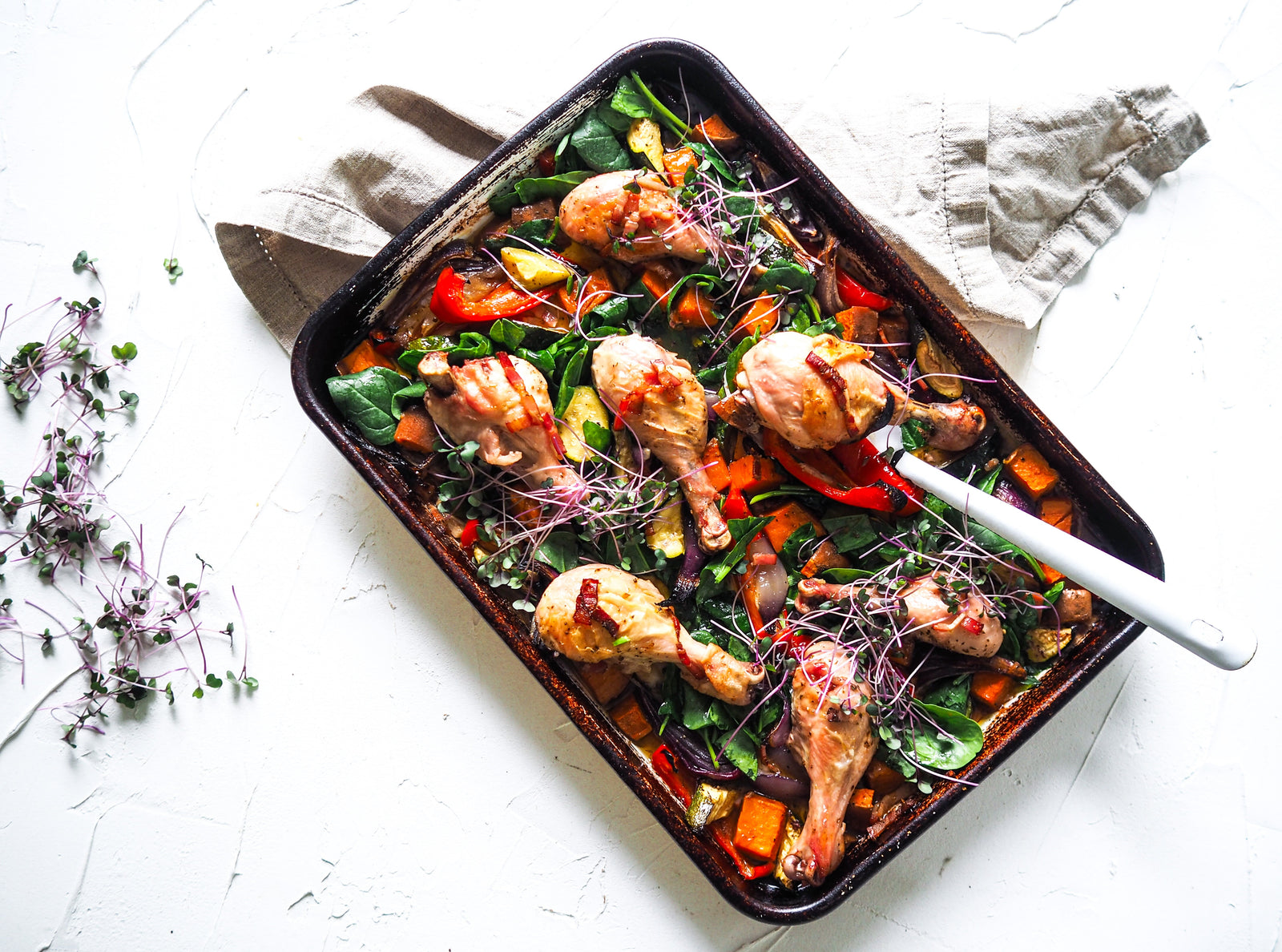 Chicken, Bacon & Roast Veggie Traybake
This dish requires minimal effort which is great for time poor families. It is one to whip out for when you want to spend as little time as possible in the kitchen. Well balanced and full to the brim of antioxidants and phtyonutrients, an abundance of colour, fibre and protein. The bacon adds in a little smokey crispy extra. Spinach tossed through at the end is a great source of vitamin c and boost of iron.
Serves 2, Takes 45 minutes
Ingredients:
500g chicken drumsticks
½ tsp oregano
400g sweet potato, chopped into 2cm cubes, skins left on
2 zucchini, sliced into 2cm rounds
1 capsicum, sliced
1 red onion, peeled and sliced into 2cm wedges
3 garlic cloves, peeled, roughly chopped
4 streaks bacon, finely chopped
2 cups spinach, roughly chopped
½ tbsp balsamic vinegar
Preheat oven to 200c. Prep all ingredients.

In large roasting tin or baking tray add chicken, oregano, sweet potato, zucchini, capsicum, red onion, garlic, bacon and a good drizzle of olive oil, a good pinch of salt and pepper, toss to coat.

Place tray in hot oven for 35 minutes. Toss again and cook for a further 10 minutes until veg is slightly caramelised and chicken is cooked through. Add spinach and optional ½ tbsp balsamic, toss through.

Serve up and enjoy.