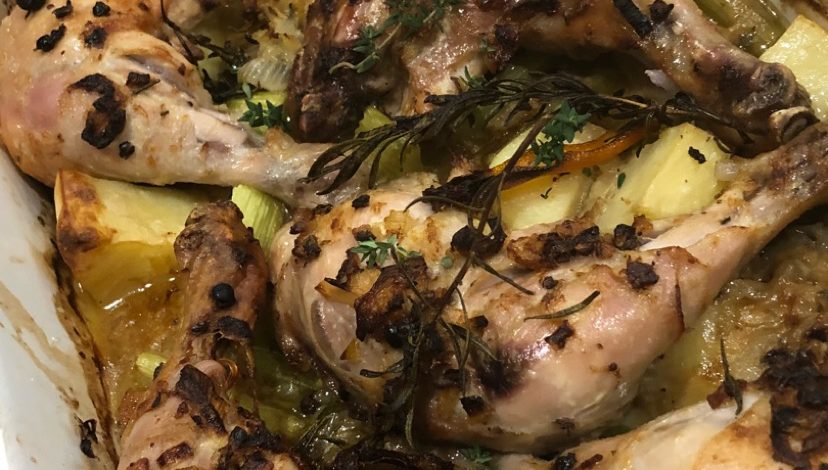 Baked Chicken with Celeriac, Rosemary & Juniper
This recipe is so easy and tastes delicious! Its great to cook with chicken maryland as its full of flavour and stays nice and tender when you bake it because it has the skin on. Cooking with the skin on and the bone in is extremely nutritious. Its a great source of protein as well as micronutrients including niacin, phosphorous, B6, B12, vitamin D, calcium, iron and zinc. On top of this, celeriac is beneficial for digestion, rosemary helps protect against oxidative damage and juniper berries are full of antioxidants.
Serves 4
Ingredients:
olive oil
himalayan salt & black pepper
2 tbs cultured butter
1 brown onion, thinly sliced
2 cloves garlic, thinly sliced
1 1/2 cups dry white wine
1 1/2 cups organic chicken bone broth
1/2 cup thickened organic cream
400g peeled celeriac, cut into wedges
4 large sprigs rosemary
3 bay leaves
1 tbs juniper berries - cracked
1 strip orange zest
Method:
Firstly, make you bone broth by placing certified organic chicken frames in a slow cooker with onion, celery, garlic, parley and any other fresh herbs and vegetables you would like to add. Cover with filtered water and slow cook on low for 24 hours.
Preheat the oven to 180C
Preheat a medium sized heavy based ovenproof saucepan with a lid, over medium-high heat.
Drizzle the chicken marylands with oil and season with salt and pepper. Cook for 3-4 minutes on each side, until browned. Transfer to a baking dish.
Decrease the heat to low-medium. Add the butter and cook the onion and garlic, until softened and golden.Pour in the wine, bring to the boil and simmer for a few minutes. Add the chicken broth and cream and bring to a simmer. Remove from the heat. Return the chicken to the pan. Add the celeriac wedges, rosemary, bay leaves, juniper berries and orange zest.
Bake in the oven for 40 minutes, or until the juices run clear when a skewer is inserted into the thickest part of the chicken legs and celeriac is tender.
Recipe thanks to The Beauty Chef