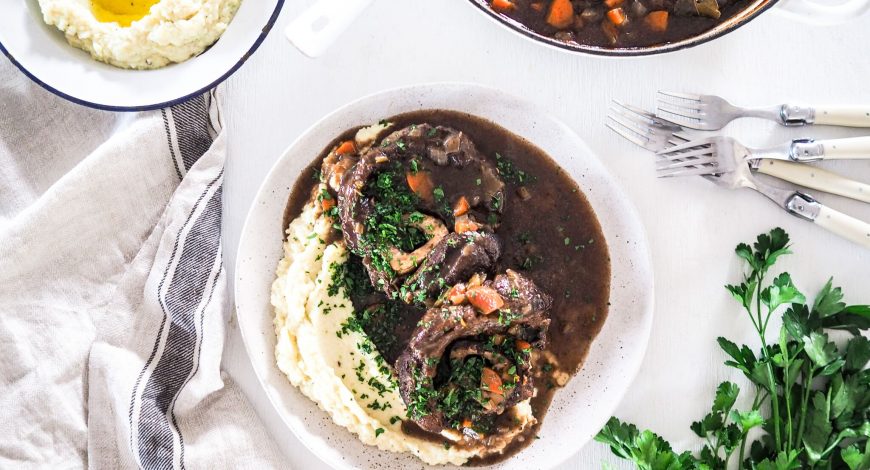 Braised Osso Buco with Dijon Cauliflower Mash
Serves 4-5 People
Takes 3 Hours
Ingredients
1.8-2kg
osso buco
2 celery sticks, chopped into 1cm cubes
2 carrots, chopped into 1cm cubes
1 brown onion, diced
350ml red wine
2 tbsp soy sauce
400ml stock or broth
2 bay leaves
salt and pepper
25g corn flour in a mug
1.2kg whole cauliflower, chopped into large florets include stalks
60g butter
1 tbsp Dijon mustard
large handful of fresh parsley, finely chopped  
Method
1. Preheat oven to 190c. Place osso buco in large roasting tin or pan that houses a lid. Drizzle about 1tbsp of olive oil over osso buco, rub all over meat, then place in hot oven for 20 minutes until browned. Remove then add all diced vegetables and stir through with meat, place in oven for further 10 minutes.
2. Reduce oven down to 150c. Add red wine, soy, stock, bay leaves and good pinch of salt and pepper. Cover with baking paper followed by foil and seal or place lid on if houses a lid. Return to oven for 2 hours, check that it has not dried out then place back in oven for a further 30 minutes then remove from oven.
3. Whilst osso buco is in last 30 minutes, start the cauliflower mash, place chopped cauliflower florets and stalks into large saucepan, cover with cold water and place on high heat for 20 minutes until soft to prod with fork. Drain cauliflower and place back in large sauce pan, add butter and Dijon mustard and blitz with a whizz stick until smooth, season to taste with pinch of salt and pepper. Set aside.
4. When cooked through and meat falls off the bone, carefully remove osso buco and place aside on plate. Skim off any excess fat. Place pan on hob on a low heat so juices and veg are simmering, add about 50ml of cold water to your corn flour in a mug and mix with a fork. Gently pour cornflour into pan to make the gravy, continuously whisk until thickened to your liking, if too thick add a touch of water to loosen or vice versus to thicken with some more cornflour.
5. Serve up with mash and good sprinkling of parsley.