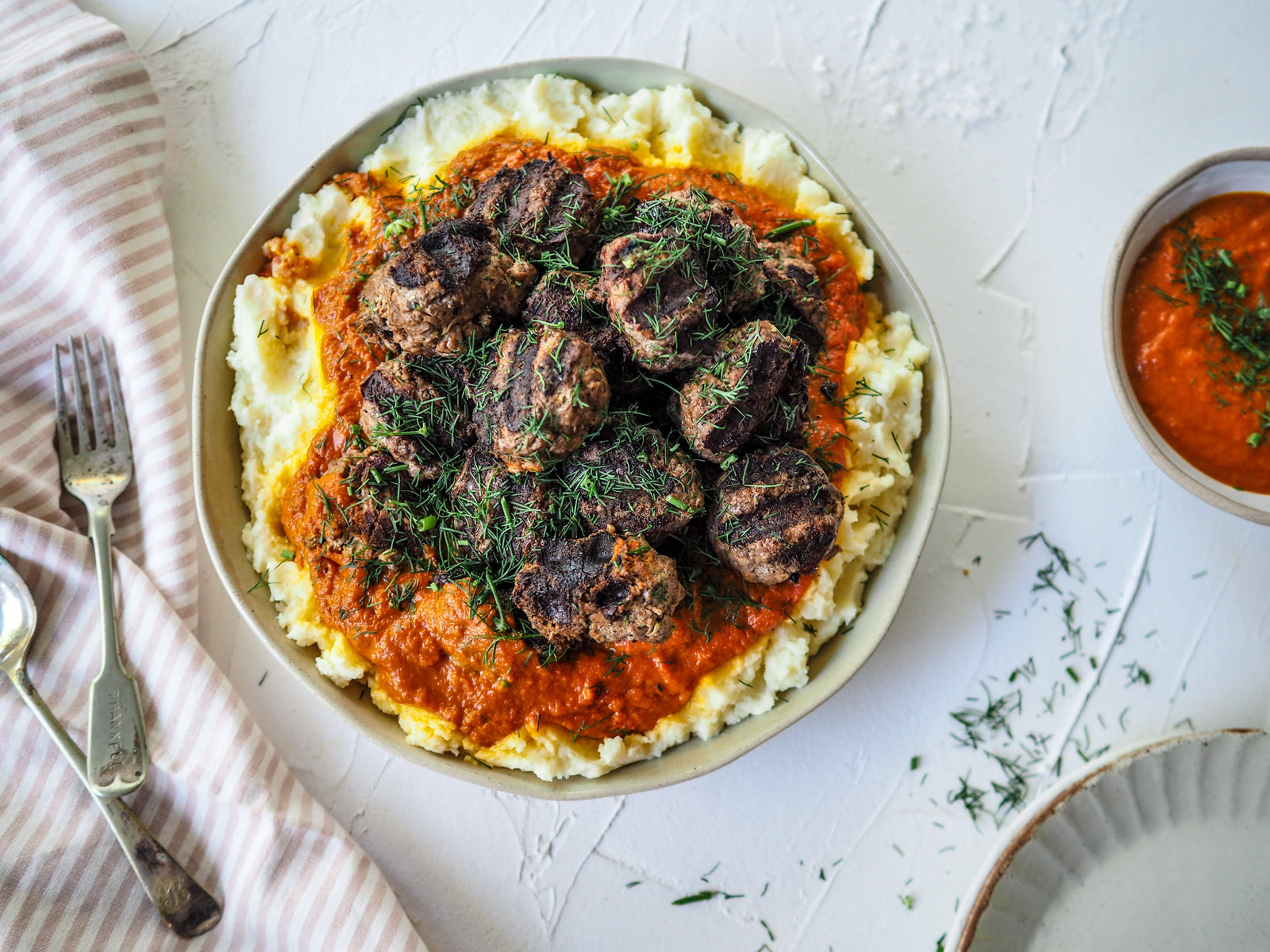 Beef, Veggie & Liver loaded Meatballs with Spiced Tomato Sauce & Creamy Mash Potato
A family favourite and a great way to get some extra hidden vegetables and nutrient dense liver into your meal without them really noticing. A nourishing take on meatballs and mash, add in some homemade spiced tomato sauce and you have a winner for all the family to enjoy. You can always sub out the potato for some chickpea pasta for kids. Make in bulk and freeze for later.
Serves 4, takes 45 minutes
Ingredients:
For the meatballs:
300g organic beef mince
200g chicken liver, rinsed and finely chopped
1 zucchini, finely grated
1 tin brown lentils, rinsed well, mashed with fork or potato masher
2 eggs
1 tsp cumin
1 tsp cinnamon
1 tsp oregano
1 tsp smoked paprika
1 garlic clove, minced
1 tsp salt
For the tomato sauce tomato sauce:
1 red onion, finely diced
4 garlic cloves, minced
1 tsp cumin
1 tsp turmeric
1 tsp smoked paprika
2 tins diced tomatoes
200ml stock or bone broth
1 tbsp red wine vinegar
1 tbsp brown sugar or honey
salt and pepper
For the mash:
800g white potato, peeled and 2cm cubes
80g butter
4 tbsp milk of choice
salt and pepper
Prep all ingredients

Get the tomato sauce started; grab a medium saucepan, medium heat, add a good splash of olive oil, add onion and fry for 2-3 minutes until soft and fragrant. Stir in garlic and spices for 1 minute, until fragrant. Add tinned tomatoes, stock/broth, red wine vinegar, stir well and let it simmer for 40 minutes. Once 40 minutes is up, add sugar/honey and good pinch of salt and pepper. Blitz with a whizz stick until smooth, (*tip if a little too thick add a splash of water to loosen).

Whilst tomato sauce is simmering make the meatballs. In a large bowl add mince, chopped liver, mashed lentils, grated zucchini, spices, garlic, salt and the eggs, with damp hands mix all ingredients together until blended well.

With damp hands mould into half a golf ball sized ball, repeat, makes 18-22 meatballs.

In a large sauce pan add water and bring to the boil, once boiling, add potato and good pinch of salt, boil for 12-15 minutes until soft to prod with a fork. Once cooked, drain and let them steam dry for a few minutes in colander. Place back in saucepan, add butter and milk and mash until smooth, season to taste with salt and pepper. Cover with lid until serving.

Either on the BBQ or large frying pan, medium-high heat, add a good splash of olive oil, once hot add half the meatballs and fry for 5-7 minutes on all sides until cooked. Repeat with second batch.

Serve up meatballs on bed of mash potato and drizzled in the homemade spiced tomato sauce.