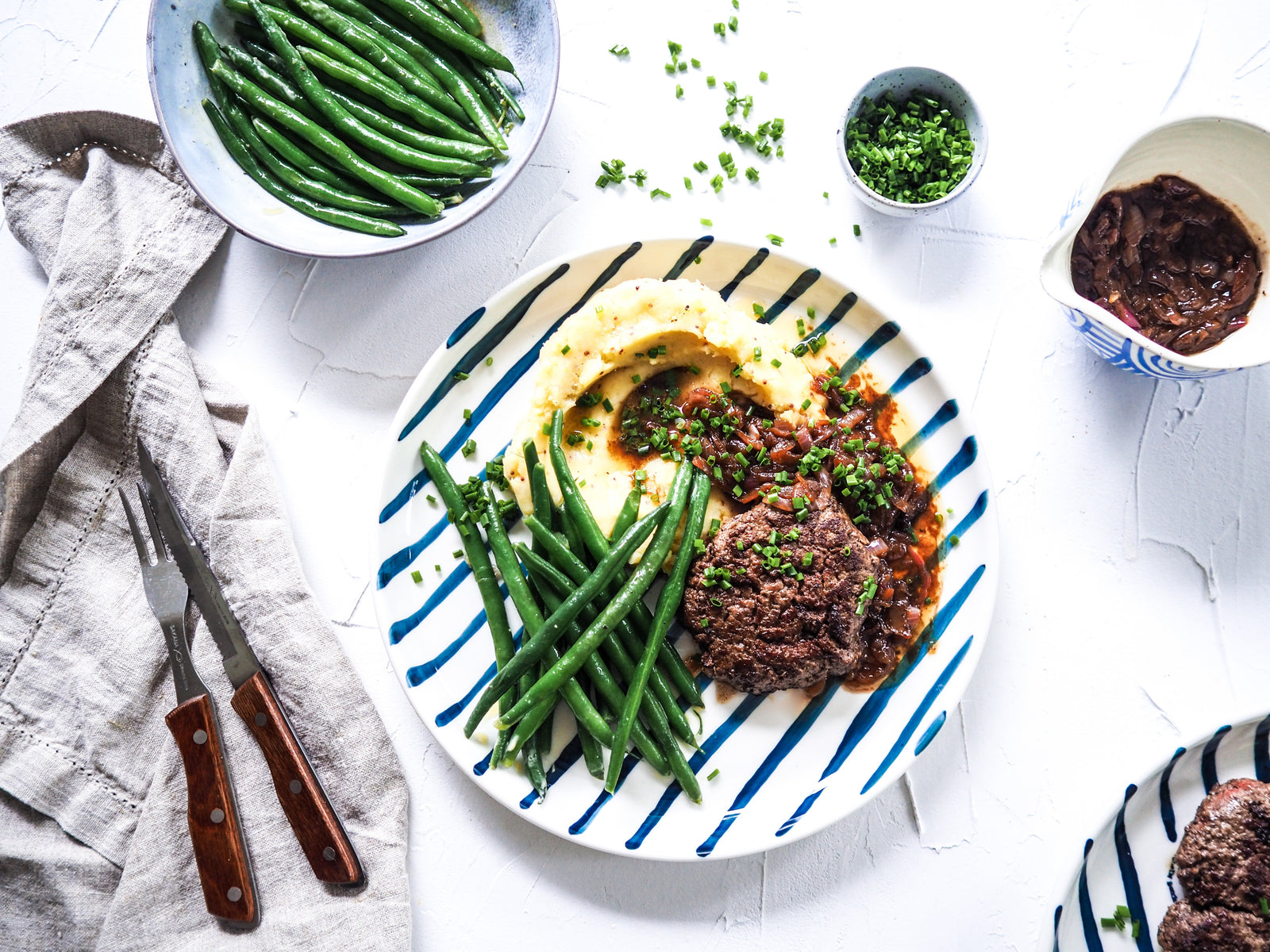 Beef and Liver Rissoles with Red Onion Gravy, Creamy Mash and Crunchy Beans
Adding liver to beef rissoles is such a great way to supercharge some meat, children will not notice any difference in flavour, but they will reap the rewards of one of the most nutrient dense foods you can eat on this planet. Think of them as natures multivitamin. Liver is rich in your b-vitamins which are essential for energy, in times of stress and PMS. It is also rich in essential minerals including; calcium, iron, magnesium and zinc, potassium and selenium, high in protein, omega 3 and tryptophan which is the pre-cursor to serotonin. Organic beef is a great source of omega 3 which is a great anti-inflammatory, beans are rich in fibre a good source of folate and finally the humble potato is great source of energy, fibre for digestion, vitamin B6 for protein metabolism and magnesium for relaxation. A great dish to get your through winter and one for all the family.
Ingredients:
500g potato, peeled and cubed
80g butter
2 tsp Dijon or wholegrain mustard
1 red onion, finely sliced
2 tsp brown sugar
2 tbsp balsamic vinegar
1 tsp salt
300g beef and liver rissoles (already made-up)
200g green beans, trimmed
Method:
Prep all ingredients.

Bring a large pan of salted water to the boil. Add potatoes and boil for 12-15 minutes until soft to prod with a fork. Once cooked, drain using a colander, let them steam dry for 2-3 minutes before adding them back in saucepan with half the butter (40g), 2 tsp mustard, 1 tsp salt and a splash of milk (1 tbsp) to make them extra creamy. Mash until smooth, cover with a lid and set aside.

Whilst potatoes are boiling. Add a large frying pan to a medium high heat with a 1/3 cup of water, once hot add the beans and let them sizzle for 4-5 minutes until al-dente (soft but crunchy) (tip* add more water if drying out), take off heat, place in a bowl and season with pinch of salt and pepper, cover to keep warm.

Place frying pan back on medium heat, add good splash of olive oil and the butter, once hot add the sliced onion and let it sauté for 5-6 minutes until really soft and fragrant, be careful it does not burn. Once soft, turn heat down to low add in sugar, balsamic and 1 tsp salt and let it bubble down for a further 3-4 minutes. Taste and season more if needed. Remove onion gravy from heat and place in a jug.

Wipe out frying pan and place back on a high heat, add a good splash of olive oil, once hot add the rissoles, fry for 3-4 minutes each side. Turn off heat and add onion gravy back in so it collects all of the cooking juices and flavour the rissoles more.

Load up plate with mash, followed by rissoles, topped with beans and drizzle over onion gravy. Enjoy.