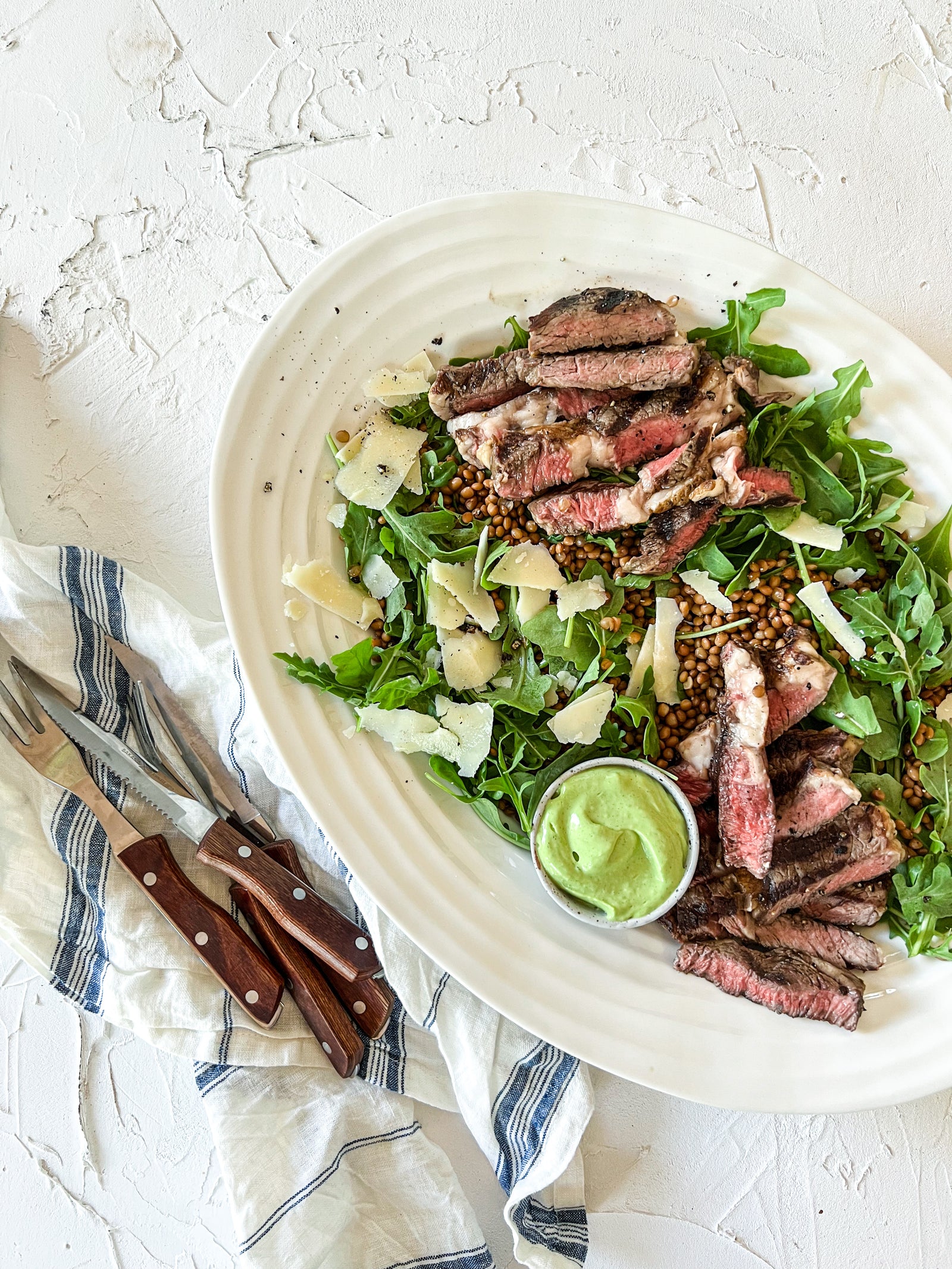 A really simple iron rich salad which takes under 15 minutes to make. It is full of nourishing ingredients, creamy avocado dressing which is rich in good fats helping other minerals absorb, but is also great for nurturing hormones and supporting good skin health. Parsley is rich in iron and vitamin C. Organic sirloin is rich in protein, iron and also omega 3. All in all a great anti-inflammatory quick fibre rich salad to make any night of the week.
Recipe written by nutritionist Rosie Eyre of By Rosie
Serves 2
Under 15 minutes
Ingredients:
400g organic sirloin steaks
80g rocket salad, washed
2 tins brown lentils, drained and rinsed
50g shaved parmesan
1 small to medium avocado, destoned
15g parsley leaves
1 garlic clove, peeled
2 tbsp olive oil
2 tbsp apple cider vinegar
6 tbsp water
salt and pepper
Preheat BBQ or griddle pan to high heat.
Season steaks with salt and pepper and splash of olive oil, set aside.
In a blender add avocado, parsley, garlic clove, olive oil, apple cider vinegar and water and blend until really smooth. Season to taste with salt and pepper. Tip* If dressing is too thick add a touch more water to loosen. If you would like a dressing to be a little more tangy add a splash more apple cider vinegar. Set aside.
Place for 2-3 minutes (this is for medium-rare), take off heat and leave to rest on plate.
On a large serving plate, scatter over lentils, rocket and shaved parmesan. Thickly slice sirloin and drizzle or dollop over creamy avocado dressing. Serve up!