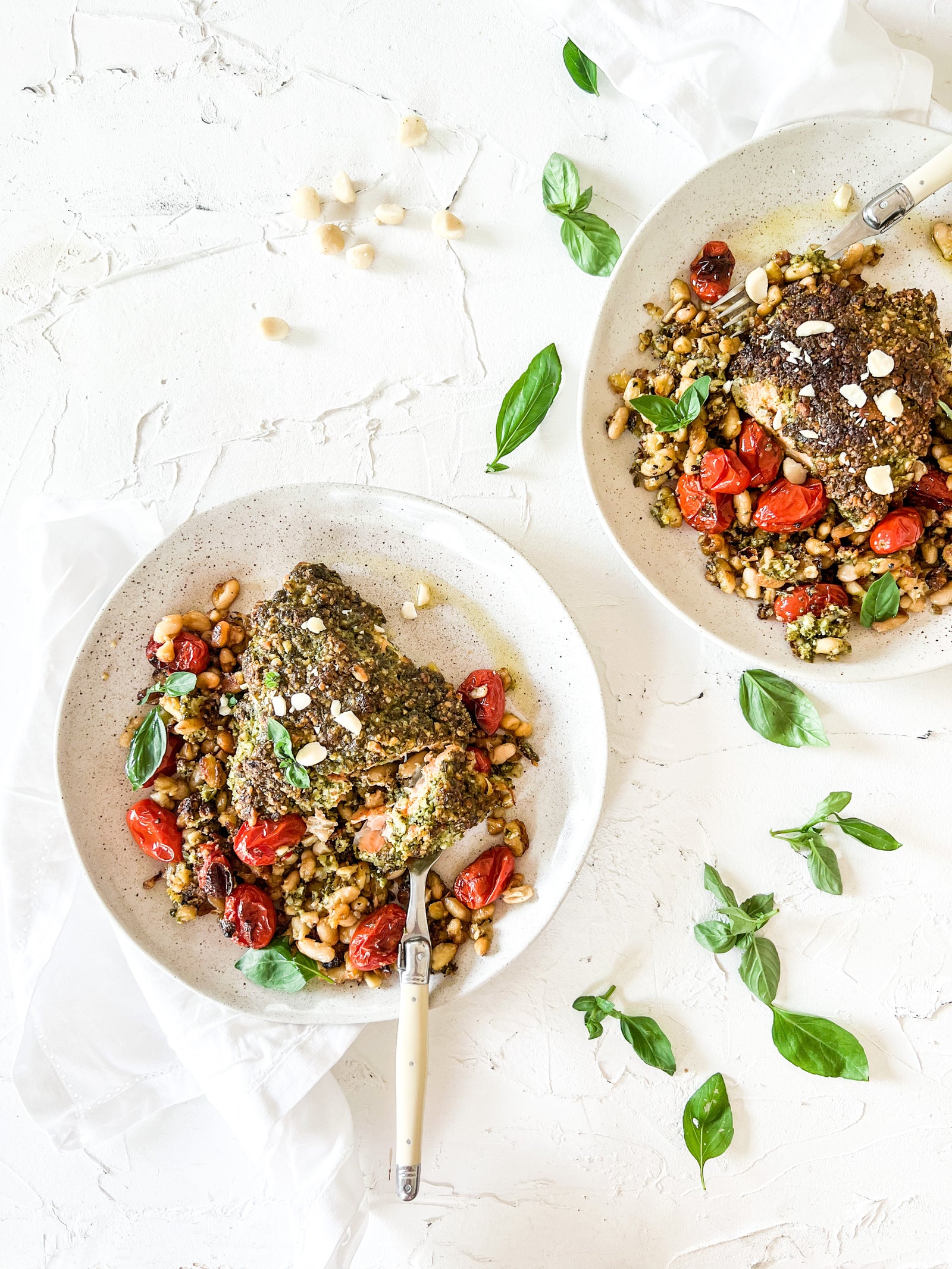 Such an easy anti-inflammatory one tray dish to try for summer. It will nourish your gut with all of the good sources of fibre for digestion as well as the essential omegas from the salmon. With little washing up, and the recipe taking under 40 minutes from start to finish, it is a really hands off dish. Great to try mid week if you are pushed for time. 
Recipe written by nutritionist Rosie Eyre of By Rosie
Takes 35 mins
Serves 2
Ingredients:
For the pesto:
50g parmesan, chopped into cubes
1 garlic clove, peeled
80g olive oil
1 bunch basil, leaves picked (50g of leaves)
80g macadamias
Season with salt & pepper
-
2 salmon fillets, skin on
2 tins cannellini beans, drained and rinsed well
200g grape tomatoes
1 tbsp balsamic
2 tbsp olive oil
Salt & pepper
Lemon, quartered to serve
50g Greek yoghurt
Method:
Preheat oven to 200c (fan forced).
Whilst oven is heating make the pesto by adding Parmesan & garlic clove to a blender and blend into a thick crumb. Add olive oil & basil leaves & blend until leaves are finely chopped. Finally add macadamia halves & blend until desired consistency (I like to blend macadamias so pesto is left chunky). Season to taste with salt and pepper if needed. Set aside.
Line a large roasting tray add cannellini beans, tomatoes with 1 tbsp balsamic vinegar and 2 tbsp olive oil, salt and pepper, toss to coat. Then lay salmon fillets skin side down over beans.
Cover salmon fillets with pesto (tip*cover with pesto so no pink salmon skin is showing)
Place in oven for 15-20 mins until cannellini beans are slightly browned, tomatoes are blistered and pesto salmon is browned on top and cooked through. (tip* salmon is cooked through when flakes easily).
Divide salmon between plates & serve with lemon wedges and a dollop of Greek yoghurt to serve.