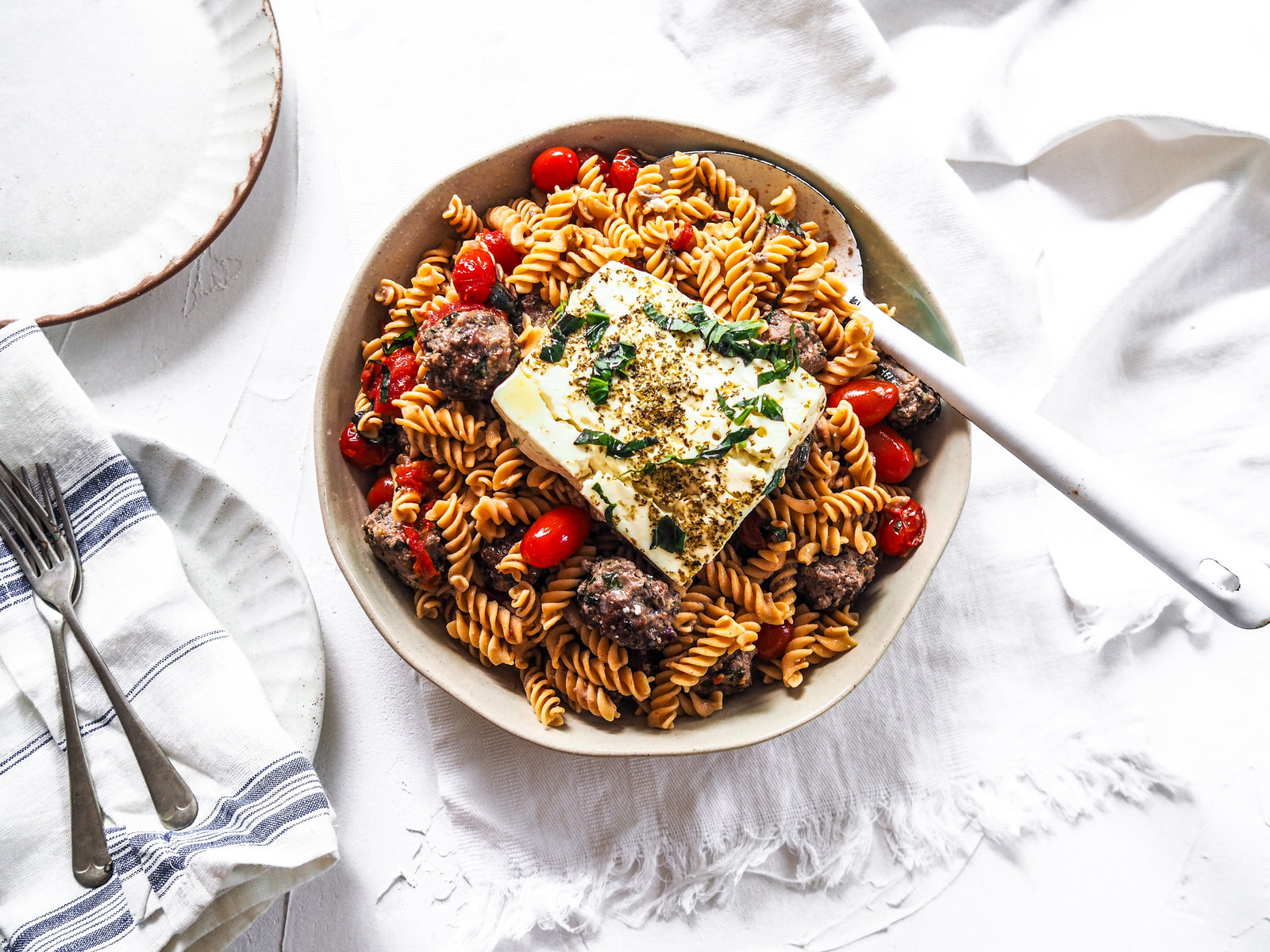 Baked Feta, Tomato and Basil Meatballs with Chickpea pasta
A super simple family dish that takes only 30 minutes from start to finish. The age-old delightful combination of tomato and feta create a yummy creamy base for the omega 3 rich meatballs, the additional chickpea pasta add that extra dose of fibre which is great for our digestion but also additional protein to keep you fuller and have more energy for longer. Well balanced and a perfect meal for any night of the week.
Takes 30 minutes, Serves 2
Ingredients:
1 bunch of basil leaves, finely chopped
1 small red onion, diced
2 garlic cloves, minced
½ tsp salt
pepper
400g baby tomatoes
1 tsp oregano
250g chickpea pasta
Method:
Preheat oven to 190c. Pop a full kettle on the boil to get ready for the pasta. Prep all ingredients.

To make the meatballs; grab a large bowl, add organic beef mince, half of the basil leaves (rest is for serving_, red onion, garlic, salt, pepper, organic egg. With damp hands mix the ingredients well until all combined. Use a heaped tablespoon to measure out the size of the meatballs and roll individually. Repeat until all mince mixture is rolled. Tip* keep hands damp to avoid stickiness.

Place meatballs on large lined baking tray, add cherry tomatoes and top with the whole feta slab. Sprinkle over the oregano and place in hot oven for 25 minutes.

When meatballs have about 10 minutes remaining in the oven. Add chickpea pasta into large pan of salted boiling water. Cook according to their packet instructions. Once cooked rinse well with hot water. Tip* this helps get rid of the starchiness.

When meatballs are cooked through and tomatoes and feta are soft, add cooked pasta to baking tray and toss well. Serve with remaining basil and enjoy.
Recipe and Photograph by Nutritionist Rosie Eyre of By Rosie