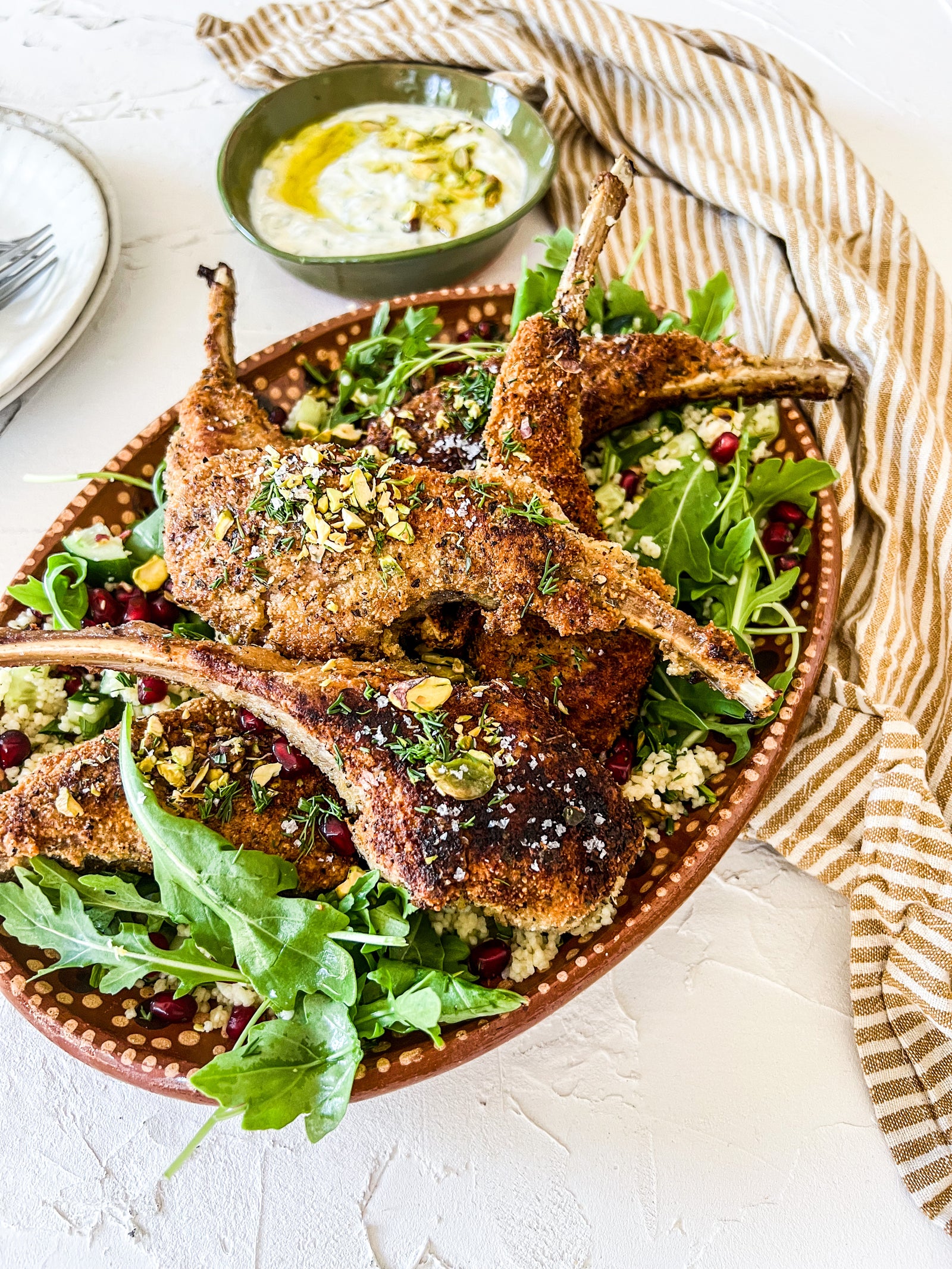 A lovely well balanced mid-week feed that is full of flavour, takes under 40 mins to make and simple to put together. You could definitely make the mint garlic yoghurt and couscous in advance to save time. Using almond meal as the cutlet crumb, adds a lovely nutty texture which takes so well to the other herbs and spices used for this recipe.
Recipe written by nutritionist Rosie Eyre of By Rosie
Takes 35 mins
Serves 2
Ingredients:
2 garlic cloves, peeled and minced
900g organic lamb cutlets (fat trimmed), around 8 cutlets
3 tbsp chickpea flour (use plain flour if not gluten free)
2 eggs, whisked with splash of water
100g almond meal
1 tbsp dried mixed herbs
1 tsp garlic powder
1 tbsp brown sugar
1 tsp salt
1 tsp pepper
120g couscous
1 tsp veggie stock powder
1 Lebanese cucumber, finely chopped
1 cup rocket, washed
150g Greek yoghurt
10g dill leaves, finely chopped
20g mint leaves, finely chopped
2 garlic cloves, peeled and minced
1 pomegranate, arils removed
50g pistachios, roughly chopped
N.b. 1 tbsp measurement is 15ml
Method:
Prep all ingredients.
Bring full kettle to the boil
Heat a small saucepan over medium high heat with 2 tbsp olive oil, once oil is hot add minced garlic and fry for 30sec-1min until fragrant (tip* be careful not to burn garlic). Add to small bowl with Greek yoghurt and stir to combine, season with salt and pepper, half the chopped mint and all the dill. Stir through, then set aside.
Once kettle has boiled, place couscous in saucepan that houses a lid or heat proof bowl with 1 tbsp olive oil and 1 tsp veggie stock powder. Pour over boiling water to just cover the couscous, stir with fork then place lid or cover over and leave for 5-7 mins before fluffing up with a fork. Set aside.
Whilst couscous is resting. On two large plates, first plate add the chickpea flour, then on other plate add almond meal, mixed herbs, garlic powder, brown sugar, salt, pepper and stir through with fingers, set aside.
In bowl add eggs with splash of water and whisk.
Dust cutlets in chickpea flour, followed by egg then coat in almond meal crumb, set aside on tray and repeat until all cutlets are coated.
Heat a large frying pan over medium high heat, coat bottom of plan in about 3mm of olive oil. Once hot add cutlets and fry for 4-5 mins one side until lightly browned then turn and 2 mins the other side (tip* this is for medium cutlets), repeat until all cutlets are fried. Rest on a paper towel to drain off excess oil.
Stir through cucumber and pomegranate arils into couscous with remaining mint and season to taste with salt and pepper and touch more olive oil.
Serve us on large plate with bed of rocket, followed by couscous, topped with crumbed cutlets and scatter over chopped pistachios. Serve with mint garlic yoghurt on the side.