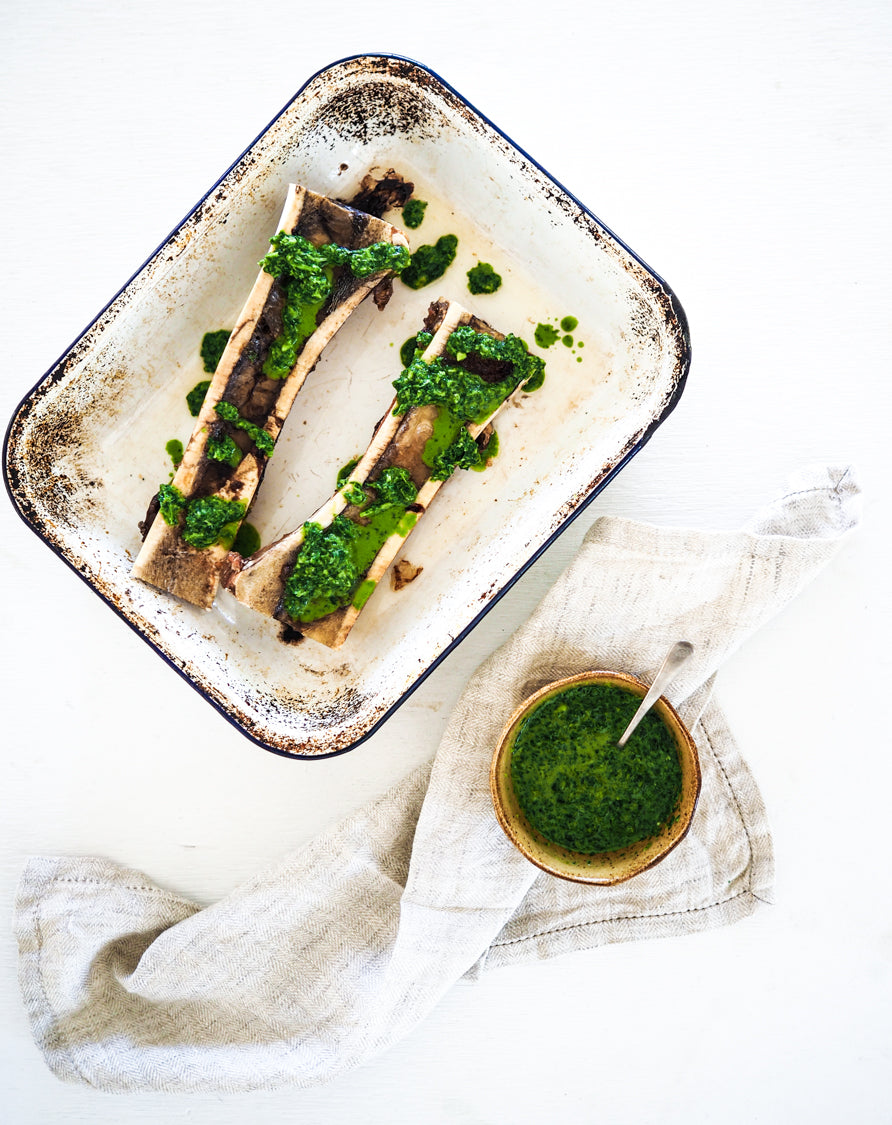 Roasted Organic Marrow Bones with Coriander Chimichurri
This is a simple starter or side to get additional nourishment into your diet. You could have this alongside a bowl of soup, smother it on some freshly baked sourdough, have it with a plate of steamed veggies for a well-balanced meal, have with some mashed potato or cauliflower. Easy to make and takes 20 minutes. Bone marrow is nutrient dense, full of essential minerals such as iron to give us energy, by assisting red blood cells to carry oxygen around the body. Marrow is also rich in protein (gelatin/collagen) which helps build, repair and replace cells in our body. These proteins are wonderful for gut support helping heal and seal, hold together connective tissue. The chimichurri made from coriander and garlic is a wonderfully rich antioxidant perfect for any meat, rich in vitamin C. It has a good zing from apple cider vinegar to cut through the creamy richness of the marrow.
Recipe, photograph and words by Clinical Nutritionist Rosie Eyre of
By Rosie
Takes 20 minutes
Ingredients:
800g Organic Beef Marrow Bones
½ bunch coriander, roughly chopped
1 sml garlic clove, peeled and roughly chopped
½ tsp brown sugar or honey
1 tbsp olive oil
1.5 tbsp apple cider vinegar
pinch of sea salt and pepper
Method:
Preheat oven to 220c. Once hot add beef marrow bones (marrow facing up) to large roasting tin and roast for 20 minutes until marrow in the bones is slightly caramelised and gooey.
Whilst bones are roasting. In a food processor or blender add coriander, garlic, sugar, olive oil, apple cider vinegar and blitz until smooth. Season to taste with salt and pepper and touch more vinegar if needed.
Drizzle chimichurri over roasted bones, scoop out with a teaspoon and enjoy.