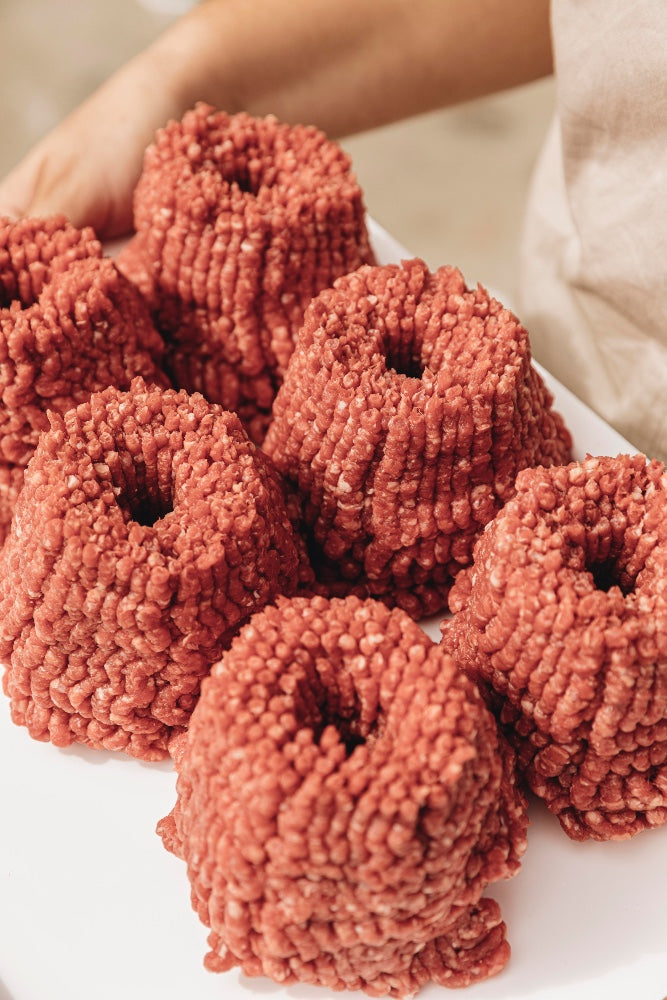 Beef mince is one of the most affordable pieces of meat to cook with and is probably one of the most versatile pieces of protein you can use. Quick, easy and versatile to cook, beef mince is such a cost effective and versatile ingredient to have in your fridge. It's the base for many family favourite meals, and you can make one packet of mince stretch a long way, and even add in some veggies to bulk it up. You may even be able to hide some nutritious grass fed organic liver in there as well. 
Our certified organic beef mince is packed with iron, zinc and vitamin b12, contributing to immunity and energy levels.
 Different ways you can use beef mince: 
You can use beef mince for several different dishes, and it is also a great way to sneak some veggies into your families' meals, and even hide some nutritious grass-fed certified organic liver in there too. Liver is one of the most nutritionally dense foods on the planet, with significant amounts of iron, riboflavin, vitamin B12, vitamin A, and copper. Eating a single serving of liver can help you meet your daily recommended amount of most of these vitamins and minerals, reducing your risk of nutrient deficiency.  Beef mince is a cost effective, versatile product that is a go to for easy, convenient, and nutritious dinners. It is the base for many of our favourite meals, a few listed below.
 You can use beef mince to create classics such as burgers, pies, burritos, meatballs, chilli con carne, tacos, meatloaf, spaghetti Bolognese, lasagne, cottage pie, taco bowls, and the list goes on. Here are many ideas on ways you can cook beef mince:
 www.taste.com.au/recipes/collections/beef-mince
Here are 5 different ways to cook beef mince:
A family favourite and a great way to get some extra hidden vegetables and nutrient dense liver into your meal without them really noticing. A nourishing take on meatballs and mash, add in some homemade spiced tomato sauce and you have a winner for all the family to enjoy. You can always sub out the potato for some chickpea pasta for kids. Make in bulk and freeze for later.
 A super simple family dish that takes only 30 minutes from start to finish. The age-old delightful combination of tomato and feta create a yummy creamy base for the omega 3 rich meatballs, the additional chickpea pasta add that extra dose of fibre which is great for our digestion but also additional protein to keep you fuller and have more energy for longer. Well balanced and a perfect meal for any night of the week.
Upgrade your rissoles with this delicious ginger and sesame rissole recipe. A quick and easy Asian inspired meal that will feed four people, great for weeknight dinners, and everyone in the family will enjoy.
This is such a quick and simple and well-balanced kids dinner. By laying out all taco ingredients in front of kids and allowing them to make up their own is really empowering and really encourages them to eat more. Takes under 25 mins and great dish for the whole family to enjoy.
Easy to make, economical and using every day ingredients. A warming, hearty meal that is also freezer friendly. A delicious beef filling with a creamy mashed potato topping, finished with a crunchy cheese top. 
How to  cook beef mince: 
Add a dash of oil, ghee or tallow to a hot fry pan
Add in your mince, and break it up and stir to ensure the mince does not stick to the pan and browns evenly.
Continue to cook and break up the mince and stir to cook the mince evenly through
Continue to cook until mince is browned and cooked through
Tips to cooking beef mince:
Browning mince is essential to bring flavour and colour to your dishes
A tip to cook more evenly is to cook your mince in two batches, it means there is less chance of having your mince stew
Try not to overcook the mince as it can dry out if overcooked
Cook between 5 – 10 minutes
The Health Benefits of Grass-fed, Certified Organic Beef
Grass fed certified organic beef, is raised without the use of any antibiotics, hormones, and other artificial additives. Also, the grasses that the beef consume, are free of any sprays, pesticides, fertilizers, and contamination ensuring the cattle are not exposed to any chemicals.
Our grass-fed certified organic beef comes from OBE Organic which are based in the Chanel Country of Australia. These cattle roam freely over properties consuming over 250 species of clean, natural native grasses. The cattle have the option to go to certain types of grasses depending on the type of nutrition they require, and this flavour is reflected in the beef. OBE Organic say their grass fed, certified organic beef is 'seasoned by nature', due to the vast amount of grasses the animals have to consume.
Grass fed, certified organic cattle live a natural life as nature intended, roaming outside in the fresh air and sunshine, consuming clean natural grasses, and drinking from the fresh water reservoirs. This produces nutritious grass fed organic beef, that has not been grain fed or supplemented with grain. Completely grass fed and finished, certified organic beef.
By consuming grass-fed, certified organic beef, you are consuming beef which is a rich source of protein, that's especially high in vitamin B12, essential for red blood cell and DNA production, and minerals such as iron and zinc, which are essential micronutrients for human growth, development, and maintenance of the immune system.
Cows are meant to spend their lives outdoors, peacefully consuming natural grasses as that is what they are designed to digest. They are not designed to be raised in confined feedlots and their stomachs are not designed to digest grains.
Where To Buy Grass-Fed Certified Organic Beef Mince
Looking for where to buy high-quality grass-fed certified organic beef mince? Look no further than Aus Organic Meat Co! We offer a line-up of organic and delicious products, including grass-fed certified organic beef mince, sourced from ethically raised cows. We even have a grass-fed certified organic beef mince with hidden grass-fed organic liver for added nutrition. Visit our website to browse our range of organic options and experience the difference in taste and quality.