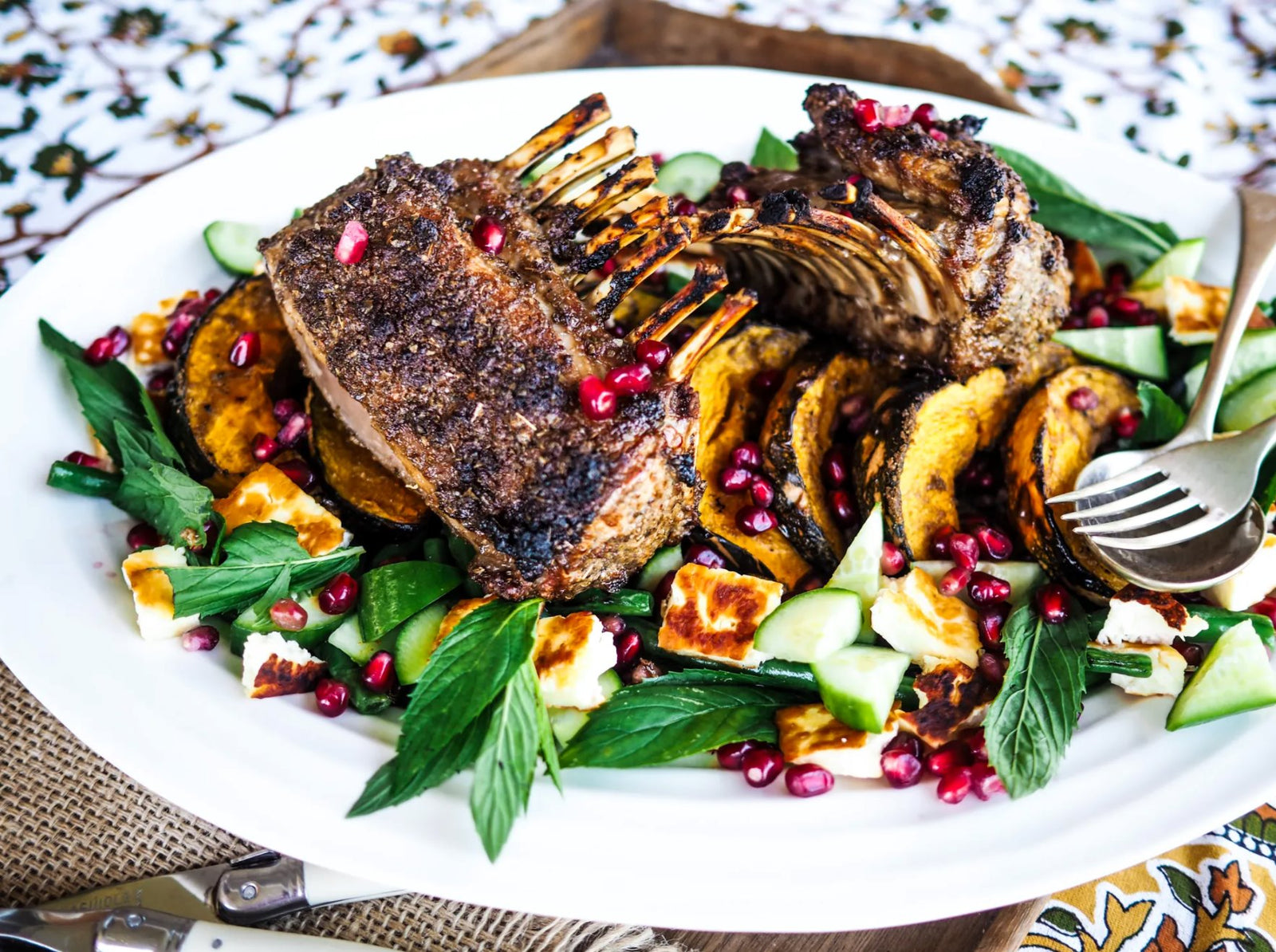 This is such a simple roast recipe, that will only take 40 minutes from start to finish.
A combination of roasted Japanese pumpkin seasoned with cumin and salt, that caramelises in the oven. A couple of racks of seasoned organic lamb with cumin, oregano and garlic rub then roasted. All served on a bed of cooked brown lentils, tossed with cucumber, green beans, haloumi and scattered with pomegranate seeds. All drizzled in a homemade mint and walnut pesto.
Total time: 40 minutes
Serves: 2-3
Ingredients:
For the pumpkin:
600g Japanese pumpkin, sliced into wedges, skin on
1 tsp cumin
1 tsp sea salt
pepper
For the lamb rub:
700g lamb rack
2 tsp cumin
2 tsp oregano
2 tsp brown sugar
1.5 tsp salt
2 garlic cloves, minced
2 tbsp olive oil
For the mint pesto:
30g picked mint leaves
70g raw walnuts
5 tbsp olive oil
3 tbsp apple cider vinegar
1.5 tbsp brown sugar
For the lentil salad:
1 tin (400g) cooked brown lentils, drained and rinsed well
200g green beans, trimmed
180g haloumi, thickly sliced
3 lebanese cucumbers, roughly chopped
1 large pomegranate, arils picked out
handful of mint leaves to serve, torn
Method
Preheat oven to 200C. Prepare all ingredients. In a large baking/roasting tray add pumpkin wedges, sprinkle over cumin and salt, finish off with a drizzle of olive oil, ensure all pumpkin is covered. Once oven is hot, place tray in oven and roast fro 25-30 minutes until caramelised and soft when prodded with a fork.

Whilst pumpkin is roasting, prep ingredients for the lamb rub; in a small bowl add cumin, oregano, sugar, salt, garlic and olive oil, stir well until a paste. Place lamb rack(s) onto another roasting try and spread the rub evenly all over the racks. Place in oven, top shelf for 20-25 minutes depending on size of rack, leave to sit for 5 minutes (Tip* my 700g rack was in oven 25 minutes and rested for 5 minutes).

Whilst lamb and pumpkin are roasting. Make the mint and walnut pesto by all adding all the pesto ingredients into a food processor or using a whizz stick, blend until smooth, season to taste with salt and pepper.

Heat a medium frying pan, medium heat, drizzle olive oil into pan, once hot add haloumi and fry for 2 minutes each side until golden. Once cooked place on a paper towel to drain excess fat and set aside. Put pan back onto the heat and drizzle a touch more olive oil (if needed), add beans and fry for 3-4 minutes until slightly browned and al-dente (firm to bite), take off heat once cooked and place onto paper towel to absorb excess fat. Tip*can steam or boil beans if wish too.

In a large bowl add washed and drained lentils, ¾ haloumi, beans. ½ pomegranate arils and 1 tbsp of the mint pesto, toss to coat and place on a large serving plate.

When the lamb has rested, slice into individual cutlets. On the large serving plate add roasted pumpkin, slices of lamb, scatter over remaining haloumi, pomegranate seeds and torn mint leaves, drizzle with mint pesto on the side.